When we enter Abu Dhabi's Victor's we're faced with absolute silence. Not exactly what you'd expect as you approach a brunch, but that's what we get. It's doubly unnerving as we're used to the place being so lively. It's 12.45pm, so technically the brunch has been running for a short time, but for us and the other handful of couples lingering around the bar, it feels like the venue isn't prepared for it at all. That there's only one member of staff around doesn't help.

We arrive expecting a raucous afternoon at this usually busy bar, but it doesn't quite turn out like that.

Fast forward three-and-a-bit hours and our group is rolling out the door full and happy, delighted with the Dhs199 brunch and still singing some of the songs house band H2O has been playing all afternoon. Quite the turnaround. So what happened in between?

After the shaky start things pick up quite quickly. More staff arrive, alleviating the pressure on the sole early starter, the band starts setting up and the first drinks are brought to the table.

While the first impressions definitely aren't great (some music and a welcome from staff wouldn't go amiss), it's hardly the end of the world. But we do wonder if anyone casually popping their heads through the door would think about staying.

The package is brilliantly simple. For Dhs199 you get unlimited house beverages (a choice of two draught options, shorts and grape) and unlimited starters. You can then choose a main from several options and a dessert from an apple crumble or fruit platter.

We order a bunch of the small plates, which are mostly tried and tested bar snacks. Some hit the mark more than others, but highlights include the onion rings, quesadilla, and beef burger sliders. Tangy, spicy chicken wings, and mac'n'cheese are decent options, too, but the calamari is best avoided. The chips and gravy and cheesy chips please the Northerners in the group but are probably too filling, especially considering most of the mains come with chips as well.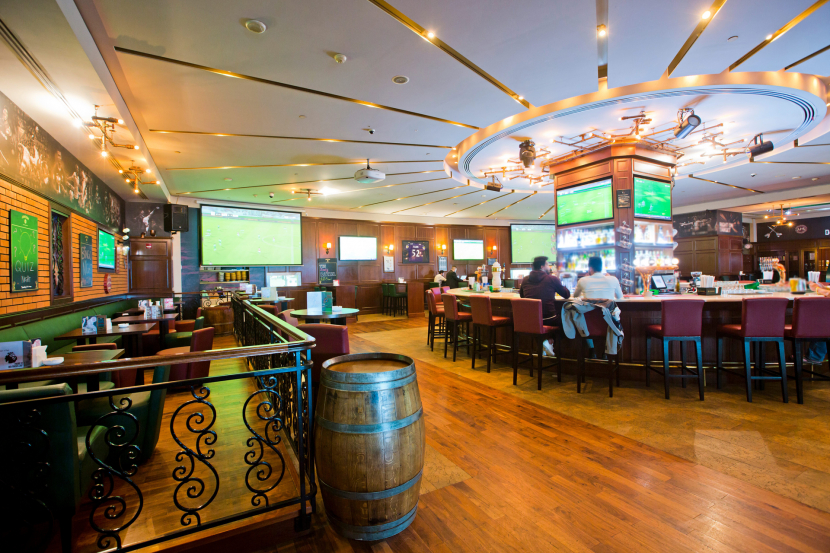 While the first round of dishes are passable, things really pick up with the main courses, which show off the kitchen's skills much more. The cottage pie is tasty, but we could do with a gravy boat with it (there's that Northern thing again), the buffalo chicken burger and a beef burger are both excellent, however. This time they come with proper chips, not the skinny fries that are served with the starters, and we love them.

Unusually for us, we absolutely love the dessert. The apple crumble comes with creamy vanilla ice cream melting over the top and is the perfect, homely ending to the meal.

Once it gets going, service is totally fine. The staff are always nice here, so even when they're struggling it's hard to be too annoyed, but by the end we practically love them.

The band are great, too, providing a soundrack of soft rock and easy listening classics to accompany proceedings.

So Victor's F.A.B. brunch turns out to be a lot more laid back than we expect, but once we recalibrate our expectations and settle in for the ride, we thoroughly enjoy it.

While the starters are pretty average, the mains are good. Drinks are also alright, and plentiful. With a chilled atmosphere and singalong tunes, the Dhs199 seems totally worth it. If they could perhaps get ready for people arriving in advance of them turning up, Victor's could be on to a good thing.
Dhs199 (house beverages). Fri 12.30pm-4pm. Hilton Capital Grand Hotel, Sheikh Rashid Bin Saeed Al Maktoum Street (02 666 5508).
Be the first to get all the latest Abu Dhabi news, reviews and deals into your inbox by signing up to our free
newsletter
,
click here to sign up
.