One of the many joys about living in Abu Dhabi is that we rarely have to consider the weather before making plans.

We generally just assume that every Friday will be sunny, so when our visions of enjoying Brunch Town outside by the Grand Canal are shattered by a sudden downpour, it catches us very much by surprise.

But we remain positive and arrive early to find ourselves faced with a very soggy and deserted Venetian Village.

The brunch involves four of the area's restaurants: Barfly by Buddha-Bar, Tokyo Grill, La Brasserie and Todd English's Olives.

We start at the latter, where the hostess tells us we have a table at La Brasserie but doesn't explain anything else about the format. So we head over to the French restaurant, where we eventually gather that we can help ourselves to starters in each outlet, but that our choice of mains will depend on where we choose to sit.

With this in mind, we're eventually won over by the huge spread of sushi, dim sum and Asian plates in Barfly, and we decide to settle there. However, the server from La Brasserie still comes chasing after us asking for payment, and by this point we don't have the energy to question it.

After a slightly frustrating start, we're relieved to finally be able to dive into the colourful spread.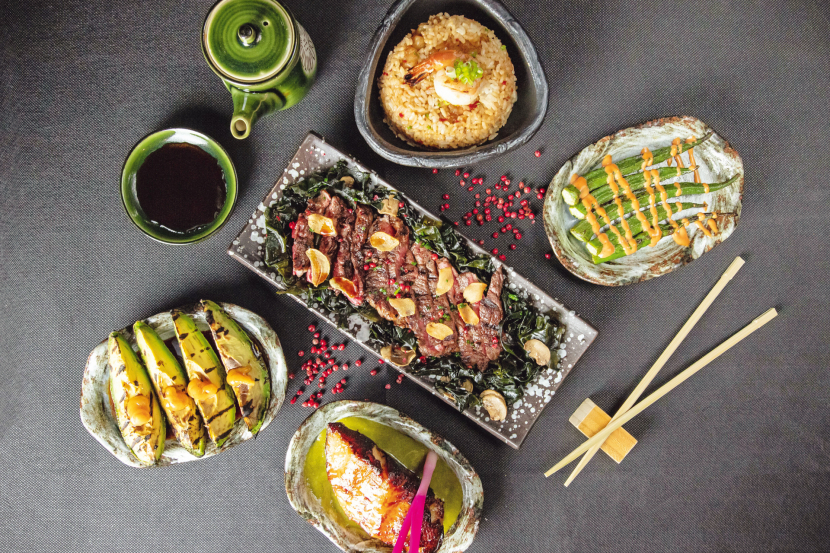 We start off at the laksa station, where a jolly chef prepares the spicy coconut-milk soup to our liking, adding noodles, seafood, chicken and a selection of vegetables. It's a sensational dish, full of warming and exciting flavours and textures.

After starting on such a high, we begin to worry that the rest of the offerings will be a dissappointment, but thankfully the sushi tastes just as good as it looks.

There's a volcano, California, dynamite, blow torched and many other bright and decadant varieties of maki roll.
Every now and again a server from one of the other participating restaurants arrives at our table with a platter of samples.

We conclude that although Barfly's sushi looks more impressive, the relatively simple tuna, salmon skin and shrimp tempura rolls from Tokyo Grill are just a little bit more fresh and tasty.

We also try a goat's cheese pastry and make-your-own Caesar salad from La Brasserie. Both are high quality light bites, but they don't convince us to head there for mains.

Barfly's friendly chef returns with a platter of beautiful barbecued meats. The steak and marinated chicken is fabulous, and the lamb is so brilliant we shamlessly ask for seconds.

We pair the meats with some fresh and crunchy Chinese chicken and Thai beef salads. Both are excellent, offering another light and healthy option that helps us save room for dessert. It seems like we're the first to attack the sweet treats, and we take great pleasure in having the first scoop of Baked Alaska and slice of 'Fly' cheesecake.

The latter is superbly creamy and piled with fresh fruit. It's clearly homemade and we enjoy every mouthful. It also goes perfectly with the Baked Alaska.

While the concept is a little confusing (are you assigned a restaurant? Can you move between them? Can you obnly have mains from one?), we are impressed enough with all the food to want to try it again.
Dhs295 (soft drinks), Dhs395 (house beverages), Dhs595 (bubbly). Fri 12.30pm-4pm. The Venetian Village, The Ritz-Carlton Abu Dhabi, Grand Canal (02 408 7201).
Be the first to get all the latest Abu Dhabi news, reviews and deals into your inbox by signing up to our free
newsletter
,
click here to sign up
.