There's no getting away from the fact that the mercury is rising here in Abu Dhabi.

And while it's nice not to have to bother bringing a jacket when you're heading out for brunch, it does mean the time for feasting in the fresh air is starting to draw to a close (unless you're impervious to sweat, that is).

Summer is fast approaching, and we need to make the most of those dreamy sunny weekends Abu Dhabi is famous for.

But there's no need to panic. We've got our collectively cool heads together and come up with a list of the capital's best al fresco feasts, and we know you'll love each and every one of them.

With rooftop dinners, poolside gatherings and beachfront buffets, we've got your next few weekends sorted.

BEACH VIBES
Beach Garden
Feast on South-African style grilled meats at the Beats and Meats Braai night. The braai pits will be fired up on the first and third Friday of every month at Beach Garden, and you can also have a go at braaiing your own meat (with the assistance of a chef, of course). A South African DJ provides the mood music with an uplifting set of feel-good tunes perfect for combatting that food coma.
Dhs180 (soft drinks), Dhs500 (Braai pack for three people). Fri 7pm-11pm. Beach Rotana Abu Dhabi, Al Zahiyah (02 697 9011).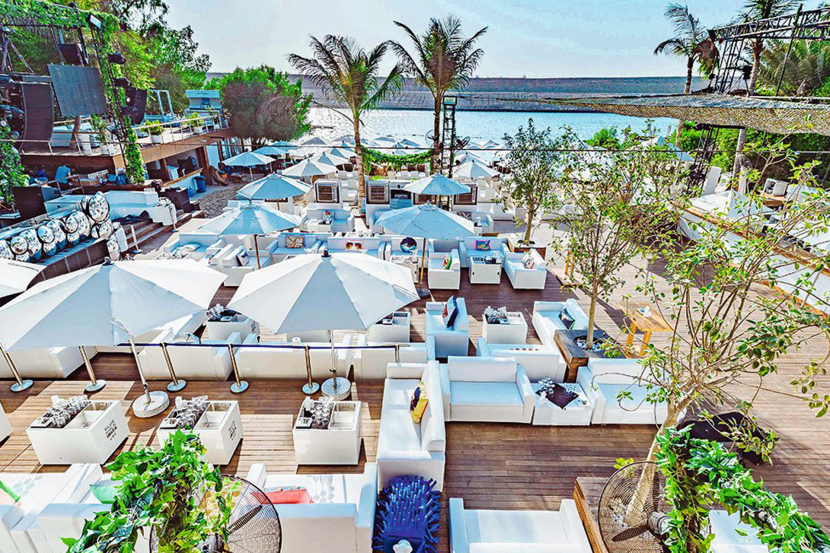 Blue Marlin Ibiza UAE
Of all the places to visit before it gets too hot to do so, Blue Marlin should be very, very high up on your list of priorities. The trendy beach club offers a laid-back brunching experience of sharing food served right out on the white sands of the private beach. Or if you fancy having a cool down in the shade, you can also hang out in the in the hugely fashionable and Insta-friendly restaurant (although why would you want to at this time of year?).
Dhs310 (restaurant), Dhs340 (beach or terrace), Dhs580 (bubbly). Sat 1pm-3.30pm, 4pm-6.30pm (restaurant); 1pm-4pm (beach and terrace). Golden Tulip Al Jazeera Hotel & Resort, Ghantoot (056 113 3400).
Frangipani
There's possibly no better place to go when the weather is fine than the pristine island of Zaya Nurai. Enjoy an international buffet, music from a live DJ and kids' club facilities. Make sure you leave time to take hundreds of photos of the incredible, envy-inducing scene around you.
Dhs550 (soft drinks), Dhs650 (house beverages), Dhs850 (bubbly). Fri noon-4pm. Zaya Nurai Island (02 506 6274).

Latest Recipe
The lovely outdoor garden area provides a fantastic alfresco setting for a weekend gathering. There are international food stations, barbecues, entertainment from a live band and a kids' zone. The price also includes pool and beach access, you lucky people.
Dhs249 (soft drinks), Dhs349 (house beverages), Dhs389 (bubbly). Fri 1pm-4pm. The Village, Le Méridien Abu Dhabi, Al Zahiya (02 495 2000).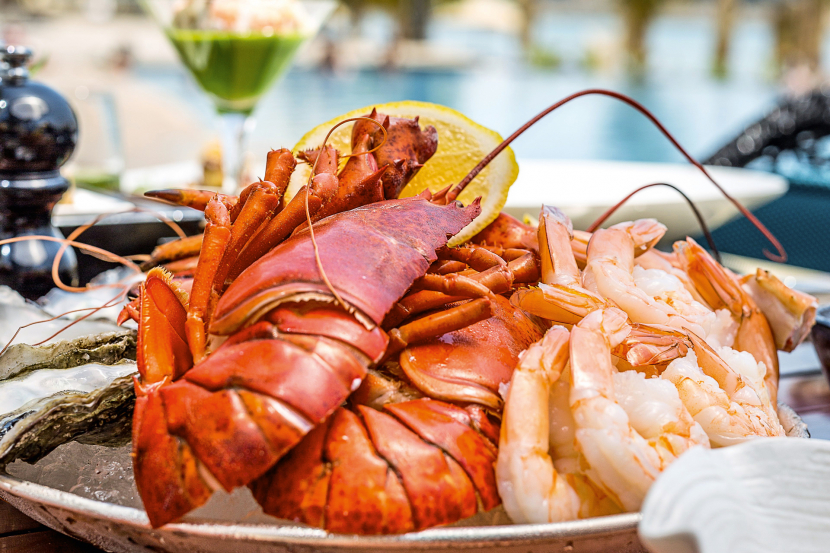 Nahaam
This truly excellent brunch offers food from across Jumeirah at Etihad Towers' impressive restaurants. A live band provides the entertainment as you browse the poolside barbecues and sample fresh seafood, German specialities, delicious meats and much more.
Dhs350 (soft drinks), Dhs450 (house beverages), Dhs550 (bubbly). Fri 12.30pm-4pm. Jumeirah at Etihad Towers, West Corniche (02 811 5666).

Olea
If you're looking to impress someone, take them to The Epicurean Brunch at Olea. Keep an eye out for dolphins as you dine on the outdoor terrace by Saadiyat Beach, and make sure you visit the cheese room and sample some of the many mixed drink stations (the mocktails are amazing, too).
Dhs380 (soft drinks), Dhs495 (house beverages), Dhs695 (bubbly), Dhs180 (kids aged six-12), free (kids under six). Fri 1pm-4pm. The St. Regis Saadiyat Island Resort, Abu Dhabi (02 498 8888).
Sim Sim
The Market Brunch has every dish you can imagine, and then some. Choose from a huge spread of seafood (including enormous swordfish) and have it freshly barbecued to order and delivered to your table. There are also dishes from across Asia and the Middle East, plus a massive selection of desserts.
Dhs335 (soft drinks), Dhs475 (house beverages), Dhs595 (sparkling). Fri 1pm-4pm. Saadiyat Rotana Resort & Villas, Saadiyat Island (02 697 0000).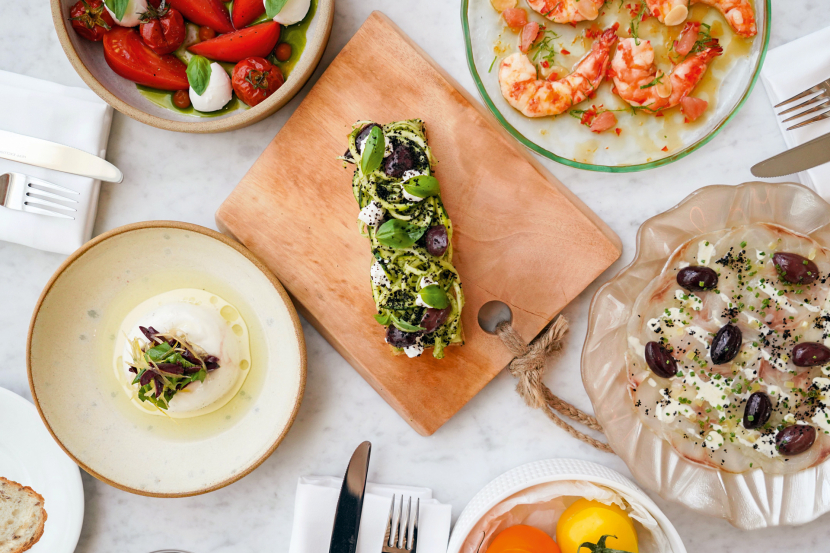 POOL PURSUITS
Alba Terrace
This chilled, Mediterranean restaurant serves up an exceptional three-course set menu during the Rose Brunch. The setting is impossible stylish, with booths sunk into the pool and wonderfully classy furnishings. The live band is awesome and the dessert platter will blow you away. Enough said.
Dhs250 (soft drinks), Dhs400 (house beverages), Dhs500 (bubbly). Fri 12.30pm-4.30pm. The Abu Dhabi EDITION, Al Bateen Marina (02 208 0000).

Al Naseem Pool Bar
Enjoy Arabic specialities such as hot and cold mezze and loads of grilled meats at this Middle Eastern-fusion barbecue. The venue is super laid-back, and the tasty grub is served by the side of the pretty pool.
Dhs129 (soft drinks), Dhs229 (house beverages). Fri 2pm-5pm. Novotel Abu Dhabi Gate, Khor Al Maqta (02 508 9999).
Emirates Palace
This event really has the 'wow factor'. You won't know where to start with all the options available at this European food market-style set-up, but highlights include the lobster omelette, tapas, grilled meats and French tarts and pastries.
Dhs370 (soft drinks), Dhs465 (house beverages), Dhs680 (bubbly), Dhs780 (French bubbly), Dhs185 (kids aged six to 10). Fri 12.30pm-4pm. Emirates Palace, West Corniche (02 690 9000).
PJ O'Reilly's
This brunch lets you enjoy the heartiest selection of pub grub out in the sunshine on the terrace. It's totally unpretentious, super friendly and packed with Irish charm.
Dhs149 (drinks only), Dhs199 (food and house beverages). Fri 1pm-4pm. Le Royal Méridien Abu Dhabi, Sheikh Khalifa Street (800 101 101).

ROOFTOP REVELRY
Hytes
Take in the skyline of downtown Abu Dhabi from the rooftop terrace of the Southern Sun as you feast on authentic South African-style barbecued meats. The staff are always friendly and you can even have a go at braaing the meats yourself in the fire pit
Dhs169 (soft drinks), Dhs229 (house beverages). Fri 7pm-10:30pm. Southern Sun Abu Dhabi, Al Mina Street, Al Zahiyah (02 818 4888).


Tamba
This Indian-inspired menu is a world away from your usual unadventurous chicken korma. Feast on a spread of beautifully presented and creative dishes, while soaking up the sunshine on the terrace.
Dhs195 (soft drinks), Dhs295 (house beverages). Fri 12.30pm-4pm. The Hub at The Mall, Word Trade Center Abu Dhabi, Al Markaziyah (02 672 8888).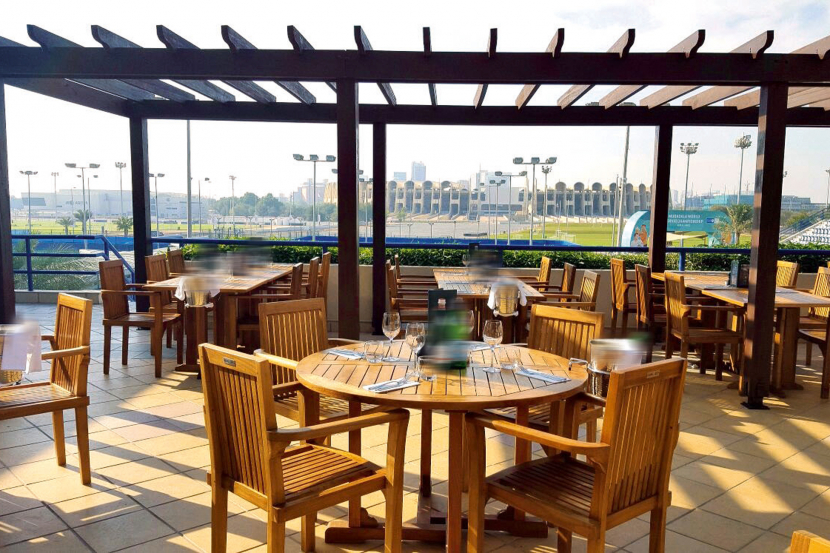 The Sportsman's Arms
There are two brunch options available at this chilled-out pub at Zayed Sports City. Watch the players working hard on the football pitches as you choose from either one main course, or unlimited barbecued dishes plus a drinks package. You'll have a blast either way.
Dhs165 (one dish and house beverages), Dhs240 (unlimited barbecue and house beverages). Fri 1pm-4pm. International Tennis Centre, Zayed Sports City (02 447 1066).

WATERSIDE VIEWS
Flooka
Gaze out over the peaceful mangroves and sample huge grilled fish, perfect paella and hot and cold mezze. A big hit with all seafood fans, this pretty terrace is always packed out with families and groups of friends. It's not hard to see what the attraction is.
Dhs160 (soft drinks), Dhs260 (house beverages).Sat noon-5.30pm. Eastern Mangroves Promenade, Dhafeer Street (02 441 8244).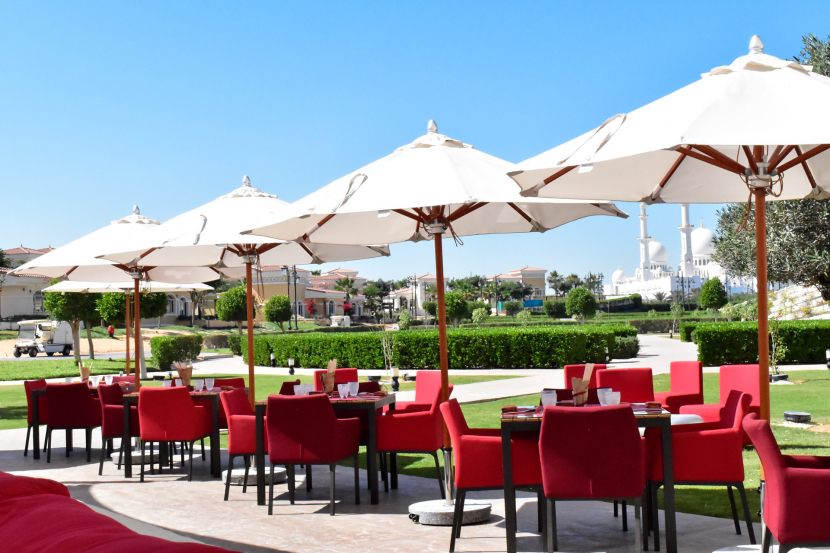 Li Jiang
A superb selection of pan-Asian dishes (including some practically life-changing noodles) are served out on the terrace at Li Jiang. Other highlights include the exceptional homemade dim sum and the stunning backdrop of the Grand Mosque.
Dhs215 (soft drinks), Dhs340 (house beverages), Dhs465 (bubbly). Sat 1pm-4pm. The Ritz-Carlton Abu Dhabi, Grand Canal (02 818 8282).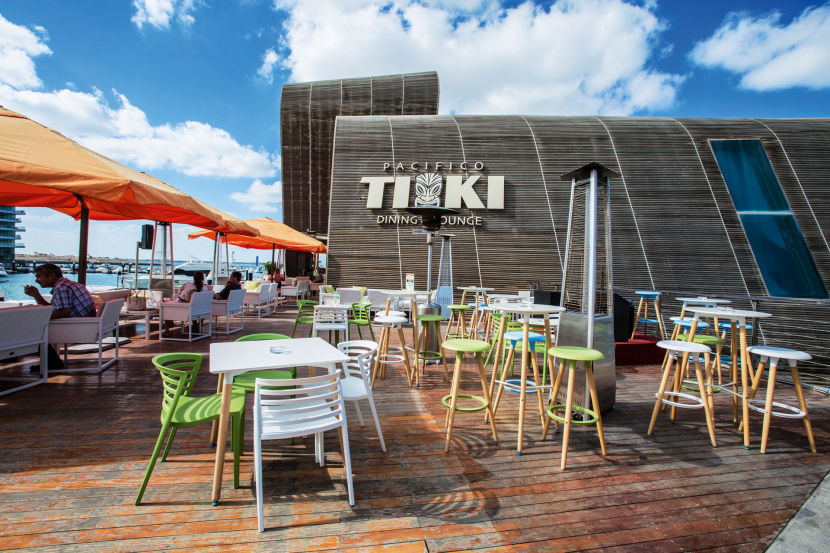 Pacifico Tiki
One of the many great things about Abu Dhabi, is that you can find incredible views of the Gulf from so many great spots across the city. Al Bandar is one these beautiful, and relatively hidden, spots. And super-cool bar Pacifico Tiki has a position jutting out right over the clear water. The Thursday night brunch offers endless amounts of tapas-style nibbles and free-slowing mixed drinks. It's ideal for impressing visitors with, or simply for celebrating the start of the weekend.
Dhs275 (house beverages). Thu 8pm-11pm. Al Bandar Marina, Al Raha Beach (02 556 6090).
Sho Cho
This Japanese restaurant has bagged a great location overlooking the Grand Canal, but the exceptional sushi and sashimi is what keeps seafood fans coming back time and time again. The menu includes some cooked options and salads, too, while the outdoor terrace is the perfect spot for watching the sun dip below the horizon.
Dhs160 (soft drinks), Dhs245 (house beverages). Noon-4pm. Souk Qaryat Al Beri, Bain Al Jessrain (02 558 1117).

Venetian Village
The Brunch Town spread features French, Mediterranean, Japanese and Asian cuisine, live Latin music, a roaming magician and face painting for kids. Bag one of the outdoor tables by the canal, and take advantage of the after-brunch drinks package while you watch the sun steadily disappear.
Dhs295 (soft drinks), Dhs395 (house beverages), Dhs595 (bubbly) Dhs155 (after-brunch party 5pm-8pm). 12.30pm-4pm. Venetian Village, The Ritz-Carlton Abu Dhabi, Grand Canal, Kkor Al Maqta (02 404 1931).

YAS ISLAND
Aquarium
This family-friendly seafood barbecue brunch has plenty for all ages, including kids' entertainment and a live Latin band. The outdoor area by Yas Marina is the perfect place for indulging in a spot of people (and yacht) watching, as you end the weekend on a high.
Dhs175 (soft drinks), Dhs274 (house beverages), half price (kids and nannies). Sat noon-5pm. Yas Marina, Yas Island (050 696 9357).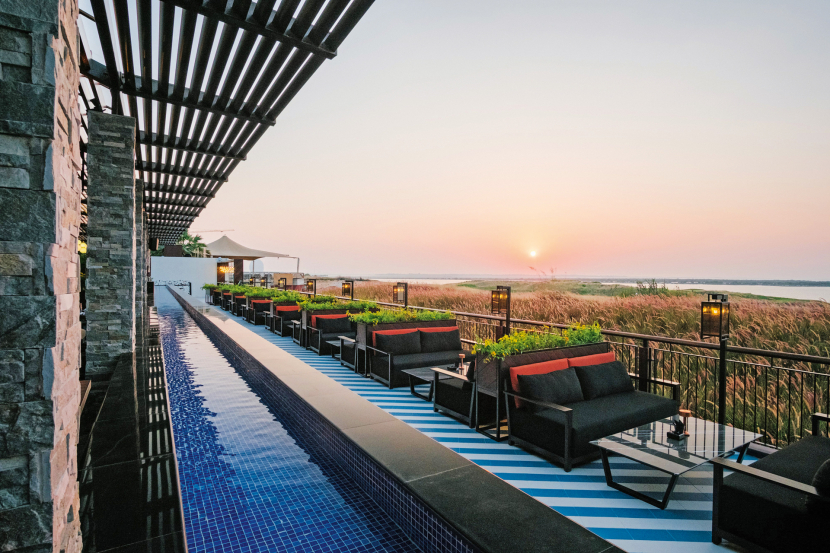 Filini Garden
This Filini feasts starts with antipasti served to the table along with pizzas and pastas to share. There's also a buffet of salads, breads and then main courses on top of that (if you've still got room). The lively after-party is worth sticking around for, and the view over Yas Links is pretty much unbeatable.
Dhs200 (soft drinks), Dhs365 (house beverages), Dhs500 (premium beverages). Fri 12.30pm-4pm. Radisson Blu Hotel Abu Dhabi, Yas Island (02 656 2000).
Iris Yas Island
This offering attracts the cool crowd with its barbecued meats, salads and great spread of colourful sushi. It's brilliant value, too, and with five hours of free-flowing beverages and atmospheric tunes from the live DJ, it's the ultimate way of living life in style.
Dhs190 (soft drinks), Dhs240 (house beverages), Dhs290 (bubbly). Fri noon-5pm. Yas Marina, Yas Island (055 160 5636).
Be the first to get all the latest Abu Dhabi news, reviews and deals into your inbox by signing up to our free
newsletter
,
click here to sign up
.