Mexican food seems to be having something of a moment here in the capital, and one of the latest salsa-filled brunches to emerge is the Wednesday Poco Loco brunch at Afyä.

We've noticed a dip in night brunches lately, so we're excited for a mid-week gorging session as we arrive at the Traders Hotel.

The indoor area immediately strikes us as being very family friendly, which is a diplomatic way of saying there are lots of children running around.

So we head outside, where in contrast to the bright and loud dining room we're greeted with a tranquil terrace overlooking the beach.It's a lovely setting, and we protect ourselves from the gentle breeze coming in from the canal with blankets that are handed to us by the helpful staff.

We start by browsing the cold starters indoors, and for one of the only times in our lives, we come away from the buffet table almost empty handed. None of the antipastis look particularly inspiring, but the beetroot and chicken salads are both colourful and filled with wonderful fresh ingredients.

We're also purposefully saving room for the Mexican dishes. Served buffet-style on the terrace, they all look very inviting.

We kick off at the nacho station, where we get very carried away ladelling on sour cream, spicy salsa and guacamole (sadly it doesn't seem to be homemade).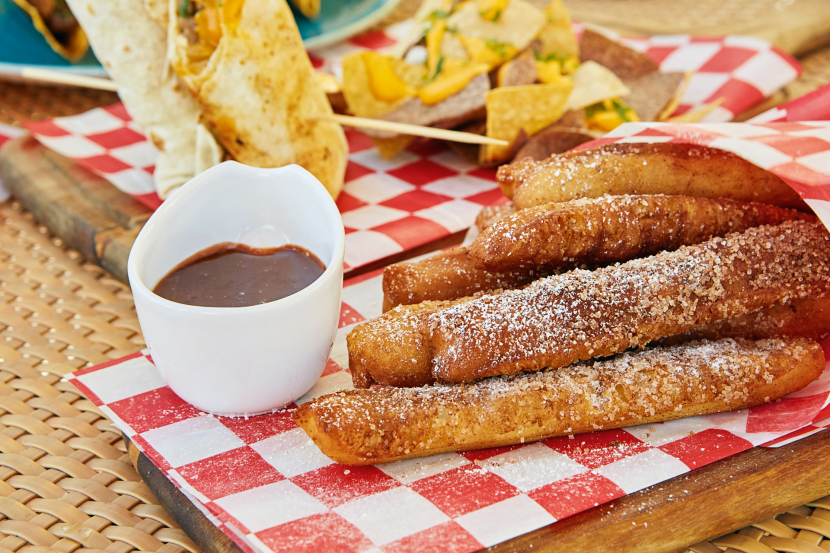 We also grab a scoop of chilli beef and refried beans. The beans are full of cheese and cream and are really quite rich, but we thoroughly enjoy both the piping-hot toppings.

We also try a small bowl of tortilla soup, it's not exactly brimming with different flavours, but on a night that is practically chilly by Abu Dhabi's standards, it's a comforting addition.

Next, we move on to the barbecue and order some grilled chicken, lamb and a piece of steak (that's cooked to our liking).

The chicken is fine but nothing to be too excited about, but the red meats are tender, delicious and very impressive.

We pair the meats with the some delicately spiced Mexican rice, and a few excellent roast carrots and tomatoes.

Sadly the chicken burrito is stone cold inside, despite having a heat lamp covering it. But the meat, and crunchy peppers inside are still tasty and covered in mild spices.

We see no sign of the ceviche trolley, which is advertised on the website, but there are plenty of other options such as grilled kingfish, beef sausages, beef stew and a huge wok of simmering pulled beef (this brunch perhaps isn't a good option for vegetarians and vegans).

The dessert table has been thoroughly attacked by the time we get to it, and although we've already eaten our own body weight in savoury nachos, we have to try the sweet version as well. We're big fans of the quirky dessert, and dusted with icing sugar and topped with fruits, the triangle-shaped slices of pastry are a light and moreish treat.

We avoid the dubiously bright cheesecakes but try a chewy churro that seems like it might have been sitting there a while.

There are no labels on any of the puddings, which would have been helpful. But we're eventually fully satisfied by the creamy Mexican rice pudding. It's a dreamy dish.

The food could be improved in some areas, as could the methods of keeping it warm on the terrace. But it's still a good-value deal that offers a huge variety of Mexican dishes. A good option for families.
Dhs141 (food), plus Dhs45 (soft drinks), Dhs80 (grapes and hops). Wed 6.30pm-10.30pm. Traders Hotel, Qaryat Al Beri, Al Maqta (02 509 8555).
WHAT IS IT...
A buffet of Mexican dishes, with unlimited hops and grape in the house beverages package

WHY GO...
To try sweet nachos. They're really rather good.
Be the first to get all the latest Abu Dhabi news, reviews and deals into your inbox by signing up to our free
newsletter
,
click here to sign up
.