DETAILS: Dhs190 (soft drinks), Dhs290 (house beverages). Thu 7.30pm-11pm, Fri 3pm-6.30pm, 7.30pm-11pm. Yas Marina, Yas Island (050 797 0742).

We're sure you've already cottoned on to the fact that if you want to go somewhere in Abu Dhabi that is guaranteed to be lively, then your first port of call should be Mr Miyagi's on Yas Island.

Yes, the capital has gone crazy for this Asian-themed bar and restaurant.

It turns out the combination of raucous karaoke and colourful buckets of mixed drinks doesn't just work brilliantly on Thai islands, it also adds something fantastic to Yas's nightlife scene.

But of course the Pan-Asian food is another reason why this fun and vibrant restaurant is so popular, and when we visit for the Friday night brunch, the dining area is predictably packed with rowdy revellers.

Explaining to the waitress that we have a table reservation (we're fashionably late) over the din of the music and singing is a bit of a hassle, but soon we're in and seated at a private booth surrounded by cherry blossom and tuk tuks. It's the perfect spot from which to watch the madness unfold around us.

The brunch is a five-course set menu of classic Asian favourites. All we have to do is choose our main, and the food is brought out quickly and efficiently.

Rather than punish us for being late, our helpful waitress brings us extra drinks without us having to ask and is keen to make sure we have everything we want.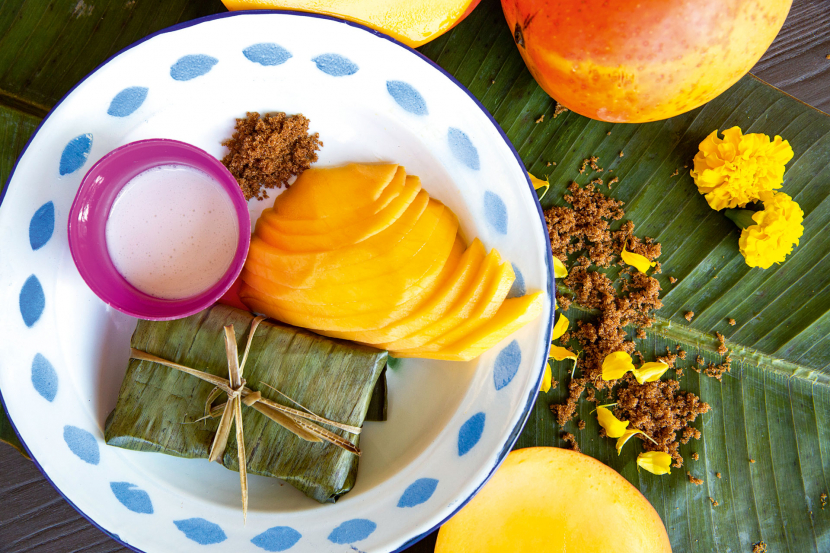 We start off with edamame and Thai crackers. There's nothing special about these simple dishes, but we love the sweet chilli sauce and we're quite content munching through the podded vegetables as we wait for the starters to arrive.

These come in a pleasing selection of wicker baskets and colourful plates, and the vegetable spring rolls (piping hot, crunchy and filled with fresh veg) and Thai fish cakes (pleasantly spicy and served with a cooling cucumber relish) are our clear favourites.

Both dishes are just as tasty as anything you would find in a fancier and more high-end Asian eatery. But Mr Miyagi's manages to bring a party atmosphere without compromising on the quality of the dishes.

Unfortunately, we find the squid tempura a bit rubbery and flavourless, and the bright-green colour of the dim sum is a bit off-putting (even if they do taste nice). Each starter comes with a different dipping sauce, and we love trying each of them out. It's the little details like this that make the whole thing so enjoyable.

The highlights of the sushi course include some brilliant vegetarian and Californian rolls, and crunchy spider rolls topped with spicy mayo. There's just one piece each of each variety, but that's more than enough considering how much food is still to come.

We're pretty full by the time the mains arrive, but the breaded chicken and creamy sauce in the chicken katsu is lovely. Meanwhile, the kung pao chicken strikes the perfect balance between sweet and spicy, and the fried chunks of chicken don't seem too greasy or unhealthy thanks to the crunchy peppers, onions and other veg.

The biggest suprise of the night is the mango and sticky rice. Wrapped neatly in a banana leaf, the coconut-infused sweet rice is delightful with the fresh fruit. We can't resist scraping the plate clean.

This isn't a relaxing place to dine, but for a lively party brunch that also offers awesome food, you can't beat Mr Miyagi's.
WHAT IS IT...
Five courses of Asian favourites, plus karaoke, dancers and lots of lively entertainment

WHY GO...
For a night out at one of the busiest bars in Abu Dhabi. Plus the superb kung pao chicken and mango with sweet sticky rice
Be the first to get all the latest Abu Dhabi news, reviews and deals into your inbox by signing up to our free
newsletter
,
click here to sign up
.