Once you move to Abu Dhabi, brunching becomes an almost weekly ritual.

Whether you're entertaining visitors, celebrating a friend's birthday or just out for the fun of it, we all love a good brunch.

But of course these decadent events come in many different forms, and a Saturday brunch is a very different beast to a Friday or night-time version.

While Fridays are for blowing off some steam, you don't want to go too crazy when you're feasting on a Saturday.

Instead, you want a chilled-out vibes, a peaceful place to catch up with family and friends in and lots of brilliant food to distract yourself from thinking about going back to work the next day.

So we've rounded up our favourite Saturday brunches in Abu Dhabi, and they're so good you might just have to try them all.
Aquarium
This family-friendly seafood barbecue brunch has plenty for all ages, including kids' entertainment, a live Latin band and brilliant views over Yas Marina. The food is also varied and tasty, and aside from the seafood you can also expect grilled meats, noodles, soups, a salad bar and a wide choice of desserts.
Dhs175 (soft drinks), Dhs274 (house beverages), half price (kids and nannies). Noon-5pm. Yas Marina, Yas Island (050 696 9357).


Blue Marlin Ibiza UAE
If you want a beachside brunch, you can't get more glamorous than this one. Join the good-looking crowd and feast on fresh sushi, barbecued meats and Mediterranean-inspired plates as you relax on the white sands. It's well worth the drive over to Ghantoot.
Dhs310 (restaurant), Dhs340 (beach or terrace), Dhs580 (bubbly). 1pm-3.30pm, 4pm-6.30pm (restaurant); 1pm-4pm (beach and terrace). Golden Tulip Al Jazeera Hotel & Resort, Ghantoot (056 113 3400).
BU!
Parents will love the fact that this popular Latin restaurant has a separate menu especially for under 12s. Plus, for every paying adult, one child gets to eat for free. With ceviches, sushi, tacos and countless colourful specialities, it's also perfect for a chilled Saturday gathering with friends.
Dhs195 (soft drinks), Dhs295 (house beverages). 12.30pm-4.30pm. The Hub, The Mall at World Trade Center, Al Markaziya (02 666 8066).
Cafe Milano
This sophisticated brunch lets you embark on a culinary tour of a different Italian region each week, and it's an incredible experience. As the plates of high-quality dishes are brought to your table by the charming staff, you'll feel all your troubles melt away. You can also stick around afterwards to watch the sunset from the terrace.
Dhs285 (soft drinks), Dhs365 (house beverages). Noon-4pm. Four Seasons Abu Dhabi, Al Maryah Island (02 333 2222).
Carluccio's
The Italian chain has bagged one of the best locations in the city. Overlooking the peaceful mangroves, the four-hour brunch is just what you need to refuel after an energetic morning kayaking. There's a mix of breakfast plates such as eggs and croissants, and main courses like vegetarian risottos, pizzas and spaghetti. Plus a selection of authentic Italian sweets for dessert, too.
Dhs224 (soft drinks), Dhs305 (house beverages), Dhs339 (bubbly). 11am-3pm. Eastern Mangroves Promenade, Al Salam Street (02 441 3814).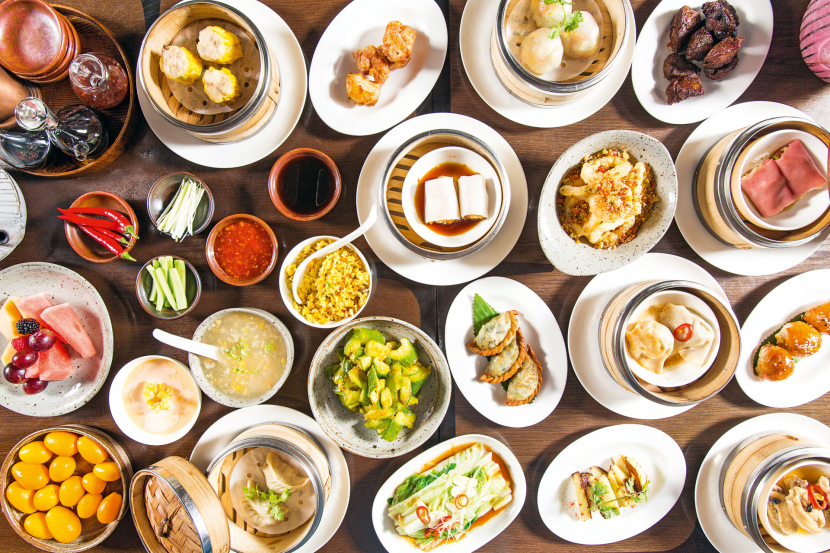 Dai Pai Dong
If you've got a thing for Chinese food, then you can't miss the awesome Yum Cha brunch at Dai Pai Dong. Visit the soup, hot pot and sushi stations at your leisure, and work your way through the incredible selection of dim sum with inventive fillings such as roasted duck with sugarsnap peas and steamed fish with black bean sauce. There are also barbecued meats, hot mains and delicate desserts.
Dhs268 (mocktails), Dhs328 (house beverages). Noon-4pm. Rosewood Abu Dhabi, Al Maryah Island (02 813 5550).
Fairways
With effortless style and brilliant food, the French have an enviable way of life. But at least we can pretend we're dining in Paris at the Brunch à la Parisienne. There are authentic Gallic specialities, a make-your-own ceviche counter, grilled meats and everything you need for a relaxed Saturday afternoon. After you're done feasting, you can go and sleep it off on a sunbed by the pool, which might just be one of our favourite bits.
Dhs233 (soft drinks). Noon-4pm. The Westin Abu Dhabi Golf Resort & Spa, Sas Al Nakhl (02 616 9999).
Finz
You'll want to take your time over this seafood brunch, served over the water at the Beach Rotana. The starters, mains and desserts will take you from South-East Asia to the Mediterranean and North Africa, while the resident DJ provides relaxed tunes. The pricier package includes a beach and pool pass so you can really make a whole day of it.
Dhs290 (soft drinks), Dhs370 (house beverages and sparkling). 12.30pm-4pm. Beach Rotana Abu Dhabi,
Al Zahiyah (02 697 9011).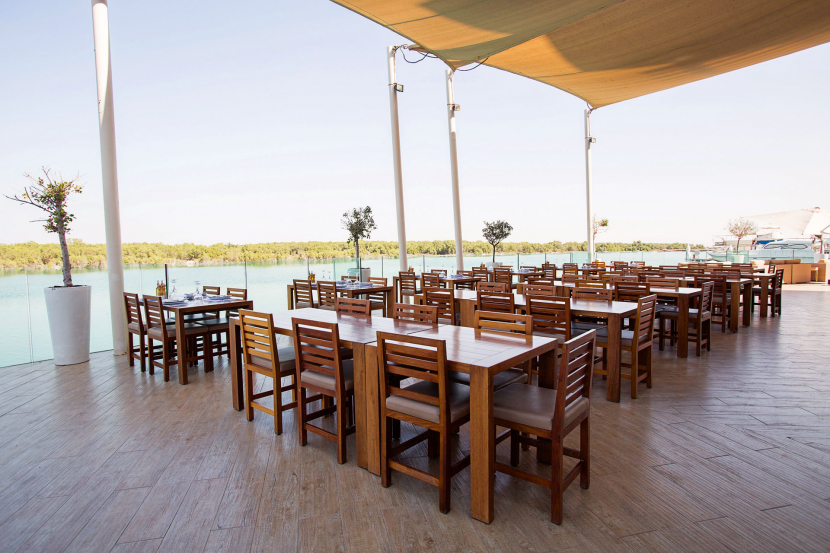 Flooka
This brunch is super popular with families, and it's not hard to see why. The wide terrace is ideal for a gathering with family and friends, taking in the views of the beautiful
mangroves and sampling fresh seafood, paella and a wide variety of hot and cold Middle Eastern mezze.
Dhs160 (soft drinks), Dhs260 (house beverages). Noon-5.30pm. Eastern Mangroves Promenade, Al Salam Street (02 441 8244).
Li Jiang
End your weekend on a high at this lively brunch as you work your way through a superb selection of pan-Asian dishes such as noodles, seafood, curries and stir fries.
It's all served out on the terrace, where you'll also be treated to stunning views of the Sheikh Zayed Grand Mosque.
Dhs215 (soft drinks), Dhs340 (house beverages), Dhs465 (bubbly). 1pm-4pm. The Ritz-Carlton Abu Dhabi, Grand Canal (02 818 8282).
OAK Room
It's no surprise that British celebrity chef Tom Aikens knows how to do a good roast. The Saturday Feast features carved meats, Yorkshires and an awesome sticky toffee pudding for dessert. The British rock 'n' roll-themed dining room is amazing, and even those with the heartiest of appetites will come away feeling totally satisfied.
Dhs290 (soft drinks), Dhs425 (house beverages), Dhs550 (bubbly). 11.30am-3.30pm. The Abu Dhabi EDITION, Al Bateen Marina (02 208 0000).
Sontaya
Tuck into a set menu of sharing dishes from around South-East Asia at this stunning, relaxed venue. With everything from sushi to curries to duck pancakes, and influences taken from Malaysia, Indonesia, Japan and Vietnam, it's impossible not to enjoy dining at this romantic restaurant by the white sands of Saadiyat beach.
Dhs290 (soft drinks), Dhs415 (house beverages). 1pm-4pm. The St. Regis Saadiyat Island Resort, Abu Dhabi (02 498 8888).
Stars 'N' Bars
While Fridays at this American-themed restaurant are certainly very lively affairs, the Saturday offering offers a more laid-back experience. However, the bar food is just as great as it always is, with burgers, pizzas, tacos, salads and much more.
Dhs250 (soft drinks), Dhs300 (house beverages), Dhs350 (bubbly). Noon-4pm. Yas Marina, Yas Island
(02 565 0101).
Up & Below
This lively rooftop lounge is serving up one main dish from the à la carte menu, including sliders, meats and seafood, and a selection of desserts served to your table. The views over downtown are pretty unbeatable, and you can expect a friendly crowd and welcoming staff.
Dhs160 (soft drinks), Dhs285 (house beverages), Dhs80 (kids aged six to 12), free (children under six). 12.30pm-4pm. Courtyard by Marriott World Trade Center, Hamdan Bin Mohammed Street (02 698 2222).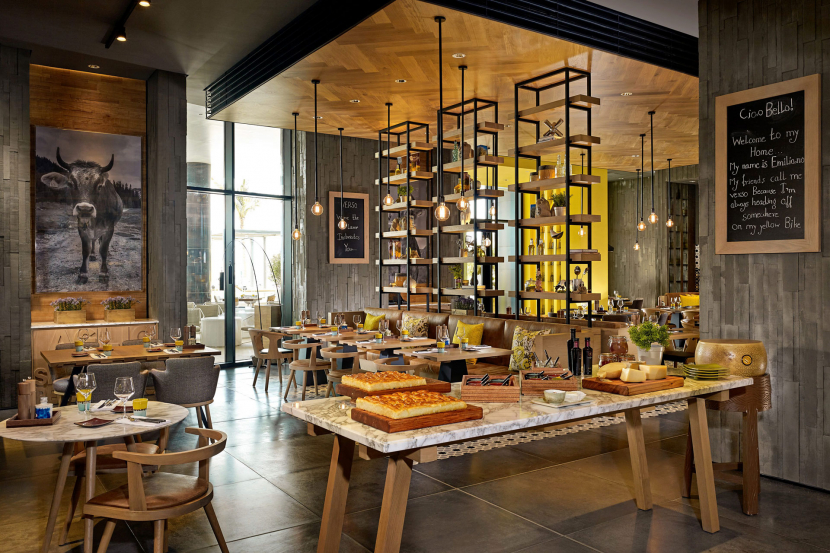 Verso
This Italian venue provides exceptionally good food in a colourful and trendy dining room. You won't be able to stop smiling as you help yourself to antipasti and devour the fresh pizzas, pastas and mains that are all brought to your table. You can watch your food being prepared in the open kitchen and make as many trips as you like to the amazing dessert table, which features huge meringues, Italian gelato, tirimasu and much more.
Dhs200 (soft drinks), Dhs350 (house beverages), Dhs450 (bubbly), half price (kids aged six-12), free (kids under six). Noon-4pm. Grand Hyatt Abu Dhabi Hotel & Residences Emirates Pearl, Corniche Road West (02 510 1234).
Villa Toscana
Italian food doesn't come much better than the dishes at Villa Toscana. The wonderful brunch menu features extra-special Tuscan favourites such as homemade lobster and prawn ravioli, grilled lamb with rosemary and mint and salmon with mascarpone and parmesan. If that's not enough, you can also help yourself to endless amounts of Italian grapes, desserts and cheeses. It's all absolutely exceptional (you might just need to eat salad for a week after to make up for it).
Dhs210 (soft drinks), Dhs330 (premium drinks). 12.30pm-4pm. The St. Regis Abu Dhabi, Nation Towers, Corniche Road West (02 694 4553).
Be the first to get all the latest Abu Dhabi news, reviews and deals into your inbox by signing up to our free
newsletter
,
click here to sign up
.