DETAILS: Dhs380 (soft drinks), Dhs495 (house beverages), Dhs695 (bubbly). Fri 1pm-4pm. Oléa, The St. Regis Saadiyat Island Resort, Abu Dhabi (02 498 8888).

Some brunches can be a bit much to take in, and the very epic Epicurean Brunch at Olea definitely fits into this category.

Before we have even reach the hostess we are greeted by a server holding a huge plank of canapés (and we literally mean a plank, it's impressive that she is managing to carry it at all). This instantly sets the tone for the unnecessarily huge amount of food which we are about to be presented with.

We are then given a quick tour of some of the stations, and we start to realise that skipping breakfast was a very wise decision indeed. The amount of choice is staggering.

It's a classic help yourself-style buffet situation; only the grape and soft drinks are brought to your table. There are mixed drink stations dotted through the room and hops are found on the terrace where the live band are playing.

We think it's a bit of a faff to have to get up every time we want a drink, such is the lazy expat life we are used to. However, we relish trying the many different fruity concoctions.

There are so many different stations that it doesn't all fit in the light and airy dining room. The seafood, roasts, foie grais and cheese room (we'll always regret not saving enough room to make full use of this) are in a seperate area.

We start with the Italian-themed antipasti station. The focaccia bread is sensational and the countless salads are fresh and interesting. The burrata salad is freshly prepared for us using a variety of cheeses and sweet and juicy multi-coloured tomatoes.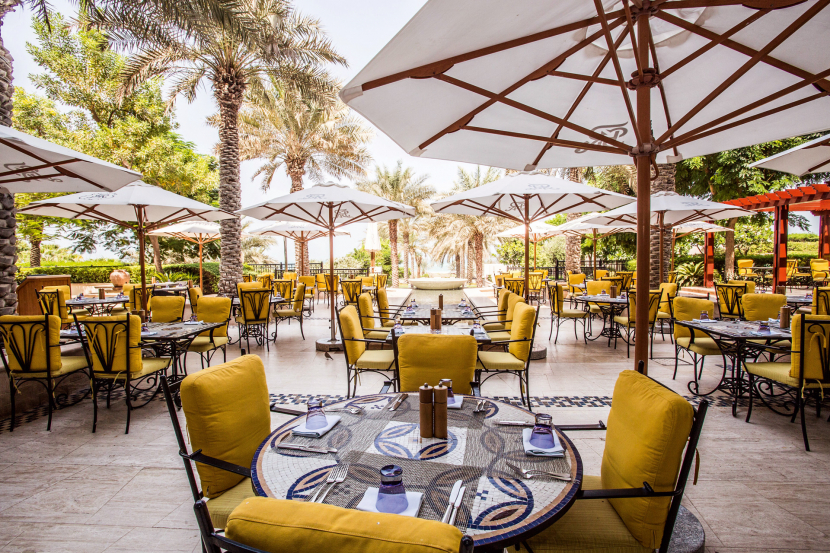 After that we can't resist the Middle Eastern specialities. We go way over the top with the hummus (we have a real problem, okay), and the fattoush and tabbouleh are delicious.

After this, we still have a long list of things we want to try, and we're starting to panic that we won't have enough room. Therefore it's almost a blessing that the sushi spread isn't quite as huge as we imagined. However, the maki rolls are superb.

The chef at the Asian street food station recommends we try the laksa soup, and we honestly still can't thank him enough for this genius suggestion.

Originating from South-East Asia, it is full of noodles, veg, seafood, fresh herbs and the most wonderful flavour combinations. Rich and wonderfully creamy from the coconut milk, we feel like returning just for the chance to sample another of these magical tasting bowls.

The grilled meats and fish are also impressive. The braised beef is wonderfully tender, and the huge barbecue prawns are a real treat.

The spinach and ricotta-filled cannelloni is another highlight, in fact vegetarians would also be spoilt for choice here.

Selecting our dessert is another overwhelming experience and we circle the options several times before deciding.

The cheesecake is an obvious must. Homemade and presented in a huge range of flavours ranging from Oreo to strawberry, it is dished out in generous, American-style slabs. We try the dulce de leche version and conclude it's a masterpiece. As is the vanilla custard pastry and delicate peanut and caramel cake. It's all about over indulging here, and we're not even remotely ashamed.

If you want to experience a 'proper' Abu Dhabi brunch, this should be top of your list. The views of Saadiyat's beautiful beach and blue seas also help make it so good.

WHAT IS IT...
An epic buffet brunch serving countless different cuisines and a huge variety of mixed drinks

WHY GO...
The laksa soup. We honestly can't stop thinking about it
Be the first to get all the latest Abu Dhabi news, reviews and deals into your inbox by signing up to our free
newsletter
,
click here to sign up
.