We can ignore it as much as we like, but there's no escaping the fact the temperatures are starting to edge back up to slightly uncomfortable levels.

But instead of being down about it, we think now is the perfect time to get out there and visit all the best outdoor bars in the capital, or more specifically, the ones with the best views.

We need to enjoy these pleasantly warm evenings and sunny afternoons while we still can. And a cool drink always tastes a bit better when it's being enjoyed in front of a beautiful backdrop doesn't it?

So whether you want to admire the city skyline, the blue waters of the Gulf or a rolling golf course, you'll find all these gorgeous scenes in our guide to the best bars with a view in Abu Dhabi.

ANNEX
The Abu Dhabi EDITION has already established itself as one of the coolest hotels in the capital, and this is partly down to ANNEX, its incredible three-tier bar. While the bottom two floors host big parties and top DJs, the rooftop terrace features fire pits, comfy sofas and a well-stocked bar serving excellent mixed drinks (including some coffee-based conconctions they're particularly proud of). The views over Al Bateen Marina are really something else, and as you take in the outline of Etihad Towers and gaze over the moored boats below, you'll really feel like you've made it in life.
Open Tue-Wed & Fri-Sat 6pm-midnight. The Abu Dhabi EDITION, Al Bateen (02 208 0000).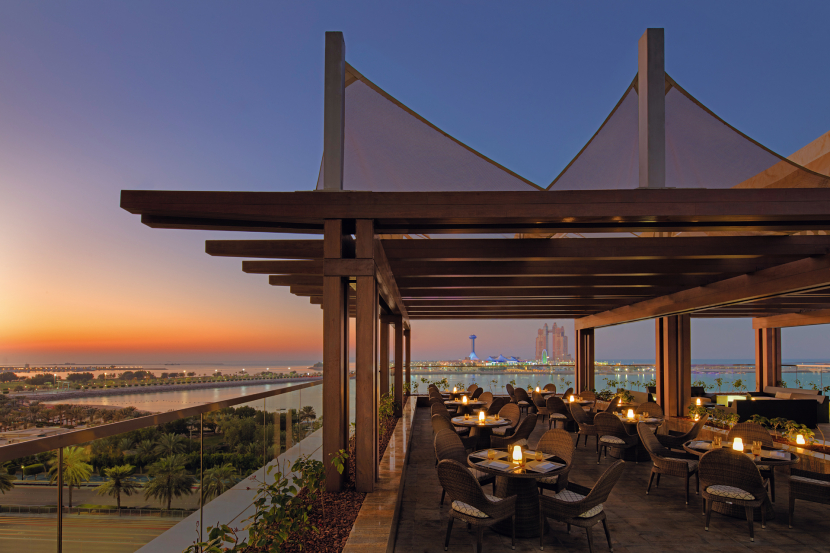 Azura Panoramic Lounge
With a much sought-after position right on the Corniche, The St. Regis Abu Dhabi was lucky enough to bag one of the best locations in the capital. Azura Panoramic Lounge has an elevated perch in Nation Towers and as the name suggests, the unobstructed views over the Gulf and Abu Dhabi landmarks such as Emirates Palace are stupendous.
The daily happy hour (from 5pm to 8pm) is timed to coincide with the sun setting. Isn't that convenient?
Open daily noon-1am. The St.Regis Abu Dhabi, Nation Towers, Corniche Road (02 694 4553).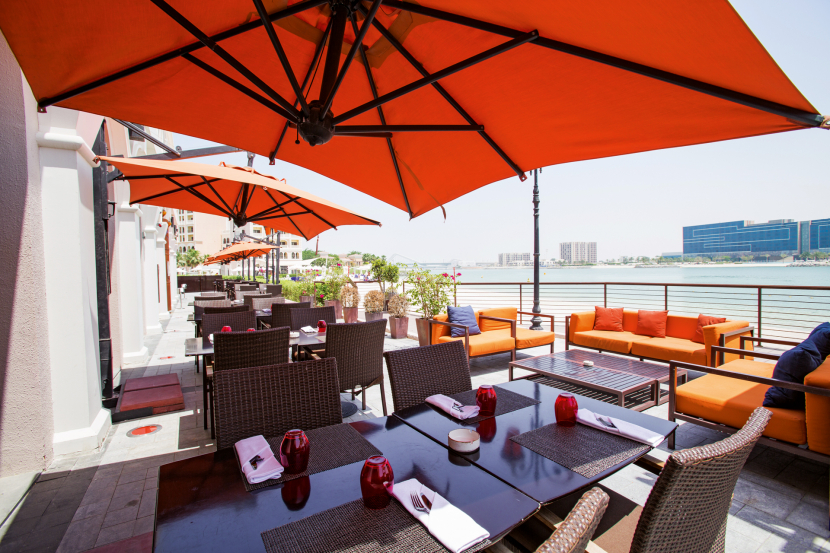 Barfly by Buddha-Bar
Since super-trendy Buddha-Bar Beach opened on Saadiyat Island last year, it's perhaps been easy to forget about the other (and equally cool) arm to the Buddha-Bar brand that can be found right here in the capital. In fact, for those of us living 'off island' in areas such as Khalifa City and Al Maqta, Barfly by Buddha-Bar is a far more convenient spot to get to for some post-work drinks. Yet the geographical position of this Asian-inspired bar and restaurant isn't even in the top 10 reasons of why it's such a brilliant place for a night out. The outdoor terrace lets you admire the Grand Canal in all its glory, and the sushi and mixed drinks are absolutely super. Go and check it out, if you haven't already had the pleasure.
Open Sun-Wed 6pm-2am, Thu 6pm-3am, Fri 4pm-3am, Sat 4pm-1am. Venetian Village, The Ritz-Carlton Abu Dhabi, Grand Canal (02 408 7201).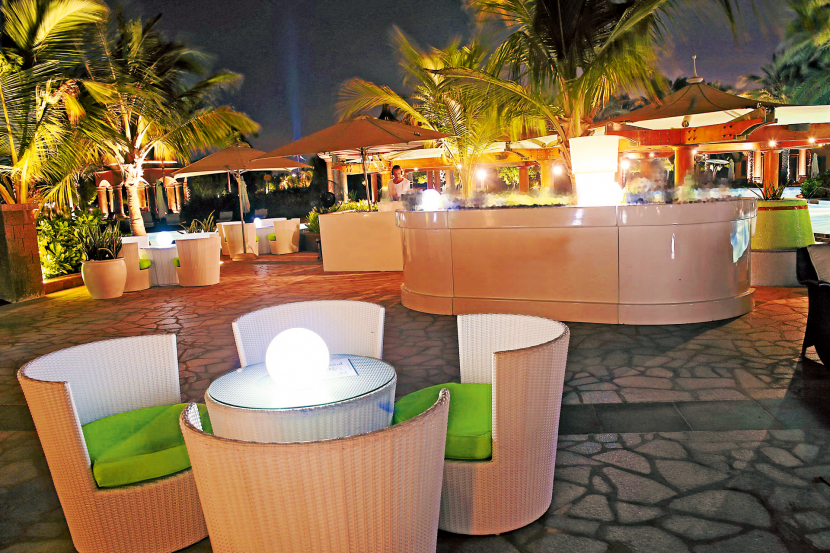 Breeze Lounge
Any visit to Emirates Palace is enough to you feel like an actual prince or princess, and an evening at Breeze Lounge gives you a real taste of royalty. Recline in a sofa or tent-covered table and give your best nonchalant 'Oh, I always hang out at stupidly fancy places like this' pose for your increasingly jealous Insta followers. Earning its name from the fact that you are close enough to the glittering waters to literally feel the sea breeze, this is the kind of setting that makes you want to pinch yourself.
Open Mon-Sun 5pm-1am. Emirates Palace, West Corniche (02 690 7999).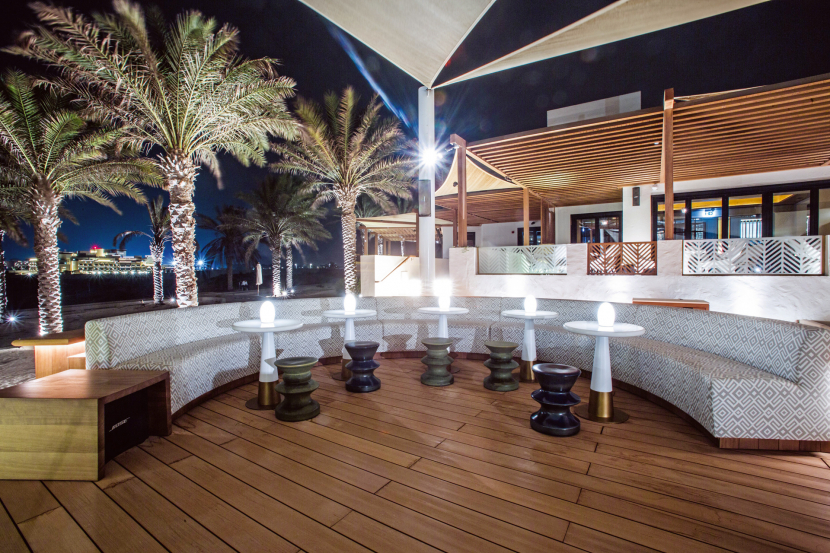 Buddha-Bar Beach
With cool DJs, pretty mixed drinks and elegant hostesses, Buddha-Bar Beach has an amazing, spacious outdoor area that leads right onto the white sands of Saadiyat Beach. The only difficulty is choosing whether you want to collapse into one of the squishy bean bags on the sand, or relax on one of the white sofas on the wooden decking. Either way you'll be in a prime location for watching the sun vanish over the clear waters of the Gulf.
Open Sat-Wed 5pm-1am, Thu-Fri 5pm-2am. The St. Regis Saadiyat Island Resort, Abu Dhabi (02 498 8888).

Cabana Beach Bar & Grill
This quaint white building is another bar with a location that's so perfect it's almost laughable. Right on the sandy shores of the immaculate Corniche beach, here you can feel the sand between your toes as you sip on mixed drinks and dine on high-quality bar dishes such as hearty burgers and sandwiches overflowing with every millennial's favourite trendy green fruit (no we're not bored of avocados yet, thanks for asking). Cool off afterwards in the palm tree-lined pool or in the crystal-clear waters of the blue sea. Sounds just awful, doesn't it?
Open daily. 10am-11pm (drinks) 11am-10pm (food). Nation Riviera Beach Club, Corniche Road West (02 694 4553).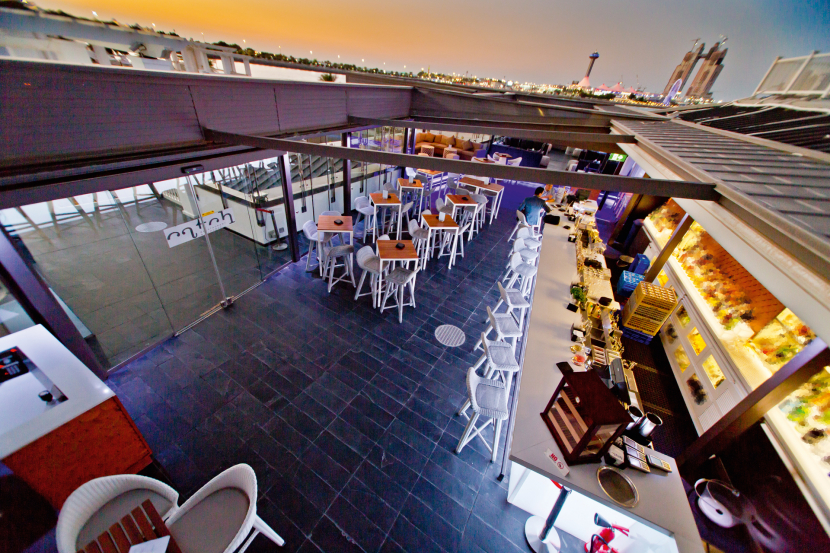 Catch Rooftop
This is one of the most talked about rooftops in the city. It's definitely a place to be seen, but you shouldn't just go here to pose for selfies and try to look pretty. The dancefloor is always a riot, with a constant party vibe fuelled by a host of brilliant DJs. The panoramic views over the Corniche will never get old, and whether it's a Saturday, Monday, Tuesday, Wednesday or basically any day of the week, you know there will be a lively crowd waiting to encourage you to let your hair down. Oh, and the food is pretty special as well.
Open daily noon-3am. Nation Riviera Beach Club, The St. Regis Abu Dhabi, Nation Towers (02 699 3333).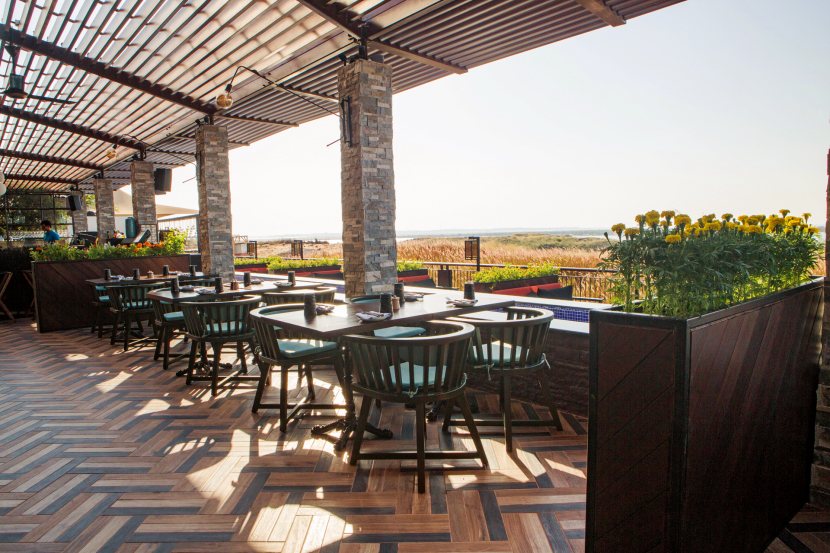 Filini Garden
Walking in through the vine-covered archway, entering Filini Garden is like arriving at a dreamy garden-themed retreat, which essentially is exactly what's happening.
The terrace is a thing of beauty, and even if the idea of hitting a ball around a big field with a stick sounds like the most boring thing in the world, you'll still find the views over Yas Links and the blue water beyond utterly sensational. The Monday ladies' night and weekend brunches are particularly popular.
Open Sun-Wed 4.30pm-1am, Thu-Fri 4.30pm-2am. Radisson Blu Aub Dhabi, Yas Island (02 656 2000).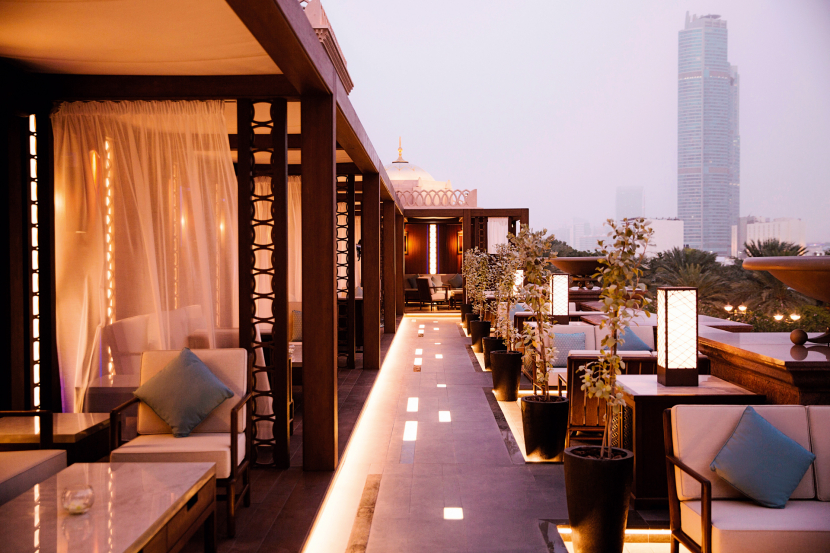 Hakkasan Terrace
Up-market Chinese restaurant Hakkasan isn't just a place to gorge on Peking duck pancakes, it also has a very cool outdoor bar area. As you make your way in through the private entrance, or through the restaurant and along the winding stone path, you can't possibly fail to be impressed by the backdrop. With the glittering outline of the Corniche's skyscrapers in front of you, you can relax on one of the comfortable cabana beds or hang out by the bar, where you can watch the efficient bartenders at work. Make sure you try some of the incredible dim sum while you're there, too.
Open Mon-Sun 6pm-2am. Emirates Palace, West Corniche Road (02 690 7739).

Pacifico TIKI
Everyone else in the capital must be a little bit envious of those who get to live in the fabulous area Al Bandar. Pacifico TIKI is jutting out into the still water right in the centre of the marina, and with wooden decking stretching around all sides of this funky bar and restaurant, you'll be level with the passing yachts as you a sip a fruity mixed drink and watch the sunset. The Thursday night brunch offers free-flowing tapas and drinks throughout the night, and it's an unbeatable way of kicking off the weekend.
Open Sun-Thu 12.30pm-1.30am, Fri-Sat 12.30pm-3am. Al Bandar Marina, Al Raha Beach (02 556 6090).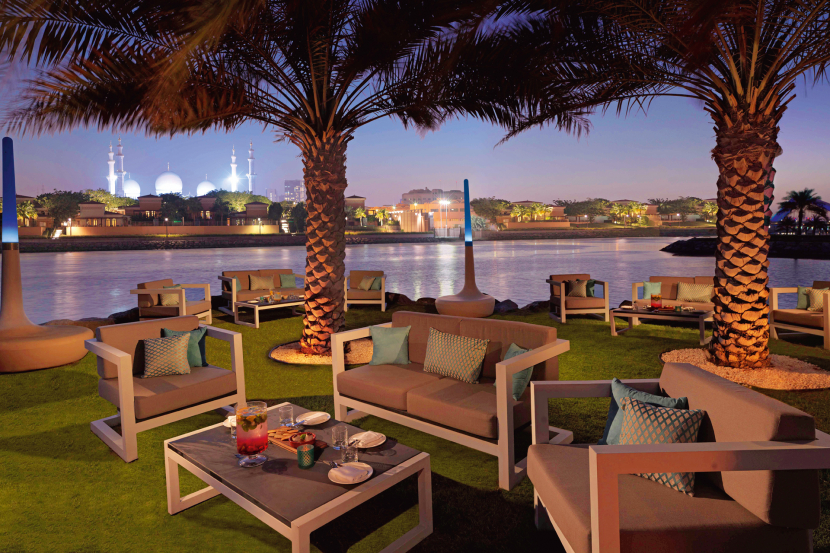 Puesta del Sol
Illuminated with fairy lights and positioned out on a pier over the Grand Canal, it's almost impossible not to have a good time at Puesta del Sol. If you start to get a bit chilly, there are huge faux-fur blankets to wrap yourself in, while the varied bar bites take you all the way from Spain to the Middle East. The Monday ladies' night lets girls enjoy three complimentary glasses of grape or classic mixed drinks while a live DJ sets the mood.
Open daily 5pm-1am. Fairmont Bab Al Bahr, Khor Al Maqta (02 654 3333).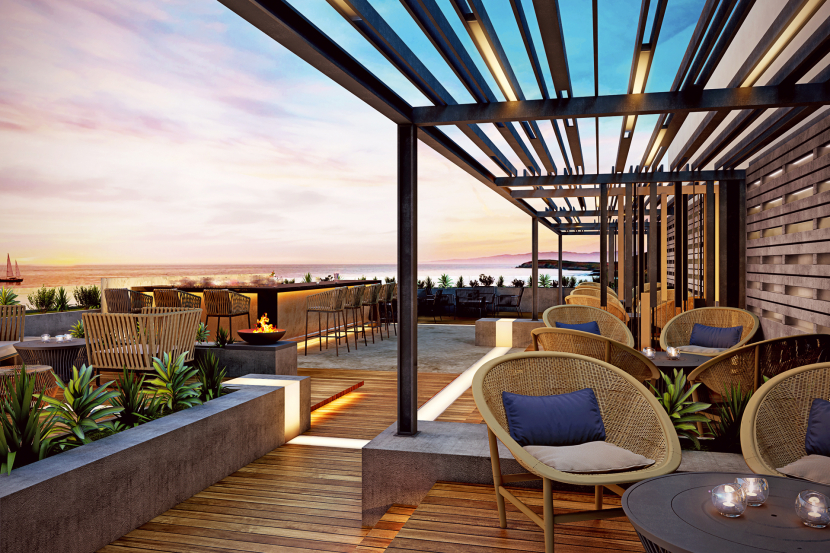 The Roof Bar @ Turtle Bay
If you're looking to carry on after you've finished gorging yourself on the Market Brunch at Sim Sim, all you need to do is waddle over to The Roof Bar above Turtle Bay, as seen on this week's cover. The scene of the beach and bright blue waters definitely deserves a photo or two, and if you arrive when you're not in a post-brunch food coma, you can enjoy elaborate bar bites such as chilled seafood and cauliflower popcorn. It's still a Saadiyat bar after all, so the choices were always going to be fancy.
Open daily 5pm-midnight. Saadiyat Rotana Resort & Villas, Saadiyat Island (02 697 0000).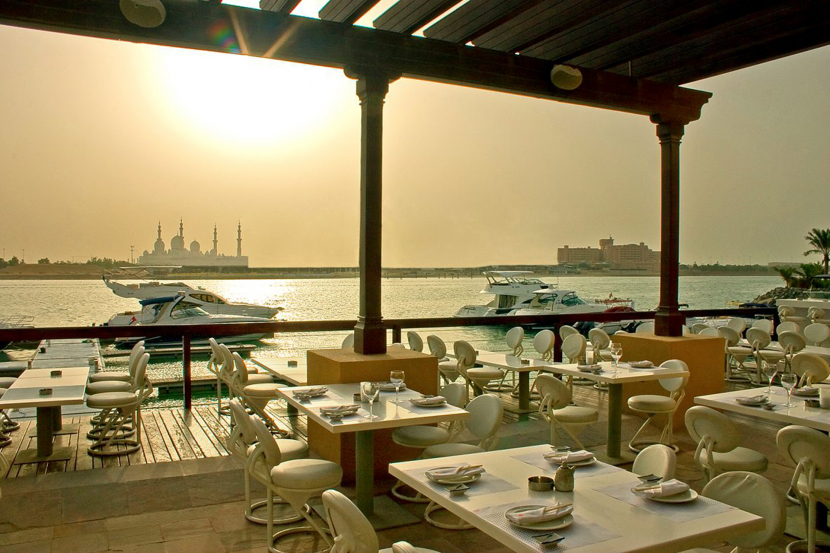 Sho Cho
This modern Japanese lounge has has one of the prime spots on the Khor Al Maqta stretch. Overlooking the Grand Canal and with views of the Grand Mosque looming in the distance, the terrace is a dream spot for watching the sunset. When you have visitors and want to go somewhere that says 'How lucky am I to live in Abu Dhabi?' this is the kind of place you should choose. DJs regularly appear to entertain the throngs, and when the sun goes down, the candles are lit and the gentle breeze comes in from the water, it's hard to feel much happier.
Open daily, noon-3am. Souk Qaryat Al Beri, Bain Al Jessrain, Khor Al Maqta (02 558 1117).

BARS WITH INDOOR VIEWS
AT 25
Up on the 25th floor of Marriott Downtown Abu Dhabi, AT25 is a chic venue that lets you survey the downtown area of the city from up in the clouds. The Friday brunch is perfect for big kids game for a laugh, and it features silly games, live tunes from a DJ and even a magician. Meanwhile, the Tuesday ladies' night offers free-flowing house beverages for Dhs100.
Open daily 11am-2am. Marriott Downtown Abu Dhabi, Sheikh Rashid Bin Saeed Street (02 418 2513).

Ray's Bar
While the capital is home to so many great sundowner spots that are either on ground level or just a few storeys up, few bars take you as high up in the sky as Ray's Bar. Perched on the 62nd floor of Jumeirah at Etihad Towers, you're treated to incredible views of the Corniche and the surrounding islands. Make sure you take a wander around the bar and photograph the sunset from every angle before the stars start to come out.
Open daily 5pm-3am. Jumeirah at Etihad Towers, Corniche Road West (02 811 5666).

Sky Lounge 31
This is another of the capital's highest watering holes, and it dishes up plenty of Arabian charm. There's a super menu of Middle Eastern cuisine, mixed drinks, and a ladies' night every Monday and Tuesday. The views of downtown Abu Dhabi are sensational, and it's the ideal spot to finish off another busy day in the capital.
Open daily 8.30pm-2am. Grand Millennium Al Wahda Hotel, Hazza Bin Zayed Street, Al Wahda (02 495 3916).

Stratos
Abu Dhabi has a knack for making everything that bit more fancy and flashy, and Stratos is probably one of the best examples of this. The classy restaurant actually rotates, so if you're here for a few beverages, the view of downtown Abu Dhabi's twinkling night-time skyline will be constantly refreshed as the night goes on. The revolving is slow so there's no chance of dizziness, and the food is excellent.
Open daily 5pm-1am. Le Royal Méridien, Abu Dhabi, Shaikh Khalifa Street (800 101 101).

BARS IN YAS MARINA
The island spot is filled with great places to party and dine, and most of the venues have great views from their terraces, too. Here are some of our favourites.

Aquarium
If you're looking for a chilled-out spot for a sundowner, or a chance to show off the capital's super yachts to your visiting friends or relatives (we'll be able to afford our own one day, surely?), then a night at Aquarium is just what you need. This seafood restaurant and bar has managed to bag one of the best spots in this idyllic area of Abu Dhabi, and the outdoor terrace is just steps away from the boats bobbing in the clear blue waters that surround the island.
Open daily noon-1am. Yas Marina, Yas Island (02 304 8142).
Diablito
This casual Spanish restaurant is popular for several very good reasons. The friendly staff serve delicious tapas in a cosy, laid-back environment and the rooftop terrace provides 360-degree views of Yas Marina, Yas Viceroy and the F1 track. You'll even be able to hear the roar of the engines when the circuit is in use, which just adds to the whole experience really. Diablito is a night-time destination, when big groups gather to enjoy the croquetas, salad, pizza and terrific Spanish omelettes.
Open daily 6pm-12.30am. Yas Marina, Yas Island (02 565 1175).

Iris
Boats and blue water are never a bad backdrop, and this very cool and stylish bar has views that most people can only dream of. But living in Abu Dhabi, we're lucky enough to find ourselves in such incredible settings on a daily basis. The mixed drinks are just as picture-perfect as the views: think elaborate pineapple-shaped glasses and carefully arranged fruit garnishes.
This classy bar attracts a crowd who enjoy the pretty things in life. Head here after work on Sundays for the cheesiest tunes from the '80s and '90s, and make sure you try some of the tasty dishes on the sophisticated bar menu (we particularly like the sushi).
Open Wed-Sun 6pm-3am. Yas Marina, Yas Island (02 304 8257).

Skylite
If you're looking for a sundowner spot on the most adrenaline-fuelled island in the UAE, nowhere tops Skylite. Up on the rooftop of Yas Hotel, it may not be actually on Yas Marina itself, but indulge us... It's encased by a colourful illuminated canopy. Even from a distance, you really can't miss it. Start your evening here with a cooling drink and afterwards move on to one of the Marina's many fantastic restaurants.
Open daily 6pm-1am. Yas Hotel Abu Dhabi, Yas Island (02 656 0000).

Stars 'N' Bars
This sports bar is far from sophisticated. The whole concept is really very silly, and that's 100 percent a good thing. One corner is dedicated to retro arcade games, while the stage on the opposite side of the room is regularly filled by live bands blasting out rock and pop hits to the packed dance floor. But the outdoor terrace is by one of the main draws if you want a view. the best bit. Here you can indulge in a spot of people-watching and look out at the bright lights of Yas Circuit.
Open daily 11.30am-2.30am. Yas Marina, Yas Island (02 565 0101).
Be the first to get all the latest Abu Dhabi news, reviews and deals into your inbox by signing up to our free
newsletter
,
click here to sign up
.