Saadiyat means happiness. Literally, according to bilingual friends here in Abu Dhabi. But, for anyone who has spent time in the cultural quarter, beaches or range of upmarket hotels it has come to mean a special type of happiness.

As fans of the neighbourhood we like to spend time there.

Here's a selection of places you might like to spend a happy evening with friends.
Buddha-Bar Beach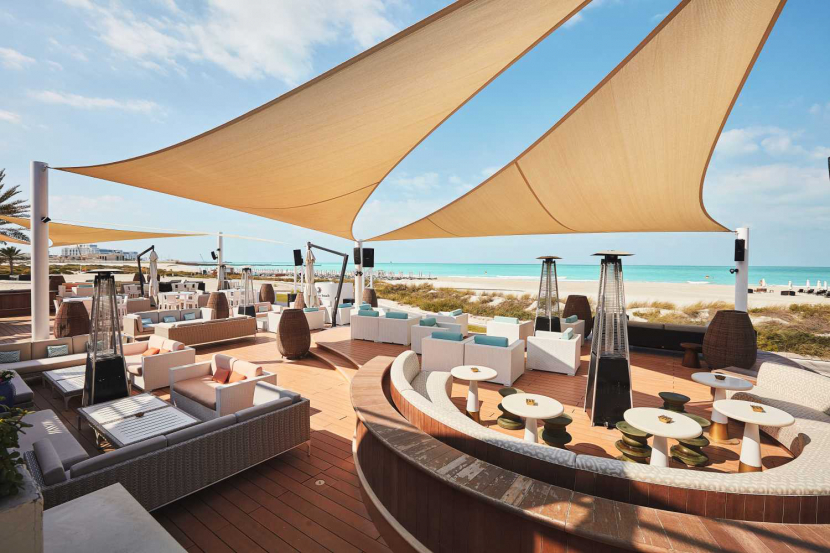 In our humble opinion this is the best beach bar in Abu Dhabi and should be very close to the top of your list of places to take visitors in search of a sample of Abu Dhabi nightlife. While there are regular visits from local and international DJs and the world-famous Buddha-Bar beats to enjoy, it is refreshingly mellow and we recommend a sunset session with a regular dusk promotion offering discount drinks with a side order of incredible yet understated cool.
Thu-Sat noon-4pm, 5pm-2am; Sun-Wed noon-4pm, 5pm-1am. The St Regis Saadiyat Island Resort, Abu Dhabi (02 498 8888).
Caramel Restaurant & Lounge
A chic lounge that has been in and around the attention of our Nightlife Awards for as long as we remember, it has become something of a favourite in Abu Dhabi over the years. Consistency, as well as some sweet promotions, seems to be the key to its enduring appeal. Ladies' Nights in particular, with free-flowing drinks and discounted food are a particular favourite. A stylish crowd and refined interior design can usually be found most nights of the week.
Sat-Wed 5pm-midnight; Thu-Fri 5pm-2am. The Collection at St. Regis Saadiyat Island Resort, Abu Dhabi (02 678 3344).
Hamilton's Gastropub
Here's a little something we have learned in nearly 20 years of Time Out in the UAE. Rotana hotels tend to have good offers and deals. At this social hub there are 45 happy hours per week, as well as ladies' nights, gents' nights, a variety of industry-specific nights and much more. All served up in a cool urban-industrial setting that strikes a different tone in this corner of town.
Sat-Thu 4pm-2am; Fri noon-2am. Saadiyat Rotana Resort & Villas, Saadiyat Island (02 697 000).
Manhattan Lounge
In an area of town more readily associated with beach views and seaside vibes is an upmarket lounge with New York style. Mixed drinks feature prominently on the menu, with many claiming some heritage within The St Regis chain. The vast selection of drinks is prominently displayed in the bar area, but after making your selection head out on to the terrace to find a space that works both as a romantic retreat or an intimate place to talk business in style.
Daily 5pm-2.30am. The St. Regis Saadiyat Island Resort, Abu Dhabi (02 498 8843).
Nasma Beachfront Bar
You can tell how comfortable Time Out-ers are in a venue by how they choose to sit. In a dress-up lounge we will perch awkwardly on a high stool and try to fit in. At this laid-back beach bar it would not be a surprise to see us, well, laid back on a bean bag while we peruse a mixed drink menu. Island vibes, a giant swimming pool and and flowers in drinks, on shirts and even hanging from ceilings are all part of the coastal charm.
Daily 11am-midnight. Saadiyat Rotana Resort & Villas, Saadiyat Island (02 697 0000).
Offside Sports Lounge
A swanky hotel with a sports lounge serving decent value drinks just off the beach in one of Abu Dhabi's most desirable locations? Sometimes it feels like our dreams have all come true at once. Lob in some fine Jumeirah service, an abundance of bar games (including pool tables) and a big outdoor terrace and we're ready to pledge allegiance to one of the most refreshing additions to the nightlife scene in many a season.
Sun-Thu 5pm-1am; Fri-Sat noon-1am. Jumeirah at Saadiyat Island Resort (02 811 4342).
The Park Bar
While this Park Hyatt bar may be best known for the adjoining restaurant and steakhouse it is worth noting that it has one of the most comprehensive cellars in Abu Dhabi. You might not head here for a night of abandon with your rowdier mates it is an appealing spot for an intimate drink and, dare we say it, a romantic evening with a discerning loved one.
Daily 5pm-1.30am. Park Hyatt Abu Dhabi Hotel & VIllas, Saadiyat Island (02 407 1138).
Be the first to get all the latest Abu Dhabi news, reviews and deals into your inbox by signing up to our free
newsletter
,
click here to sign up
.