We feel sorry for chandelier makers in Abu Dhabi. Nothing they can do would match the stars on a clear night sky. Pity the painter, too, who has to create an image to hang on a wall more captivating than a real sunset over the Arabian Gulf.
It simply can't be done.

Thankfully there are many places in Abu Dhabi that are not constrained by such trivial details as walls and roofs. We're talking, of course, about al fresco watering holes.

Whether it is a sandy beach bar, rooftop lounge or waterside terrace, the city's outdoor bars are among the finest attractions Abu Dhabi has to offer.

With a couple of months of sunny afternoons, cool evenings and balmy nights still ahead of us check out our pick of the best in show.
Al Mesayan
By day you can look out across the dunes, nibble on some afternoon tea goodies and see for miles around. At night, however, you'll be treated to the Arabian sky in pitch black and see stars like nowhere else above the city. The intimate rooftop, low-rise, high-charm bar is unlike any other in the emirate and well worth the trip beyond the city limits to experience. Shisha, mixed drinks and relaxation await.
Daily. 4pm-1am. Jumeirah Al Wathba Resort, Al Wathba (02 204 4444).
ANNEX
Regular readers will know that we're big fans of this Al Bateen nightspot and regularly flutter our eyelashes in its general direction. We've been known to attempt (and fail) to dance energetically in the ground-floor club. We've leant on a bar and tried (and failed) to look sultry and cool on the middle floor bar. It is on the rooftop terrace, however, where we've found our natural home. Looking out across the Al Bateen Marina it offers a new perspective on the city and an alternative marina view to the more celebrated Yas. If you're not committed to a full night of ANNEX partying we reckon a trip to the roof is an excellent, if lower key, option.
Mon-Tue and Sat, 7pm-midnight; Wed-Thu, 7pm-4am; Fri 1pm-4am. The Abu Dhabi EDITION, Al Bateen Marina (02 208 0000).
Aquarium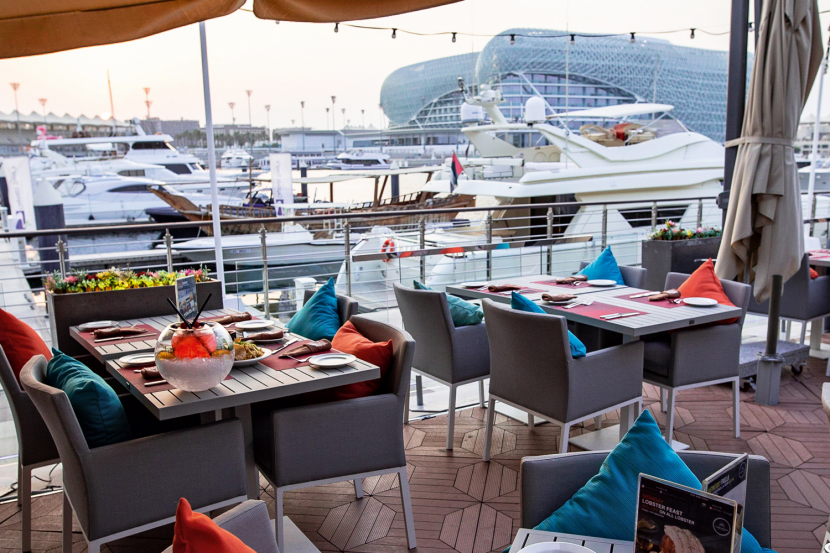 The eponymous fish tanks inside are mightily impressive and we've never once complained of coming face-to-face with a boggle-eyed fish when sitting inside (and we don't just mean a fellow Time Out-er). However, we're equally fond of the Marina views across to the ever-stunning W Abu Dhabi - Yas Island. The usual game of "which yacht would you most like to own?" has passed many a long evening, here, but there are also regular promotions, including a welcome weekend ladies' night and some foodie deals to try in a stunning setting.
Daily. Noon-1am. Yas Marina, Yas Island (800 6996).
Azura Panoramic Lounge
A highly commended bar at our 2019 Nightlife Awards this St. Regis stunner is all about the sunset views. The large multi-deck terrace could have been designed with the word sundowner in mind. An elevated view over the Arabian Gulf and some of Abu Dhabi's finer skyline is guaranteed for more or less every seat in the house. Knowing bar managers have chucked in a lengthy happy hour (three hours is generous) from 5pm every day to maximise the qualities.
Daily. 10-1am. The St. Regis Abu Dhabi, Nation Towers, West Corniche (02 694 4553).
B-Lounge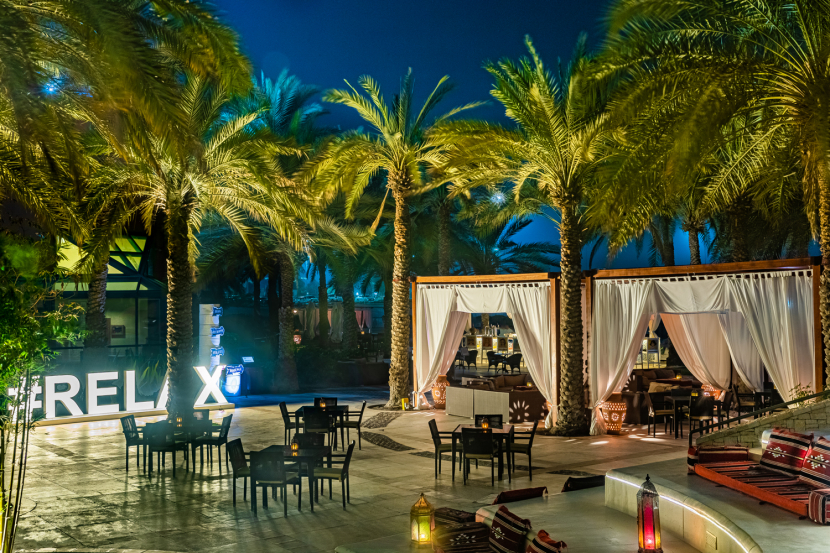 Many pleasant evenings have been spent in the amphitheatre-style seating at the Sheraton Abu Dhabi's garden venue. Excellent live music performances abound and the palm trees, with atmospheric lighting and bright fairy lights, make for a genuinely mellow and cool environment. It has been around a long time for the very reason that people enjoy spending time here, but we were pleased to see a minor revamp towards the end of last year.
Daily. 6pm-1am. Sheraton Abu Dhabi Hotel & Resort, Corniche Road East (02 697 0224).
Barfly by Buddha-Bar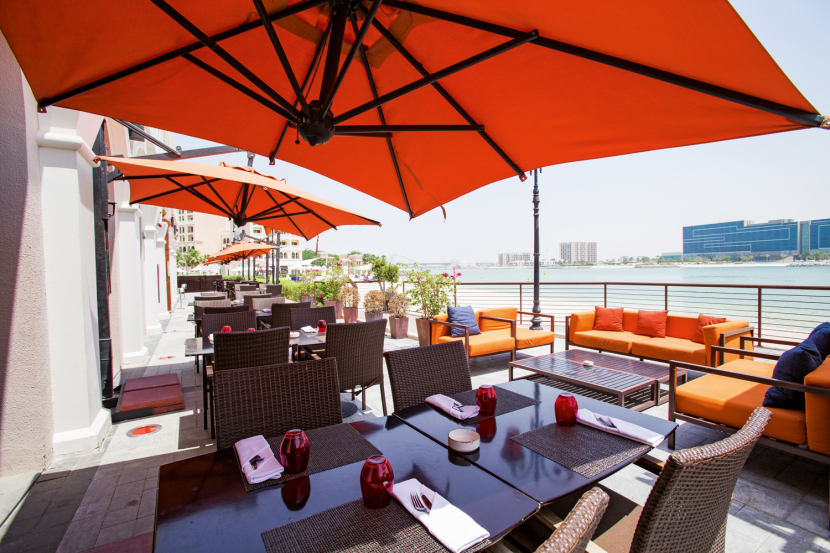 So close to the Abu Dhabi Grand Canal that if you drop your sushi from your chopsticks you will probably hear a splash, this Venetian Village lounge is unrelentingly hip. Inside is all moody lighting and dark and chic furnishings, but for us it is the excellent terrace where you should head. The added attraction of watching boats sail by is enough to keep you entertained while waiting for a mixed drink delivery.
Sun-Thu and Sat, 6pm-2am; Fri, 1pm-2am. Venetian Village, The Ritz-Carlton Abu Dhabi, Grand Canal, Khor Al Maqta (02 404 1951).
Beach House
Okay, this week's cover star might not be a bar in the same way as some of the others in this list are, however, we are fond of going for a few quiet drinks as the sun sets, as we know many of you are, too. Quite simply, a stunning venue with a nice range of drinks and food.
Open daily noon-midnight. Park Hyatt Abu Dhabi Hotel & Villas, Saadiyat Island (02 407 1138).

Belgian Café Abu Dhabi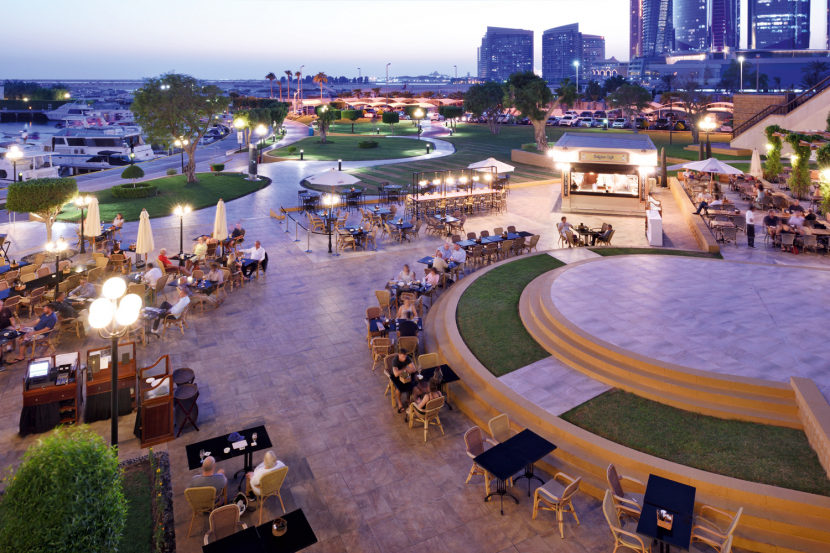 This all-rounder does just about everything well. Drink selection, sport on big screens, toothsome grub are all pub essentials it gets right. Perhaps best of all, though, is the giant outdoor terrace, which has its own bar. Find one of the well-spaced out tables and listen to some live music from top Abu Dhabi bards in the garden for a chilled evening.
Sun-Tue, 4pm-1am; Wed-Sat, 4pm-2am.InterContinental Abu Dhabi, King Abdullah Bin Abdul Aziz Al Saud Street (02 666 6888).

Bentley Kitchen
A covered terrace means this Galleria haunt remains cool and shaded, but with the feeling of full outdoors. The waterfront setting is ideal for people-watching and the foodie credentials are sound. If you're not dining, aim to coincide your visit with one of two split happy hours every day. There is a sunset offer, from 4.30pm-7pm or the late one from 11pm-1am.
Sat-Wed, noon-1am; Thu-Fri, noon-2am. The Galleria Al Maryah Island (02 626 2131).
Breeze Lounge
Whether you are one of the thousands of tourists to pick up this magazine or an Abu Dhabi resident, there is a holiday feel to this stunning beach bar. How couldn't there be, in among the palm trees, swimming pool and sea views? The breeze in the name is a very real possibility as the private beach is peanut-flicking distance to the water's edge. It being in the Emirates Palace the setting and quality is, of course, exemplary, but it is the down-tempo simplicity and chilled music vibe that makes it an Abu Dhabi favourite.
Daily. 1pm-1am. Breeze Lounge, Emirates Palace, Corniche West (02 690 7999).
Brick Rooftop Kitchen & Bar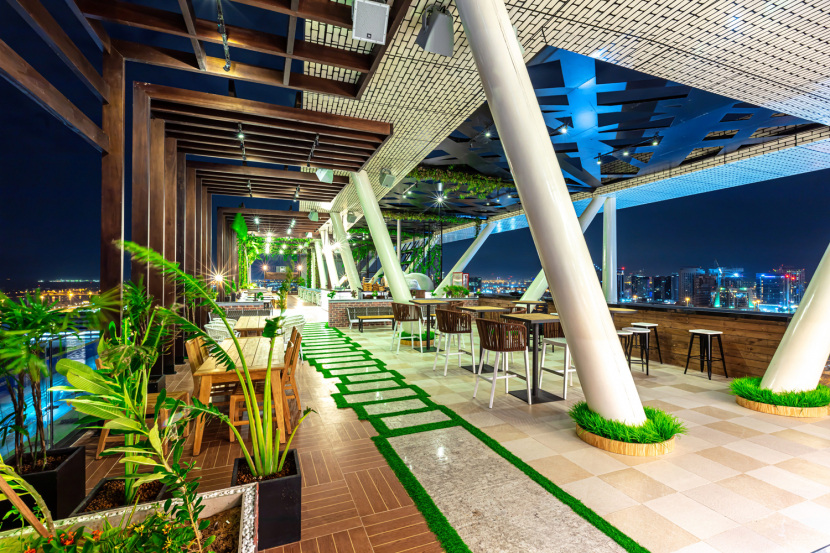 The 12th floor of the Aloft Hotel has been a nightlife favourite for many a year. Although the Relax@12 name was familiar to most, it has recently rebranded as Brick Rooftop Kitchen & Bar. As it boasts the same stunning views, a bevy of drink offers and promotions and a chic sense of style we're confident it will continue to thrive. The climbing vines, plus a rustic wooden and brick décor (and ovens) are understated and appealing.
Daily. 5pm-3am. Brick, Aloft Abu Dhabi, Al Khaleej Al Arabi Street (02 654 5138).
Buddha-bar Beach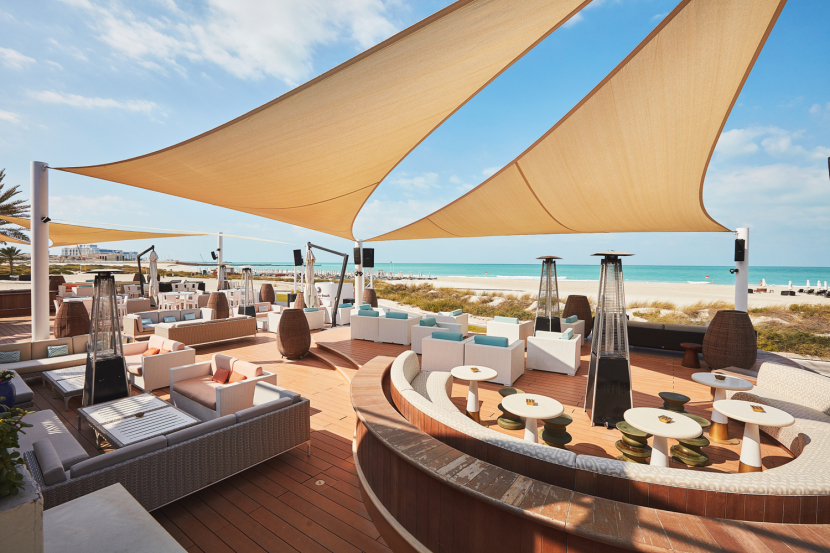 Abu Dhabi's best beach bar is every bit as cool as you would expect from the global lifestyle and music brand. Trance-like can describe the music, the state of people looking out on to the glistening waters of the Arabian Gulf and Time Out-ers as they reach for another mouthful of sushi. There is an Ibiza-lounge feel to the place and it is as recommended for a late-night dance under the stars as it is mixed drinks on the low sofas as the sun sets.
Thu-Sat, noon-4pm, 5pm-2am; Sun-Wed, noon-4pm, 5pm-1am. The St. Regis Saadiyat Island Resort, Abu Dhabi (02 498 8888).
Casa De Cuba
When certain outdoorsy venues close for the summer we find ourselves missing them. More than we do friends, family or the ability to walk outside without melting slightly. So it is that we pine for this Latin-themed gem when it is away. It has great views of the Marina, but don't feel as though you have to look out to be inspired. With its flower walls, neon signs and inspirational quotes, it is one of the more attractive and, let's be honest, Instragrammable venues on Yas Marina.
Tue-Thu, 7pm-3.30am; Fri-Sat, 6pm-3.30am. Yas Marina, Yas Island (056 742 7435).
Catch Rooftop
To describe Catch as a mere fish restaurant, as we have heard, is to misunderstand one of the most consistently rated spots on the Corniche. Up on the roof the dancefloor can be lively after hours and the views impressive. The seafood in the restaurant below is, however, well worth a try if you're not interested in beautiful sunsets from the roof.
Daily. Noon-1am. Nation Riviera Beach Club, Corniche West (02 611 0909).
Cho Gao Marina Walk
We know it as one of the finest Asian restaurants in Abu Dhabi, but there is much more besides. Out on the stylish waterfront you can get all the grub, but there is uptempo entertainment in the form of live music and DJs. Look out for the regular foodie deals and lively buffet offers, too.
Sat-Tue, 4pm-1am;Wed-Thu, 4pm-2am; Fri, noon-2am. InterContinental Abu Dhabi, King Abdullah bin Abdul Aziz Al Saud Street (02 666 6888).
Diablito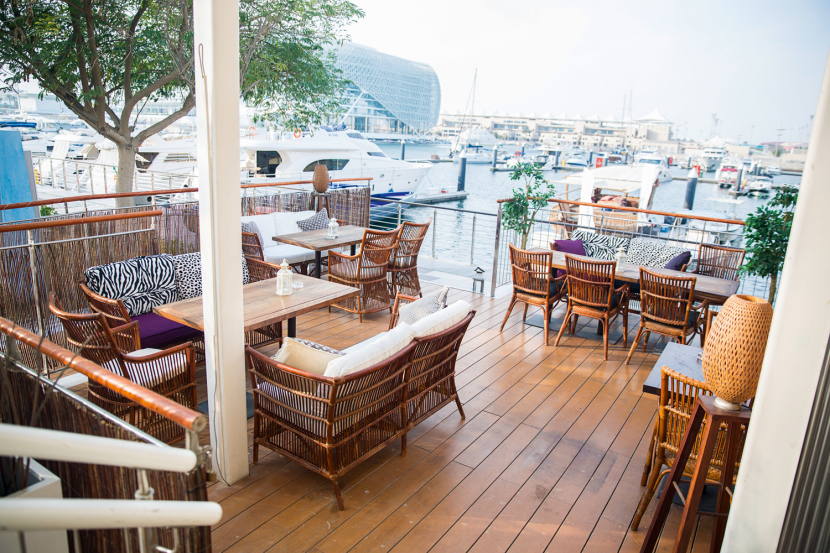 Do everything in your power to get a seat, or at least a table or post to lean against, up on the roof. That way you will be able to see into the yachts moored below and also gawp at the W Abu Dhabi - Yas Island in the disctance. We reckon it is the city's most gaze-worthy hotel and the marina lounge and nightspot has perfect views. A new ladies' night joins the many Spanish-twinged promotions to attract newcomers as well as regulars.
Sun-Thu, 5pm-midnight; Fri-Sat, 1pm-midnight. Yas Marina, Yas Island (02 565 1175).
Eclipse Terrace Lounge
This bar has views of skyscrapers, hotels and tower blocks that are best enjoyed by night. In the daytime it is dominated by the large pool and holidaymakers, but after dark it doubles up as a chic city watering hole. It is the sort of place where mixologists preparing a fancy beverage are a main entertainment and it is a relatively quiet spot for a mid-week hangout, although we applaud anywhere with a daily happy hour and Thursday ladies' night.
Daily. Noon-2am. Four Seasons Abu Dhabi at Al Maryah Island (02 333 2720).
Filini Garden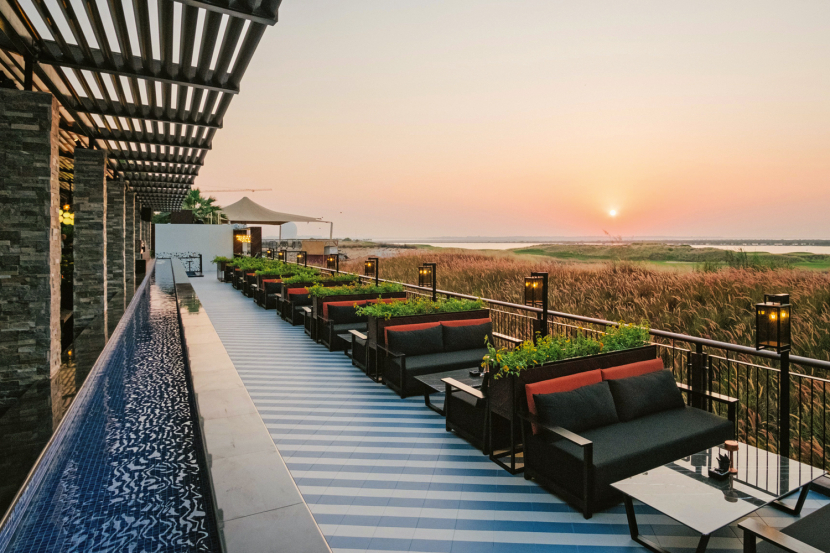 Thanks to hanging greenery and creeping vines on the walls, even inside and covered areas of this Yas Island favourite feel like they're outdoors. If you're lucky enough to land yourself a table looking out towards the Yas Links golf course then don't give it up for love nor money. Ladies' night here is a city highlight, but the air-conditioned terrace is worth checking out any day or time.
Sat, 12.30pm-1am; Sun, 5pm-1am; Mon, 4pm-3am; Tue-Wed, 4pm-1am, Thu, 4pm-3am; Fri, 12.30pm-3am. Radisson Blu Abu Dhabi, Yas Island (02 656 2000).
Glo
Obviously you can enjoy the views of Al Maryah Island and the twinkling lights, skyline and palm trees. They are every bit as sensational as you would hope. But, to be fair, you can see similar in many locations in our stunning city. Where Glo stands out is with the arty light instillations after which it is named. Our best effort at a description is somewhere between a flying saucer and a metallic palm tree. Illuminated, of course.
Sat-Wed, noon-1am; Thu-Fri, noon-2am. Rosewood Abu Dhabi, Al Maryah Island (02 813 5552).
Hakkasan Terrace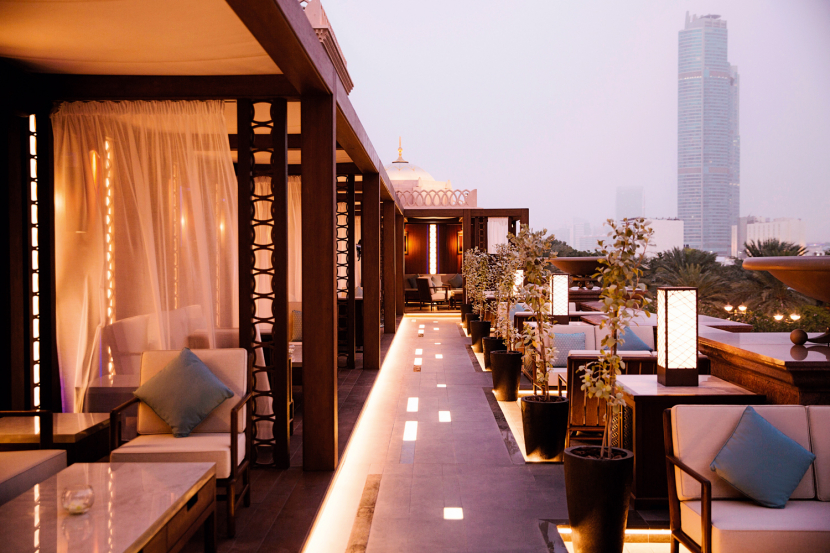 If James Bond were to enjoy a relaxing evening after a hard day of spying we imagine it would be in a place like this. We're not sure what he would make of the upmarket grub at the stunning Chinese restaurant, but the adjoining bar is exactly the sort of place where his playfulness, glamour and high-style would fit right in. The decor is stunning, the views out across the city skyline are stunning and the up-tempo tunes from local and international DJs atmospheric.
Sat-Wed, 6pm-1.30am; Thu-Fri, 6pm-2am. Emirates Palace, Corniche West (02 690 7739).
Level Lounge
It doesn't have the beach, canal, dune or vast terrace floorspace of other nightspots, but this Crowne Plaza's rooftop spot has a lot going for it. For starters the vistas from up on the 21st floor are expansive and wide-ranging. The large pool and twinkling nights of neighbouring towers are low-key attractions that lend themselves to a chilled evening rather than a punch-the-air night of unbridled opportunity and it is a welcome change of pace.
Daily noon-2am. Crowne Plaza Abu Dhabi, Sheikh Hamdan Bin Mohammed Street (02 616 6166).
Nasma Beachfront Bar
As far as we're concerned there are not enough beach bars in Abu Dhabi. Thankfully, this cabana-style hangout is just a flip's flop from the sandy shore of Saadiyat Island. It's the sort of place to bring out your Hawaiian shirt, slurp fruity mixed drinks and sit on a sunbed or squishy bean bag. While we could never condone the wearing of sunglasses on top of your head, if you have to do it, do it somewhere holiday-spirited like this.
Daily 11am-midnight. Saadiyat Rotana Resort & Villas, Saadiyat Island (02 697 0000).
Pacifico TIKI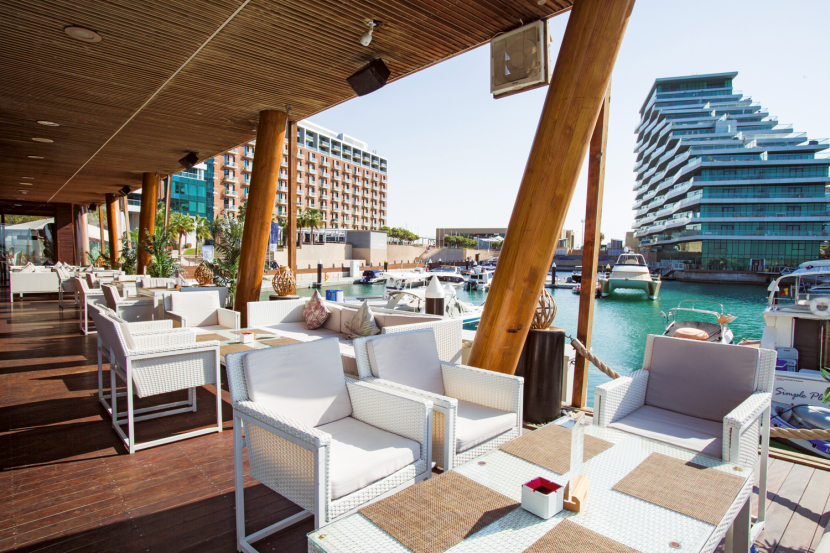 A Polynesian-themed lounge built on stilts in a luxury marina isn't your typical local. This isn't where you drop in for a quiet chat or to read your copy of Time Out in peace. It's where you wear a grass skirt, put flowers in your hair and sway to tropical tunes. If your drink is not garnished with a variety of fruits and at least three different shades you are not trying hard enough. The Tiki-style interiors are enormous, with wooden finishes, rattan furniture and a colourful ambience. The space is enormous and dancing is to be encouraged.
Daily. Noon-2am. Al Bandar, Al Raha Beach (800 6996).
PJ O'Reilly's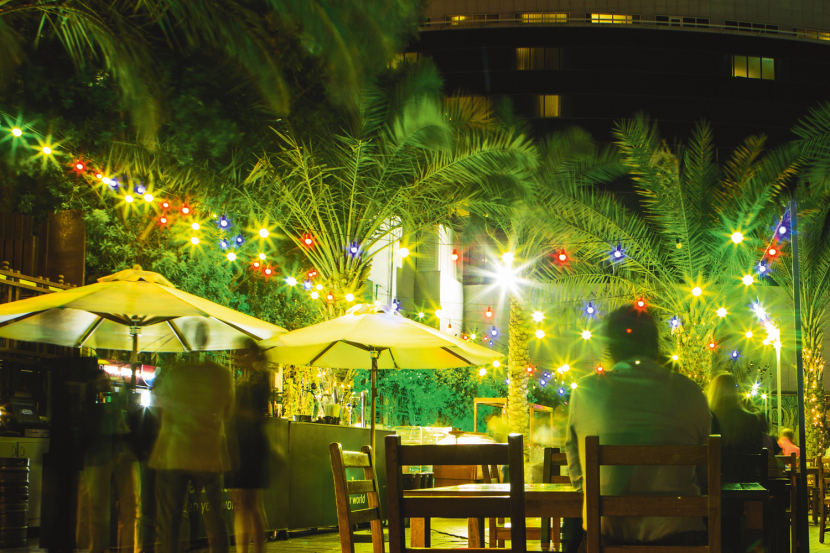 PJ O'Reilly's has been central to Abu Dhabi nightlife for more than 25 years, making it positively ancient on the scene. It is not tired or shabby, though. In fact, we reckon it is the city's best pub. Especially since a major renovation about a year ago. Key to that is the massive outdoor hops garden. The atmosphere can be rowdy, the entertainment unreserved and the offers and deals frequent. Go to sample Irish hospitality with that brilliant UAE weather.
Sun-Wed, noon-2am; Thu, noon-3am; Fri, 9-3am; Sat, 9-2am. Le Royal Méridien Abu Dhabi, Sheikh Khalifa Street (800 101 101).
Smokin' Pineapple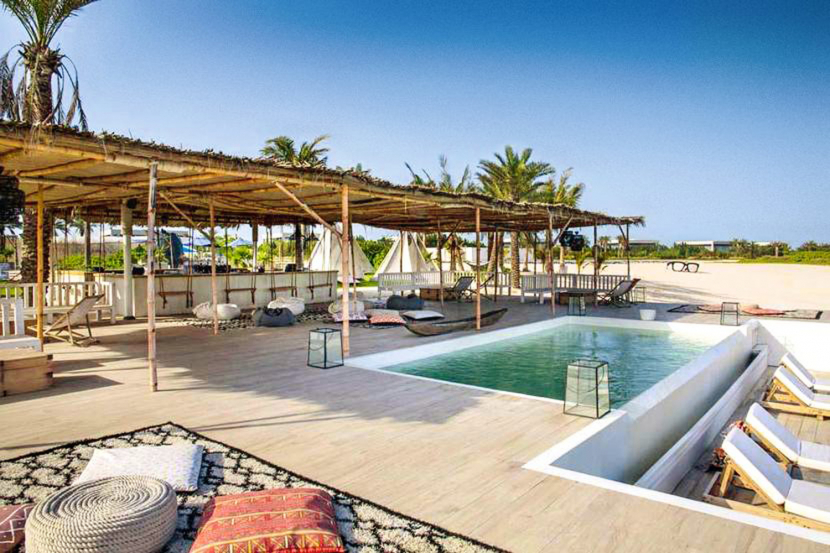 There's outside and there is so far outside you have to take a speedboat ride to get there. The Zaya Nurai resort continues to stun with it extreme cool and upscale charm. Considering the undeniable exclusivity of the entire island experience we're pleased to report this has a boho-chic, barefoot, lounge in a hammock, beach shack feel to it. Throw in some wood-fired pizza, swinging seats over the water and a funky irreverence and we'd probably spend many evenings here if it were on the mainland.
Daily 10am-10pm. Zaya Nurai Island (02 506 6274).
Stills Restaurant & Bar
The Crowne Plaza bar's greatest claim to fame is that it is home to Abu Dhabi's longest bar. That's inside, though, and you're reading a celebration of outdoor attractions. Luckily Stills delivers hard on this front. Thanks in no small part to the frequent deals and promotions. It doesn't have the sunset views or panoramic splendour of other locales, but the atmosphere is vibrant and when busy, it's great.
Thu-Fri, noon-3am; Sat-Sun, noon-1am; Mon-Wed, 3pm-1am. Crowne Plaza Abu Dhabi, Yas Island (02 656 3066).
The Backyard@Cooper's
The British-style pub's outdoor area had a major refurbishment last year (along with all of the hotel's restaurants' outside spaces. Although styled as The Backyard@Coopers it is more of an extension of the popular watering hole rather than a separate venue. Heated, casual, atmospherically lit and with the same great deals as the pub indoors, but with extra added stars and the occasional breeze, it is a good spot for a post-work wind-down.
Daily. Noon-2.30am. Park Rotana Abu Dhabi, Khalifa Park area (02 65 3325).
The Scene
The quirky British-style gastropub is the brainchild of chef, restaurateur and TV personality Simon Rimmer. Don't be misled by celebrity chef credentials, though. The Scene is laid-back, unpretentious and inviting. A garden looks out over the Marina and there is a lo-fi feel to the casual terrace environment. Oh, the pub grub is really rather good as well. What more do you need, people?
Sun-Wed, noon-11pm; Thu, noon-1am; Fri-Sat, 10-1am. Yas Marina, Yas Island (02 565 1330).
The Sportsman's Arms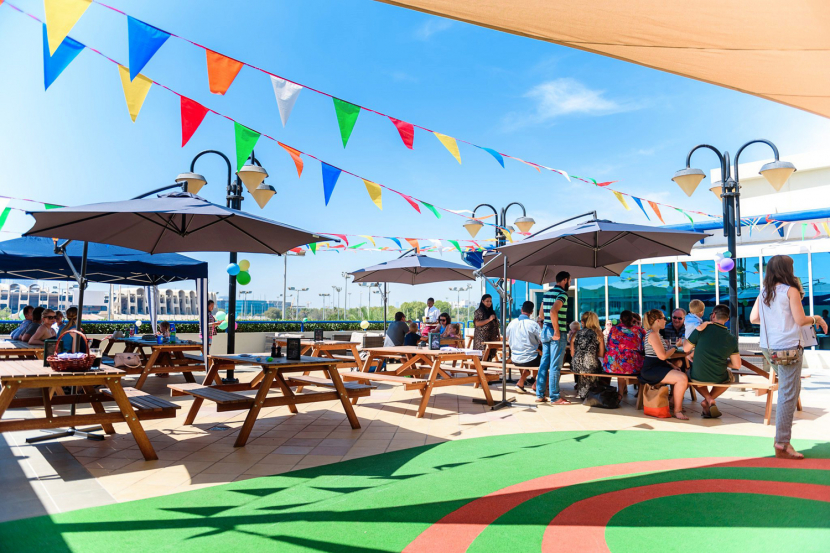 You will see so many people crowd in to the bar to watch sport on the big screens. Not Time Out. We're happy to grab a chair on one of the outdoor terraces and look down on the sports being played on courts and pitches below in Zayed Sport City. As you may expect from an all-American sports bar there are bucketfulls of drinks deals and food promos, plus you may be surprised to see live music regualrly, as well. Absolutely worth a visit if you are on this side of town or looking for an outdoor watering hole with a difference.
Thu-Sat, 8pm-2am; Sun-Wed, 8pm-1am. International Tennis Centre, Zayed Sports City (02 447 1066).
VaKaVa
Celebrity chef Richard Sandoval filled a Latin-shaped dining hole when he opened his latest venture at the back of Jumeirah at Etihad Towers last year, and an essentialpart of that is the upstairs bar, which also has a quite brilliant terrace. Mixed drinks, music and bites all have a Latin twist, the Corniche views are tremendous and service is what you'd expect from a restaurant run by Jumeirah in such a prestrgious location.
Sat-Wed, 5pm-2am; Thu-Fri, 5pm-3am. Jumeirah at Etihad Towers, West Corniche (02 811 5666).

Waves Pool Bar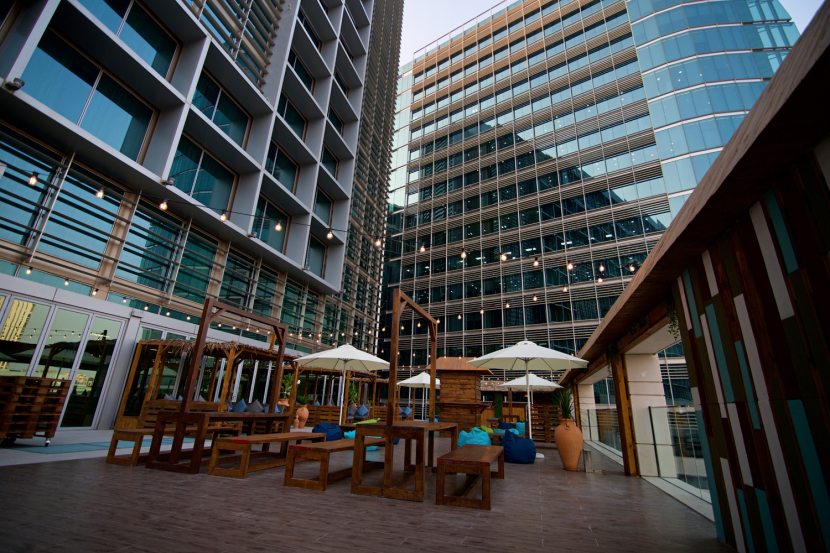 A hotel's pool bar can be a tricky prospect. Is it merely for hotel guests and people lounging on sunbeds in trunks and reading paperbacks or does it warrant a visit for the bar as much as the pool? The Novotel's updated terrace (it was revamped at the end of 2019) falls in to the latter category. Innovative and varied mixed drinks are served by creative bar staff and there are crowd-seeking promotions such as ladies' nights and happy hours that make it more than merely a poolside snack stop.
Daily 8pm-1am. Novotel Al Bustan, Rabdan Street (02 501 6088).
Be the first to get all the latest Abu Dhabi news, reviews and deals into your inbox by signing up to our free
newsletter
,
click here to sign up
.