Azura Panoramic Lounge
With a much sought-after position right on the Corniche, The St. Regis Abu Dhabi was lucky enough to bag one of the best locations in the capital. Azura Panoramic Lounge has an elevated perch in Nation Towers and as the name suggests, the unobstructed views over the Gulf and Abu Dhabi landmarks such as Emirates Palace are stupendous. The daily happy hour (from 5pm to 8pm) is timed to coincide with the sun setting
and the tapas-style plates are served in generous portions.
The St.Regis Abu Dhabi, Nation Towers, Corniche Road (02 694 4553).
B. Lounge
This comfortable outdoor bar has a garden lounge feel coupled with a gentle rising amphitheatre. Sitting there under the palm trees with a budget bucket of hops is an experience that's hard to beat. With decent offers on throughout the week, it's a great place to unwind.
Sheraton Abu Dhabi Hotel & Resort, Corniche Road East (02 677 3333).
Belgian Café Abu Dhabi
With a superb terrace (with its own bar) and a bustling indoor area showing live sport, there aren't many better places to meet your pals for a few hours than here. There's top food available and a large range of drinks options, too. With regular deals throughout the week and live music, this Abu Dhabi stalwart won't let you down.
InterContinental Abu Dhabi, King Abdullah Bin Abdul Aziz Al Saud Street (02 666 6888).
Blu Sky Lounge & Grill
Themed around Premier League champions Manchester City, who are owned by the UAE capital, the bar here is literally encased by a football-shaped dome. But really, if you're going to go for a sports theme then you may as well do it properly, right? The walls of the long venue are plastered with screens showing different sports from around the world and there are loads of great promotions going on throughout the week.
Southern Sun Abu Dhabi, Al Mina Street, Al Zahiya (02 818 4888).
Blue Marlin Ibiza UAE
Sure, you have to drive down the road towards Dubai, but it's well worth it to visit this Ibiza-style club, which is on Abu Dhabi turf. The day-to-night venue is ideal for sunset clubbing and dancing to international house DJs as you gaze out at the Arabian Gulf. There's also a cracking restaurant looking over the DJ booth and dancefloor and a super Saturday brunch that's worth checking
out, too.
Golden Tulip Al Jazira Hotel and Resort, Ghantoot (056 113 3400).
Buddha-Bar Beach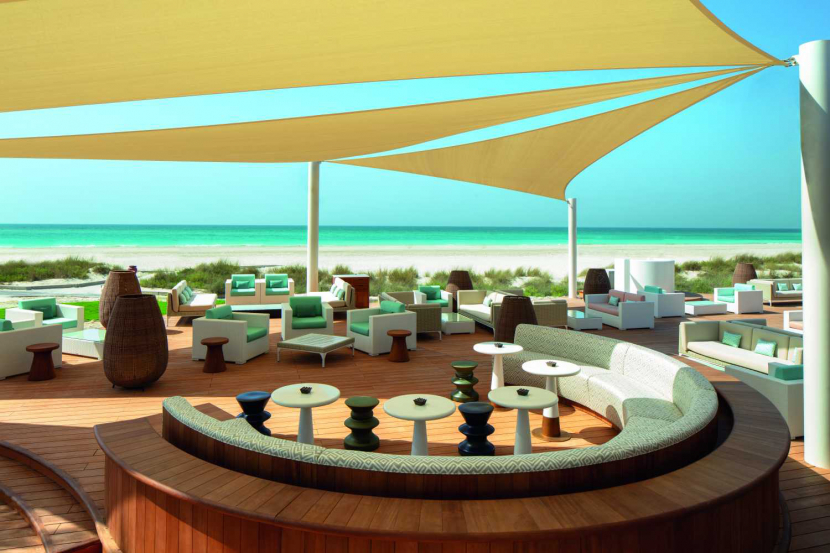 The beach bar more than lives up to its glamorous reputation, and the tasteful interiors, coastal views and superb menu (order the lobster dumplings if you're feeling peckish) are all big draws. The fancy mixed drinks are some of the best in the city, and the huge wooden terrace is one of the best places to be during the winter. The regular sets from international DJs make it a great place to party as well. What a venue.
The St. Regis Saadiyat Island Resort, Abu Dhabi (02 498 8888).
Cooper's Bar & Restaurant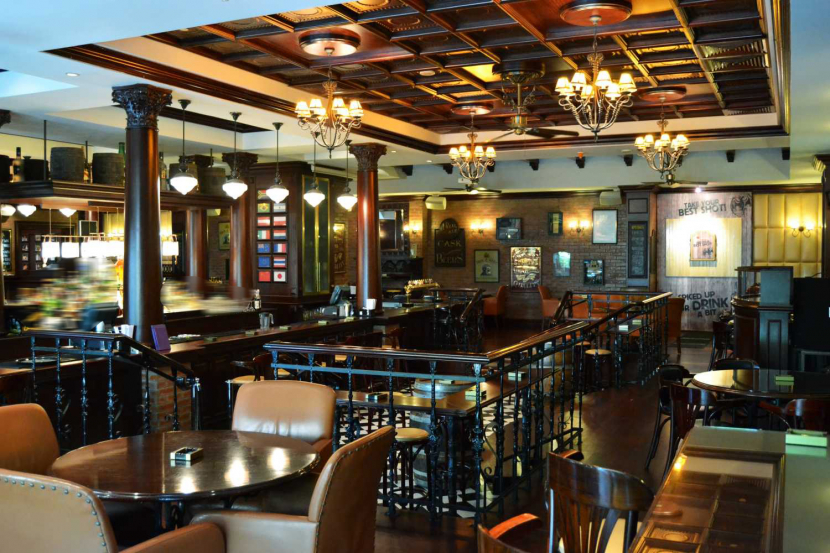 We always feel at home in this British-style pub, and the long happy hours and numerous ladies' nights are just some of the reasons why it's always busy. During the cooler months it's possible to enjoy some al fresco dining on the terrace, and with giant screens covering the walls it's ideal if you're looking for somewhere to watch a match or two.
Park Rotana Abu Dhabi, Khalifa Park area (02 657 3325)
Filini Garden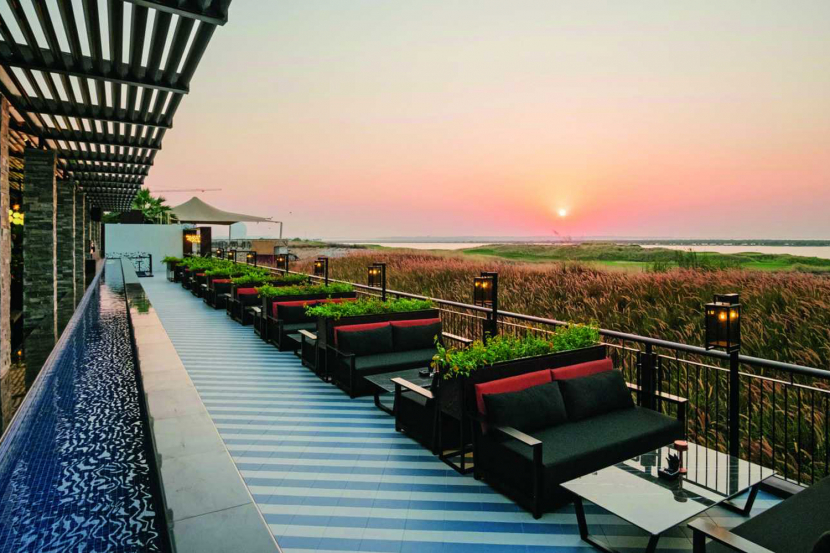 People travel from across the city to visit this stylish bar and many nights are so popular that if you want a chance of getting a table you'll need to book well in advance. The Monday Bellissima ladies' night is the best place to be in the city on a Monday night, and everything from the mixed drinks to the garden-style decorations are done with style and class. Just check it out, now.
Radisson Blu Aub Dhabi, Yas Island (02 656 2000).

Hamilton's Gastropub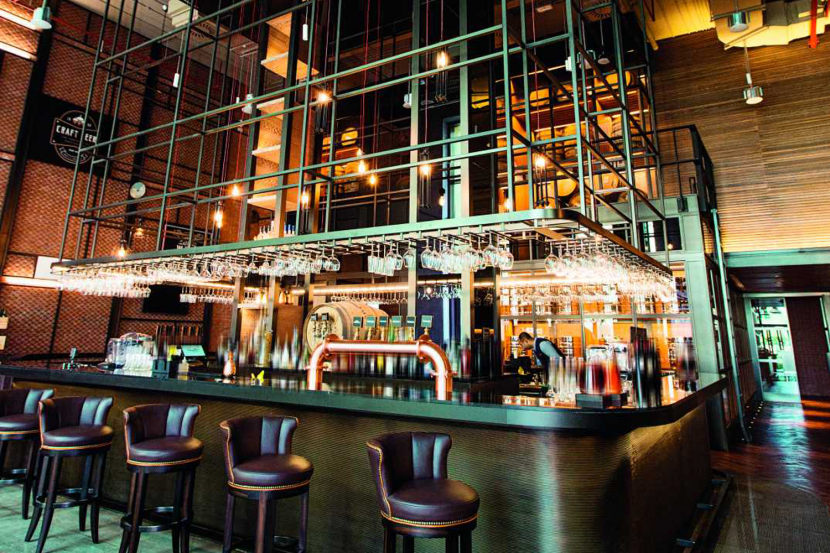 Hamilton's effortlessly combines the unpretentious atmosphere of a traditional pub with that enduringly hip industrial aesthetic. As ideal for watching the match as it is for a ladies' night (every Tuesday), you'll find reasonable prices and a menu that spans craft hops to it-drinks like frozen pink grape.
Saadiyat Rotana Resort & Villas (02 697 0000).
Hakkasan Terrace
As you make your way to this exclusive outdoor bar, either through the private entrance at Emirates Palace, or through the restaurant and along the winding stone path, you can't possibly fail to be impressed by the backdrop. With the glittering outline of the Corniche's skyscrapers in front of you, you can relax on one of the comfortable cabana beds or hang out by the bar, where you can watch the efficient bartenders at work. Make sure you try some of the incredible dim sum while you're there, too.
Emirates Palace, West Corniche Road (02 690 7739).
Iris Yas Island
Everything about this bar is beautiful. From the classy interior to the fashion-conscious clientele to the carefully presented mixed drinks, it's all about looking good and having a great time. The list of mixed drinks is very extensive. Everyone's favourite pineapple-based drink is served in an appropriately flashy gold pineapple, and there are so many inventive varieties on the menu.
Yas Marina, Yas Island (055 160 5636).
Loca
This Mexican bar was the winner of our Best Bar Award at the Music & Nightlife Awards 2018, and we're still very much in awe of the casual spot. The Wednesday ladies' night is as popular as ever, but the Monday night deal on street-food style plates also draws a crowd. With a decent happy hour, top tunes and a buzzing atmosphere, we look forward to spending many more evenings at Loca.
The Galleria Al Maryah Island (02 582 3639).

MAD on Yas Island
As the UAE's biggest nightclub, Akon, Iggy Azalea and Tinie Tempah are just a few of the huge names who have entertained the revellers at MAD over the years. If you're feeling flashy, you can go all out and hire a table up near the DJ booth, or it's just as fun to join the throngs on the floor around the huge bar. Be prepared for lots of dry ice, live dancers and a very late night.
Yas Island (055 834 6262).
McGettigan's
Any good Irish pub has to have brilliant live music, and McGettigans certainly doesn't disappoint. The live band performs a mix of rock, pop and indie covers, while the ladies' night and drinks deals also help keep the bar permenantly packed. Whether you're looking for a comforting plate of fish and chips or a post-brunch party, McGettigan's will deliver.
Al Raha Beach Hotel & Resort, Channel Street (02 652 4333).

Nasma Beachfront Bar
Having only opened towards the end of 2018, Nasma Beachfront is still relatively new on the scene. Here you can relax on huge bean bags placed out on the sand, and order from a menu of tasty bar snacks. It's chilled and sophisticated, and if you're after a few quiet drinks in a pretty setting, there are few better places in the city.
Saadiyat Rotana Resort & Villas, Saadiyat Island (02 697 0000).

NRG Sports Café
NRG Sports Café has everything you'll need and more for whiling away a lazy weekend afternoon – including some of the most succulent ribs in town. There are plenty of large televisions screens both inside and outside, plus pool tables if you fancy a game with your mates while the match is on. The walls are adorned with football shirts and flat-screen TVs, and during the brilliant daily happy hour pints of hops start from a rather reasonable Dhs25.
Le Méridien Abu Dhabi, Al Zahiyah (02 644 0348).
Pisco Lounge
This colourful lounge is attached to Latin restaurant COYA, and it's just as bright, fun and colourful. The live band is excellent, and inbetween pulling some shapes on the dancefloor make sure you try some of the fruity mixed drinks. The bar staff are superb and they know how to knock up all manner of creations. The bar snacks are also ace.
The Galleria Al Maryah Island (02 306 7000).

PJ O'Reilly's
This Irish pub has been satisfying Abu Dhabi residents for over 26 years and the popular venue shows no signs of slowing down yet. It's adored by both locals and holiday makers, and with good-value drinks and quality pub grub, we love going back here time and time again.
Le Royal Méridien Abu Dhabi, Sheikh Khalifa Street (02 695 0515).
Porters English Pub
The large, high-ceilinged main area of Porters English Pub boasts a long bar and a music stage, which is always set for some live entertainment from local bands, singers, and popular tribute acts. With a well-stocked bar and lively vibe, it's a tremendous, familiar place for a knees up. The plates of pub grub get a big thumbs up from us too.
Grand Millennium Al Wahda, Hazza Bin Zayed Street (02 443 9999).

Ray's Bar
While the capital is home to so many great sundowner spots that are either on ground level or just a few storeys up, few bars take you as high up in the sky as Ray's Bar. Perched on the 62nd floor of Jumeirah at Etihad Towers, you're treated to incredible views of the Corniche and the surrounding islands. Make sure you take a wander around the bar and photograph the sunset from every angle before the stars start
to come out.
Jumeirah at Etihad Towers, Corniche Road West (02 811 5666).
Stars 'N' Bars
This quirky sports bar doesn't just have the best party brunch in the capital, although that's one of the reasons why so many people go here so often. The live music nights are loads of fun, and the Balcon nights and weekly quizzes also have lot of fans. Whether you want a plate of American-style grub or to party outside on the terrace until the early hours, it's one of the best spots on
Yas Island.
Open daily 11.30am-2.30am. Yas Marina, Yas Island (02 565 0101).

Tamba
When you first move to Abu Dhabi, one of the first things to get used to is the fact that you
will have some of your best nights out in a mall. Yes, Tamba is one of those fantastic nightspots that is hidden away above the capital's most popular shopping outlets. The bar area is small but very cool, with huge copper bells hanging from the ceiling. The mixed drinks or 'Tamba concoctions' are pretty and expertly made, and it's ideal for a late-night drink in an impossibly stylish setting. The Thursday ladies night is awesome too.
Open Sun-Wed noon-1am; Thu-Sat noon-2am. The Hub at The Mall at the World Trade Centre, Al Markaziyah (02 672 8888).
The Sportsman's Arms
Sitting in the shadows of Zayed Sports City is the Sportsman's Arms, our chosen place to cool down after kick-about with pals or to recover from another gruelling fitness class at one of the centre's many gyms. There's loads of quality snacks and an impressive barbecue brunch during the cooler months, while the live music acts are always very entertaining.
International Tennis Center, Zayed Sports City (02 447 1066).

The Warehouse
This funky bar is like nowhere else in the capital. Specialising in tapas and fine grape options from the around the world, it provides quality
food and drink without being too fancy or pretentious. Decorated with grape barrels and filled with soft leather sofas, the weekly schedule include fondue deals, ladies' nights, tapas spreads and more. The incredible pans of mac 'n' cheese and fruity Spanish grape mixes are
just some of the many, many highlights on the menu. It's always busy, has a buzzing vibe and has been a brilliant addition to the city's nightlife scene since it opened, and standards haven't slipped since.
Pearl Rotana Capital Centre, Al Khaleej Al Arabi Street (02 307 5591).
Velocity
Almost every inch of the walls at this slick venue are covered with big screens showing every possible type of sport from around the globe. The happy hour deals are fairly legendary, and you can also enjoy live music several nights a week and a popular quiz. Add in top bar food, and it's got plenty going for it.
Marriott Hotel Downtown Abu Dhabi, Sheikh Rashid Bin Saeed Street (02 304 7777).
Victor's Bar & Restaurant
Since opening in 2017, this pub has become quite the institution. Whether you want to sing karaoke, watch sport or dance to tunes from a live band you can do it all here. The crowd is always friendly and welcoming and the Friday brunch is great value. Add in regular bingo nights and other fun events and you have a venue that's up there with the best around.
Hilton Capital Grand Hotel, Sheikh Rashid Bin Saeed Street (02 666 5508).
Be the first to get all the latest Abu Dhabi news, reviews and deals into your inbox by signing up to our free
newsletter
,
click here to sign up
.