It's a familiar question to anyone who eats in restaurants in Abu Dhabi regularly: "Would you like to go straight to your table, or maybe you want a drink at the bar first?". Not every venue has a bar area worth spending an extra Dhs100 or so at (and that's before you've even seen a food menu) but there are some places that definitely deserve your time and money. Below you'll find the ten winners and nominees from the Time Out Abu Dhabi Music and Nightlife Awards 2019 Best Restaurant Bar category. So next time you're out for a bite to eat, you know to leave time for a pre- or post-meal tipple.
99 Sushi Bar & Restaurant
This Japanese bar and restaurant originated in Spain, and the super-stylish outlet adds an extra touch of glamour to the already-glistening Al Maryah Island dining scene. From the atmospheric bar area as you enter to the immaculate plates of impossibly fresh sushi, it oozes class from every corner. Every detail, down to the sensor-controlled bathroom doors and seafood decorated with gold flakes, is super impressive.
The Galleria Al Maryah Island (02 672 3333).

Attic Bar
Up a flight of stairs from the light and airy dining room at Market Kitchen, Attic Bar has a late-night vibe which is complemented by moody lighting and a funky patterned ceiling. The walls are lined with bottles of grape, and the well-stocked bar includes an impressive 23 different varieties of juniper beverages from around the world.
Le Royal Méridien Abu Dhabi, Sheikh Khalifa Street (80 010 1101).

Butcher & Still Highly Commended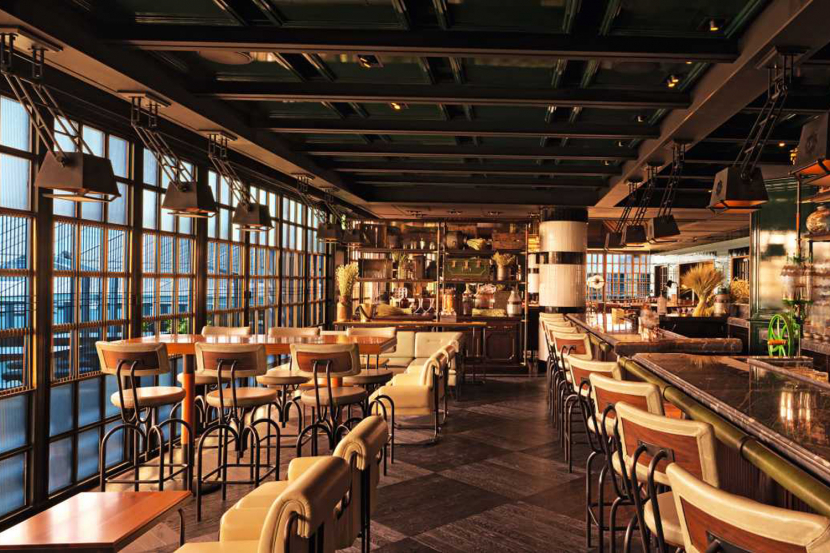 Prohibition-themed steakhouse Butcher & Still is the very definition of the word cool. The 1930s theme is carried out to brilliant effect, making it glamourous, sophisticated and very hipster-friendly all at the same time. The bar offers a brilliant daily happy hour where you can get two drinks for the price of one, and each beverage is expertly prepared by the dapper bar staff. The terrace is also one of the most picturesque places to be during the cooler months.
Four Seasons Abu Dhabi, Al Maryah Island (02 333 2444).
Circo
This venue is well established as one of the great Italian restaurants in the capital, but it's also a super place for a drink. With funky circus-inspired decorations, and a menu of traditional cuisine served with a fantastically theatrical twist, a night out here is always extra-special. The outdoor terrace also offers unbeatable views over the marina and the staff provide Italian hospitality at its best.
Intercontinental Abu Dhabi, King Abdullah Bin Abdul Aziz Al Saud Street (02 666 6888).

Cho Gao Marina Walk
Even if you don't fancy indulging in some awesome pan-Asian dishes, a night out here has plenty to offer. The Asian-inspired mixed drinks are creative and beautifully presented, and the bar area is as cool and moody as they come. The terrace is huge and the Tuesday ladies' night, offering complimentary drinks, always attracts a lively crowd.
Intercontinental Abu Dhabi, King Abdullah Bin Abdul Aziz Al Saud Street (02 666 6888).
Dino's Bistro Italiano
With a vintage bicycle filled with flowers by the door, an American diner-style 'Dino's' sign up on the wall and kitsch red-and-white checked tableclothes, Dino's has a cool and casual vibe which comes as a refreshing surprise in a place as fancy as Abu Dhabi. The bar area here is well stocked with Italian grape and even a few extra-special bottles of hops.
Pearl Rotana Capital Centre, Al Khaleej Al Arabi Street (02 307 5591).
Li Jiang
This Chinese bar and restaurant is found in one of the fanciest hotels in the capital: The Ritz-Carlton Abu Dhabi, Grand Canal. With views over to the Grand Mosque, the staff here are experts when it comes to making super delicious dim sum and other tasty nibbles, but the drinks are also lovely too. Inside you'll find a small bar area with a varied grape selection and a menu filled with classic and contemporary mixed drinks. It's the perfect place to relax before your meal.
The Ritz-Carlton Abu Dhabi, Grand Canal, Khor Al Maqta (02 818 8282).
Stratos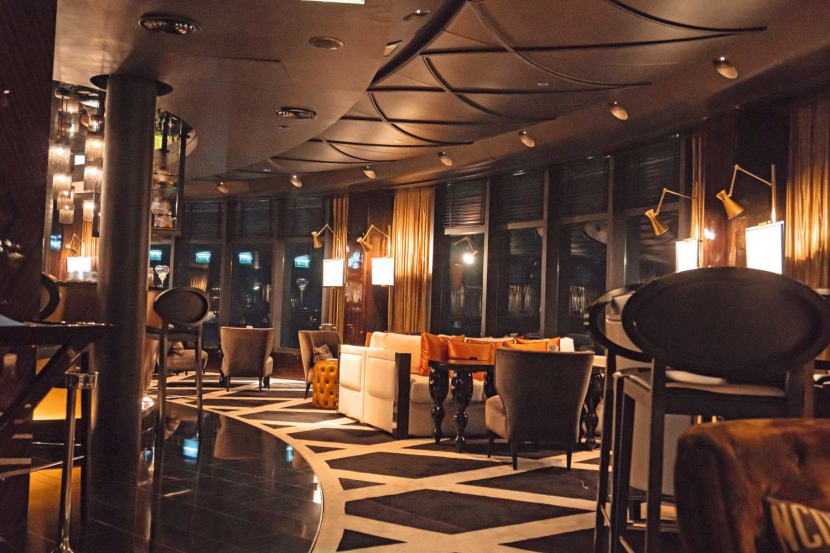 Abu Dhabi has a knack for making everything that bit more fancy and flashy, and Stratos is probably one of the best examples of it. The classy restaurant actually rotates, so if you're here for a few beverages, the view of downtown Abu Dhabi's twinkling night-time skyline will be constantly refreshed as the night goes on. The revolving is slow so there's no chance of dizziness, just soak up the panoramic views and try the excellent food.
Le Royal Méridien, Abu Dhabi, Shaikh Khalifa Street (800 101 101).
Tamba Highly Commended
With dark, muted lighting and striking copper bells hanging from the ceiling, this cool Indian restaurant is in a class of its own. Whether you're here for a spot of lunch on the terrace, or an evening meal and a few drinks, you'll leave totally impressed. The cuisine is Indian-inspired with a contemporary twist, while the Thursday ladies' night and Friday 'Lazy Lunch' is always super popular.
The Hub, The Mall at World Trade Center Abu Dhabi (02 672 8888).
Zuma Winner
This Japanese bar and restaurant is where the good-looking crowd in Abu Dhabi hang out, but they wouldn't be drawn here if it wasn't for the amazing food and exceptional collection of drinks. If you're yet to experience the phenomenon that is Zuma, well you should prepare to have your mind blown. A night here is always exciting from start to finish.
Al Maryah Island (02 401 5900).
Be the first to get all the latest Abu Dhabi news, reviews and deals into your inbox by signing up to our free
newsletter
,
click here to sign up
.