Winner
Iris Yas Island
Everything about this bar is beautiful. From the classy interior to the fashion-conscious clientele to the carefully presented mixed drinks, it's all about looking good and having a great time. The list of mixed drinks is very extensive. Everyone's favourite pineapple-based drink is served in an appropriately flashy gold pineapple, and there are so many inventive varieties on the menu.
Open Mon-Sat 6pm-3am. Yas Marina, Yas Island (055 160 5636).
Highly Commended
Pisco Lounge
This colourful lounge is attached to Latin restaurant COYA, and it's just as bright, fun and colourful. The live band is excellent, and inbetween pulling some shapes on the dancefloor make sure you try some of the fruity mixed drinks. The bar staff are superb and they know how to knock up all manner of creations. The bar snacks are also ace.
Open Sat-Sun, Wed noon-12.45am; Mon noon-2.45am; Tue, Thu-Fri noon-1.45am. The Galleria, Al Maryah Island (02 306 7000).


Tamba
When you first move to Abu Dhabi, one of the first things to get used to is the fact that you will have some of your best nights out in a mall. Yes, Tamba is one of those fantastic nightspots that is hidden away above the capital's most popular shopping outlets. The bar area is small but very cool, with huge copper bells hanging from the ceiling. The mixed drinks or 'Tamba concoctions' are pretty and expertly made, and it's ideal for a late-night drink in an impossibly stylish setting. The Thursday ladies night is awesome too.
Open Sun-Wed noon-1am; Thu-Sat noon-2am. The Hub at The Mall at the World Trade Centre, Al Markaziyah (02 672 8888).

Nominees
Buddha-Bar Beach
This trendy beach bar is the kind of place where the mixologists set fire to the drinks, spin bottles in the air and create beverages that are so immaculate you almost don't want to devour them. The Buddha-Bar brand has a legendary reputation throughout the world, and the mixed drinks are created with ingredients that have been sourced from far and wide. The setting also adds to the experience. The outdoor terrace is right on the sands of Saadiyat beach, while DJ Bambina fills the bar area with the hottest tunes.
Open daily noon-4pm, 7pm-midnight. The St. Regis Saadiyat Island Resort, Abu Dhabi (02 498 8888).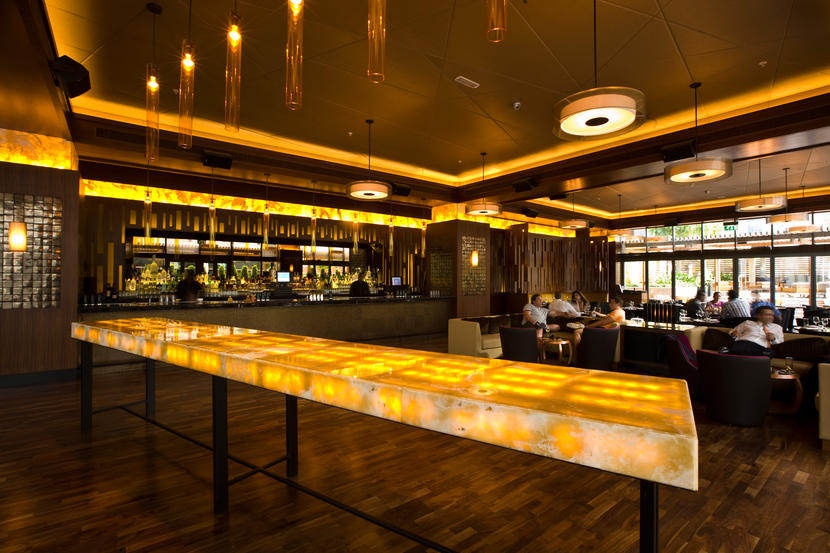 Caramel Restaurant & Lounge
Obviously this upmarket establishment had to make its home on Saadiyat. Where else could match the class and grandeur? But don't let that intimidate you, this is a welcoming and friendly place to meet your friends. It also has sensational views and quality snacks such as wagyu beef sliders and mac 'n' cheese with truffle oil. However, the mixed drinks are the real attraction and each different concoction has its own unique charm.
Open daily Sun-Wed 6pm-2am, Thu & Fri 6pm-3am, Sat noon-midnight. The Collection at The St. Regis Saadiyat Island Resort, Abu Dhabi (02 678 3344).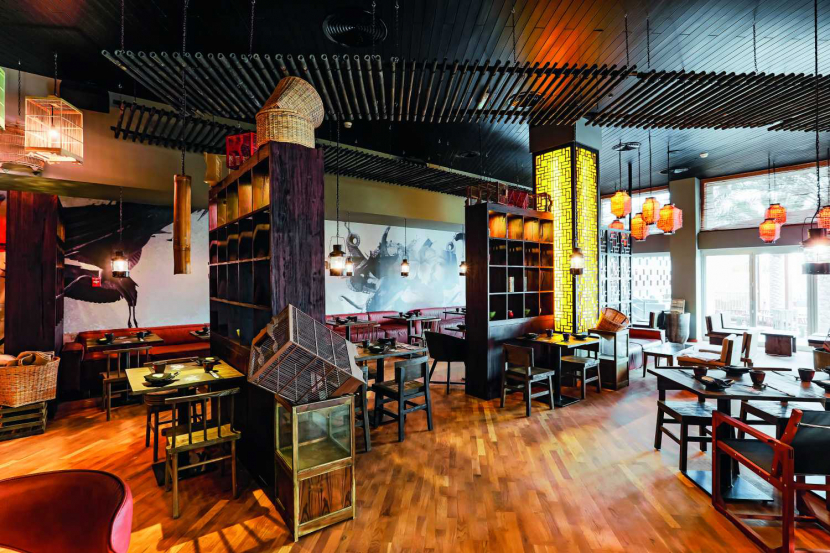 Cho Gao Marina Walk
The Inside of Cho Gao Marina Walk is 100 percent interior design goals. If you're as obsessed with everything about Asia as we are, then you'll love the hanging paper laterns and other Oriental artefacts. But the Asian-themed mixed drinks are just as creative, and all beautifully presented to make your night out at this tremendous bar a joy from start to finish. It's also a Time Out Restaurant Awards winner, so it's an awesome all-rounder.
Open Sat-Wed 6pm-1am; Thu-Fri 6pm-2am. Intercontinental Abu Dhabi, King Abdullah Bin Abdul Aziz Al Saud Street (02 666 6888).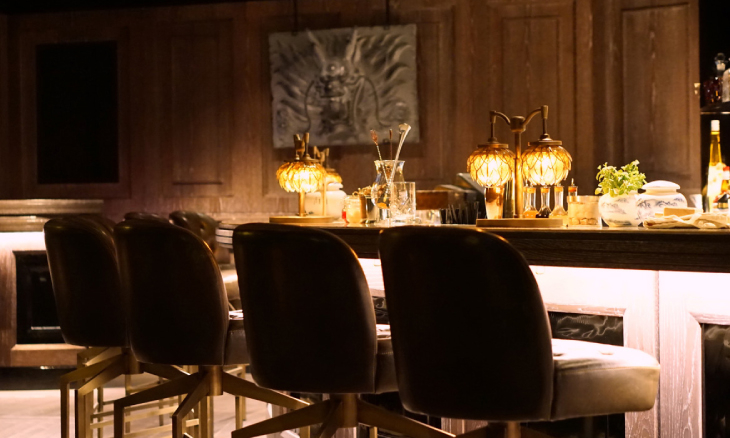 Dragon's Tooth
This cool bar was arguably the best kept secret in the city and it's still a gem that we like to think only cool people know about. Find the correct corridor inside Dai Pai Dong and you'll enter the relaxed bar where you can get a great selection of drinks and act like you're part of a secret club. Okay, there's a door fro The Galleria now, too, but the secret corridor is definitely the best way in. The mixed drinks are inventive and created with real care and precision by the bartenders.
Open Sat-Wed 6pm-1am; Thu-Fri 6pm-2am. Rosewood Abu Dhabi, Al Maryah Island (02 813 5550).


Ray's Bar
If you have visitors in town, or just fancy a flashy night out and a nice reminder of why you're so very lucky to live in the capital, an evening at Ray's Bar is just what you need. Located on level 62 (yes, it's ridiculously high) of Jumeirah at Etihad Towers, this bar treats its patrons to some of the best views in the city. The mixed drinks aren't the cheapest, but the mixologists are amazing and the mixed drinks with lime and mint are certainly the best we've tried in the city.
Free entry, drink prices vary. Open daily 5pm-2am. Jumeirah Etihad Towers, West Corniche (02 811 5666).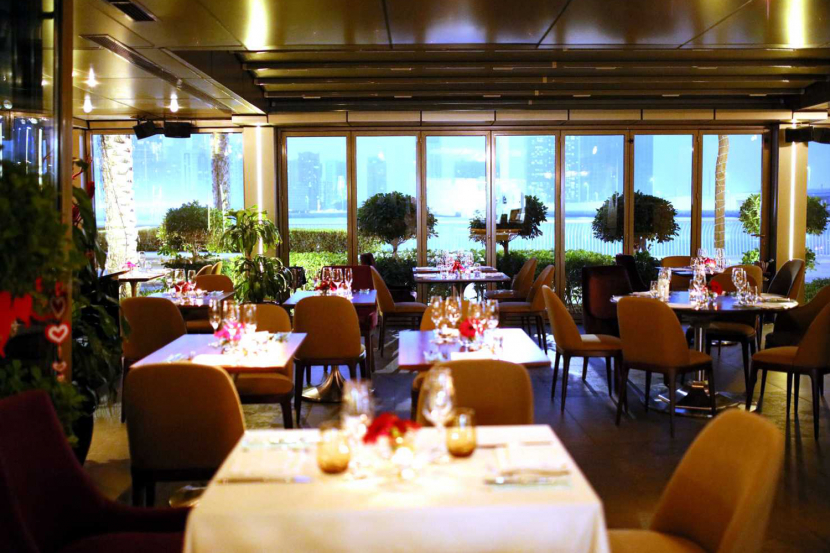 Roberto's Club and Lounge
If you like your bars down-to-earth and simple, the kind of places where you can count the drinks options on two hands and the bar snacks don't get more inventive than a bag of peanuts, then Roberto's probably isn't really for you. It's the only place on the island to stay open until 4am and the mixed drinks are split into suitably exclusive-sounding sections such as Elite and La Buonna Notte. It will take you a while to work through the extensive menu, but whatever you choose will be great.
Open Sun-Fri noon-4am. The Galleria, Al Maryah Island (02 627 9009).

The St. Regis Bar
With a slick gold and brown décor and smart dress code, stepping out for a drink here is like going back to 1950s New York (which is all part of the fun). The extensive menu has all you favourite mixed drinks from across the world, whether you like them long and fruity or short and sour. It's the perfect spot for a nightcap, but that shouldn't deter you from visiting earlier in the evening too. There's really no such thing as an inappropriate time to visit this very glamorous venue and hotel.
Open daily noon-1am. The St. Regis Abu Dhabi, Nation Towers, Corniche Road West (02 694 4553).
Be the first to get all the latest Abu Dhabi news, reviews and deals into your inbox by signing up to our free
newsletter
,
click here to sign up
.