Al Mabeet
If you want to take your night out to mean literally a night outside, then book yourself a cushion in Al Mabeet at Jumeirah's brand-new Al Wathba Desert Resort. Here you can enjoy a high-end take on Bedouin dining under the stars amid the rolling red sand dunes just outside the city.
Open daily 7pm-midnight. Jumeirah Al Wathba Desert Resort, Al Wathba (02 204 4444).
Al Hanah Bar
The Shangri-La has been one of Abu Dhabi's most dependably luxurious hotels for well over a decade now, with its alfresco settings particularly lauded. Meanwhile, the Al Hanah bar inside has remained a luxe alternative. With an adjacent cigar lounge, it's the perfect place to head for a quiet drink – and best of all, the wonderful views across the canal towards the Sheikh Zayed Grand Mosque are still available from the comfort of your bar stool.
Open daily 5pm-2am. Shangri-La Abu Dhabi, Qaryat al Beri (02 509 8555).

Barfly by Buddha-Bar
The Venetian Village, tucked away behind The Ritz-Carlton Abu Dhabi, offers an entire night out for those looking for both quality and quantity. Of all the watering holes available, the highlight is probably the ever-classy Barfly by Buddha-Bar where you can find your favourite drink and listen to some chilled tunes from the resident DJs.
Open Sat-Thu 6pm-2am; Fri 1pm-2am, Venetian Village, The Ritz-Carlton Abu Dhabi, Grand Canal, Khor Al Maqta (056 177 7557).
BU!
Ironically, saying its name out loud could sound like you're unhappy with the service at this classy joint inside The Hub. Part bar, part restaurant, BU! is very much part of the trend to bring Latin food and Mediterranean cool together in a heady, atmospheric arena. Whether you've come in for a meal or just a drink, you're unlikely to say boo to this place at all. It's ace.
Open Sun-Fri noon-3am; Fri 10am-3am, The Hub at The Mall at World Trade Center Abu Dhabi (02 666 8066).
Buddha-Bar Beach
Quite what this venue's famously peaceful namesake would have done in a lively beach bar is unclear, but Buddha-Bar Beach (the only permanent outpost of the brand in the world) is alright by us. You'll appreciate the beachside location, the chilled music, and the selection of dishes gathered from around the Pacific Rim.
Open daily 5pm-midnight. The St. Regis Saadiyat Island Resort, Abu Dhabi (02 498 8888).

Catch
Yes, you might struggle to keep a straight face when somewhere professes to be "not just a restaurant… a lifestyle" but nonetheless, Catch does have a legitimate claim to being one of the best seafood joints anywhere in the UAE. Located on the beach, right by the Corniche, the setting could hardly be better, either. On the roof bar, the music gets livelier and it's clear Catch has several, excellent strings to its bow.
Open daily noon-1am. Nation Riviera, Corniche Road West (02 611 0909).

Caviar Bar
When you really, really think about it, the concept of caviar can seem pretty bizarre. The idea of harvesting fish eggs may seem a bit off, but once you've tasted it, it's hard to argue with it being synonymous with the finer things in life. It's certainly easier to believe it in the beautiful setting of the Emirates Palace, where the Caviar Bar has been serving up fine drinks and sturgeon eggs ever since the hotel opened.
Open daily 6.30pm-1am. Emirates Palace, West Corniche (02 690 7999).

Dining by Design
If you're looking to impress your partner, celebrate a birthday or ask a very specific question, then enquire at Anantara's Eastern Mangroves Hotel and Spa about the private dining option. The price will depend on how elaborate you want to make the experience, which of their menus you choose and whether or not you include bubbly, which may in turn depend on the answer to that question you're planning to pop.
Open daily, times vary. Anantara Eastern Mangroves Hotel and Spa, Salam Street (02 656 1000).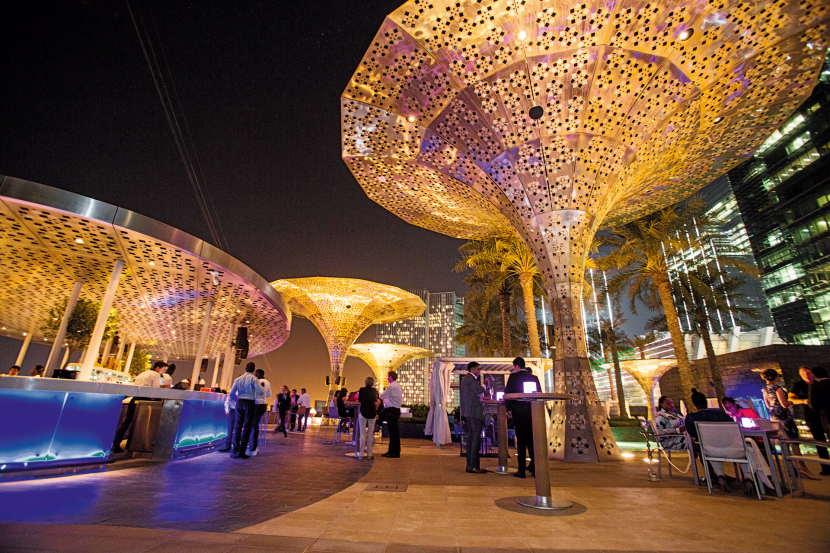 Glo
The Rosewood's open-air bar offers great views from Al Maryah Island, out to sea, around the bay and back towards the wider city. The drinks menu is a wild ride through options that sound as though they've been run through a language translator: A Curfew Will Not Stop Me, The Story Of The Hurricane, and No Painkiller are among the mixed drinks on offer. What they consist of, we couldn't tell you, but the expert staff will be able to.
Open Sat-Wed noon-1am; Thu-Fri noon-2am, The Rosewood Abu Dhabi, Al Maryah Island (02 813 5550).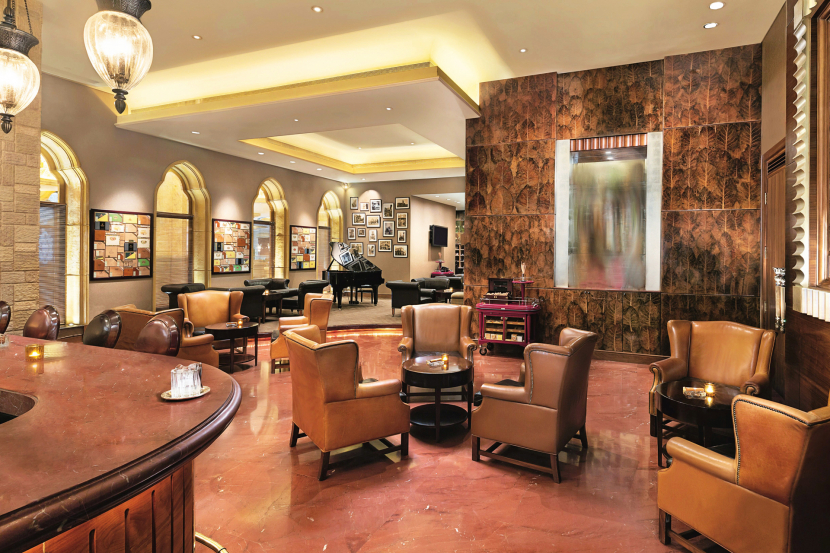 Havana Club
Long before Cuba began to open up to the world, people were sneaking cigars out from its capital. Of course, they're no longer contraband, you can head to this spot inside the Emirates Palace to sample them while listening to Latin music and requesting your favourite Caribbean tipple from the well-stocked bar.
Open Sat-Wed 5pm–1am; Thu-Fri 5pm-2am. Emirates Palace, West Corniche (02 690 7999).
Jazz Bar & Dining
Chances are you don't really like jazz. Perhaps you don't actively dislike it, either, but thankfully the good people inside the Radisson Blu Hotel haven't abandoned the format completely, meaning you can head over here and tap the table along to the songs.
Open Sun-Fri 5pm-2am. Radisson Blu Hotel & Resort, Abu Dhabi Corniche (02 681 1900).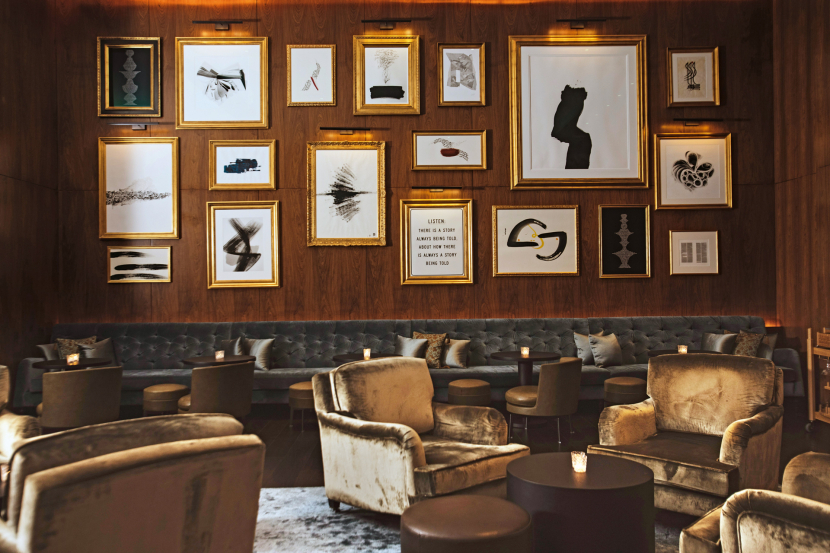 Library Bar
If the idea of sitting in a library on your night out sounds boring then you should know that this beautifully realised lounge in the new Abu Dhabi EDITION has one of the best selections of juniper-based drinks anywhere in the capital. A large number of people will start here before sliding next door to the Oak Room, the hotel's remarkable steakhouse. You should be one of them.
Open Sat-Wed 6pm-1am; Thu-Fri 6pm-2am The Abu Dhabi EDITION, Al Bateen (02 208 0000).
MAD on Yas Island
MAD being the largest nightclub in the capital seems important, but size doesn't necessarily translate as luxury. Good news, then, that there are extra bells and whistles, including booking private areas and guaranteeing table service. If that doesn't seem like quite enough for you, then you can theoretically book out the entire club for your own private event, though that is a bit, err, mad.
Open Thu-Fri 11pm-3am. Yas Island (600 511 115).
Pisco Lounge
You'd have to be dangerously full to visit COYA and not sit down for a meal. But let's say you're somehow saving yourself. In that case you can always come to the Pisco Lounge for a refined beverage. As the name suggests, Peru's national drink is, of course, on offer, but there are dozens of others from around the world. If you're looking for something a little different, you could always try the version made with pink bubbles.
Open daily Sat-Sun & Wed noon-12.45am; Mon noon-2.45am, Tue, Thu, Fri noon-1.45am. The Galleria, Al Maryah Island (02 306 7000).

Ray's Bar
If all Ray's offered was sensational views from the 62nd floor of the Jumeirah Etihad Towers, it'd still absolutely be worth the trip. After all, it's not like you have to take the stairs to get those sumptuous views out across the Arabian Gulf. Still, they don't want just anyone coming up – this stylish establishment has a pretty classy dress code and while the mixed drinks menu is lengthy, the bar snacks include items such as oysters and caviar. And fancy fries, too.
Open daily 5pm-2am. Jumeirah Etihad Towers, Corniche Road West (02 811 5666).
Savannah Grill
OK so Sir Bani Yas Island may not exactly be a city centre destination, but it is still part of Abu Dhabi and it is a good deal closer than Africa. This remarkable safari resort's Savannah Grill inside Al Yamm has doubled down on the African vibes by offering dishes from across the continent. Don't be surprised if animals wander past your table while you're eating.
Open daily noon-11pm, Anantara Al Yam, Sir Bani Yas Island (02 801 5400).
Skylite
There are countless places around the capital where you can pose for your selfie, but nowhere is likely to be as colourful as Skylite. One of the coolest year-round alfresco bars anywhere in the city, this Yas Island favourite sits with the shimmering Yas Hotel roof just above. Good luck trying to get in here around the F1 weekend, but otherwise there's nowhere more vibrant to try to look cool for your Insta followers.
Open Sat-Thu 6pm-1am; Fri 4pm-1am, Yas Hotel Abu Dhabi, Yas Island (02 656 0600).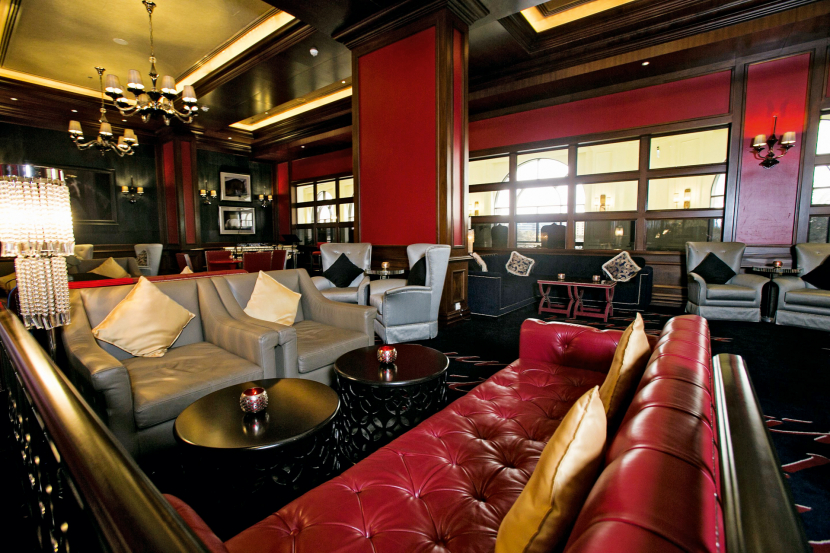 Sorso
Perhaps unsurprisingly, The Ritz-Carlton's take on a sports bar is wildly different to the interpretation of most others. Sorso is all red suede seats and black walls, making it look more like a Bond villain's lair rather than the usual cheek-by-jowl Irish pub. Despite the setting, they're so committed to keeping the place relaxed that they've insisted on a casual dress-code.
Open daily 5pm-1am. The Ritz-Carlton Abu Dhabi, Grand Canal, Khor Al Mqata (02 818 8282).

The Crystal Lounge
It seems kind of amazing that more venues around the capital haven't copied the Crystal Lounge's fairly simply business model of dedicating themselves to bubbly. With an admirable commitment to sourcing some of the most exclusive and interesting bottles from around the world, even the chandeliers above are said to look like giant bubbles.
Open daily 7am-midnight, The St. Regis Abu Dhabi, Nation Towers, Corniche Road West (02 694 4444).

The Lounge
It perhaps still has that satisfying new-bar smell, but The Lounge is looking to quickly establish itself as one of the most sought-after nightspots on Saadiyat Island. The new Jumeirah hotel isn't the tallest building in Abu Dhabi, but this rooftop bar still has unimpeded views out to sea. Between the live DJs and the expert mixologists, it's a great place for a sundowner.
Open Sat-Wed 5pm–midnight; Thu-Fri 5pm-1am. Jumeirah Saadiyat Island Resort, Saadiyat Island (02 811 4342).
The Park Bar & Grill
With a selection of grape from around the world, The Park Bar & Grill is understandably not short of bottles on site. Rather than just have them resting in the dark, however, this slick bar in the Park Hyatt has employed many of them as a decoration. Not a fan? Well there's an abundance of other drinks options to serve as a welcome distraction.
Open daily 7pm-11.30pm. Park Hyatt Abu Dhabi Hotel and Villas, Saadiyat Island (02 407 1138).
The Sportsman's Arms
OK, so a pub might not sound like a super luxurious destination, but if you're a discerning fan of hops then the Sportsman's Arms offers probably the most varied selection anywhere in the city. The crafty British chaps from Brewdog are well represented here, alongside half a dozen smaller brands from around the world. Unusually, they also offer pairings with their surprisingly varied food menu. Now that's a touch of class.
Open daily 8am-2am. International Tennis Centre, Zayed Sports City (02 447 1066).
The Sunset Lounge
There's no shortage of scenic sunset spots around the capital, but if you're looking for something that feels genuinely timeless, then head out to Qasr al Sarab. Here you can watch the fiery ball disappear over the ever-renewing ochre sand-dunes of the Empty Quarter. That in itself is worth the trip, but they also lay on a happy hour to coincide with the best light.
Open daily 12.30pm-10.30pm. Qasr al Sarab Desert Resort by Anantara, Empty Quarter (02 886 2088).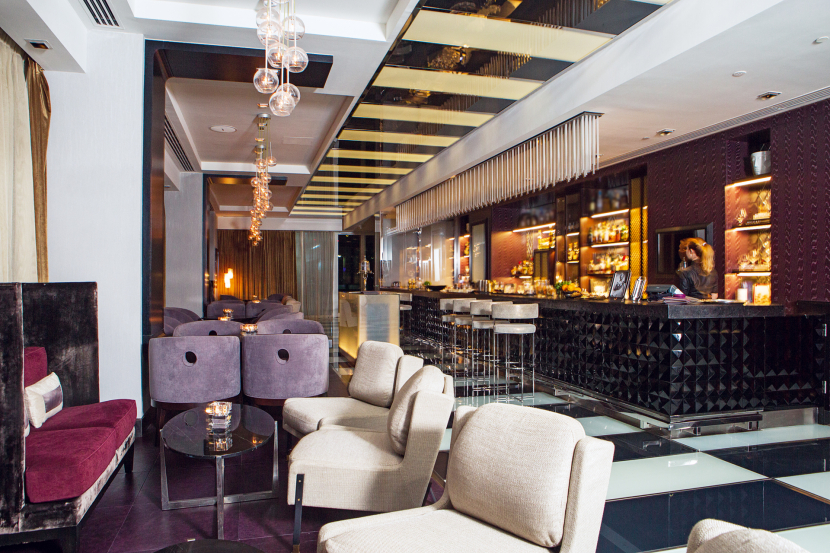 Zsa Zsa
We can only assume a woman with the bombast and pizazz of Zsa Zsa Gabor must have been absolutely furious at dying just three months short of her 100th birthday. Having lived her life in the limelight for 70 years, she would be less surprised at a bar named after her, even in Abu Dhabi. Located inside the Four Seasons, it has a Hollywood-themed list of mixed drinks and no shortage of style. Surely the grand dame of glamour would approve.
Open daily 4pm-1am. Four Seasons Hotel Abu Dhabi, Al Maryah Island (02 333 2444).

Zuma
Tucked away underground along from the Rosewood, if Zuma seems at all unassuming, it only does so from the outside. Head downstairs into the main room to find yourself surrounded by some of Abu Dhabi's hippest trendsetters and most shameless posers. The modern take on Japanese food is genuinely world class, as is the bar menu, while later in the evening the DJ gets steadily bolder and livelier as the night progresses.
Open Sat-Thu noon-1am; Fri 12.30pm-2am. Al Maryah Island (02 401 5900).
Be the first to get all the latest Abu Dhabi news, reviews and deals into your inbox by signing up to our free
newsletter
,
click here to sign up
.