It's cool enough to sit outside again, and we couldn't be happier. So many of the best bars in the city have amazing outdoor areas, and it's been a frustrating few months, watching them lie empty from our AC-cooled indoor seats.

But now the temperature has dropped, these alfresco spots are being reopened for everyone to enjoy once more. Never partied on a rooftop before? Well, we can guarantee that will change very soon.

So pack your sunnies, gather your friends and get ready to annoy your Instagram followers with all your bragging posts.
You just know that everyone is desperate to see yet another photo of your drink in front of the view from your favourite rooftop bar (#sorrynotsorry). This is what we've been waiting for Abu Dhabi...
Azura Panoramic Lounge
Everything in The St. Regis Abu Dhabi is a fine lesson in luxury, and Azura Panoramic Lounge is no different. High up in the Nation Towers and spread over three levels, the wicker bed-style seats are the highlight for us. From here you get a full panoramic view over the Corniche, while the venue itself puts you right in the heart of all the fun of downtown Abu Dhabi. Come here in the day to chill on a sunbed by the pool, and head to the intimate dining area on the upper deck when the sun goes down. DJs regularly appear to help set the mood for those after-work drinks, and the daily happy hour (from 5pm to 8pm) provides the perfect excuse to treat yourself to one (or two) sundowners while really unwinding.
Open daily noon-1am. The St. Regis Abu Dhabi, Nation Towers, Corniche Road (02 694 4553).
Blue Marlin Ibiza UAE
Your friends back home will really hate you for this one (well, hopefully not really). But the scenes at this super-cool beach bar are too good to be allowed really. This is like being on holiday in the Balearics, but even better. For starters, you can brunch directly on the beach. We mean, what's better than that? Spend a happy day by the beach and pool, then hit the dancefloor when the sun goes down and world-famous DJs emerge to entertain the crowds. We honestly challenge you to find a better outdoor party venue.
Open Fri-Sat 1pm-11pm. Golden Tulip Al Jazira Hotel and Resort, Ghantoot (056 113 3400).
Breeze Lounge
Any visit to Emirates Palace is enough to you feel like an actual prince or princess, and an evening at Breeze Lounge gives you a real taste of royalty. Recline in a sofa or tent-covered table and let out your best, nonchalant "Oh, I always hang out at stupidly fancy places like this" pose for your increasingly jealous Insta followers. Earning its name from the fact that you are close enough to the glittering waters to literally feel the sea breeze, this lounge is the kind of setting that makes you want to pinch yourself.
Open Mon-Sun 5pm-1am. Emirates Palace, West Corniche (02 690 7999).
Cabana Beach Bar & Grill
This quaint, colonial-style white building houses another bar with a location that's so perfect it's almost laughable. Right on the sandy shores of the immaculate Corniche beach, here you can feel the sand between your toes as you sip on mixed drinks and dine on high-quality bar dishes such as hearty burgers and sandwiches overflowing with every millennial's trendy green fruit (no we're not bored of avocados yet, thanks for asking). Cool off afterwards in the palm tree-lined pool or in the azure waters of the Gulf. Sounds just awful, doesn't it?
Open daily 10am-11pm (drinks), 11am-10pm (food). Nation Riviera Beach Club, Corniche West (02 694 4553).
Catch Rooftop
This is one of the most talked about rooftops in the city. It's definitely a place to be seen, but you shouldn't just go here to pose for selfies and try to look pretty. The dancefloor is always a riot, with a constant party vibe fuelled by a host of brilliant DJs. The panoramic views over the Corniche will never, ever get old and regardless of which day of the week it is, you know they'll be a lively crowd encouraging you to let your hair down.
Open daily noon-3am. Nation Riviera Beach Club, Nation Towers, Corniche West (02 699 3333).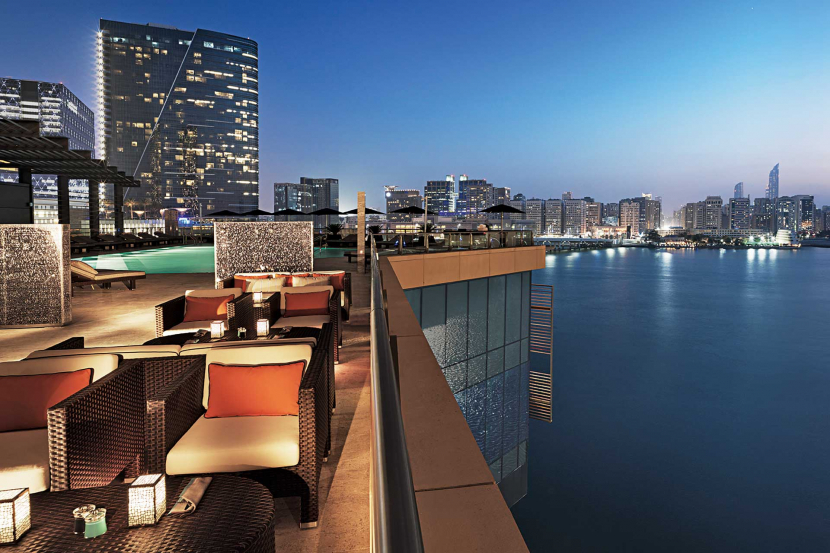 Eclipse Terrace Lounge
In the very modern and swish Four Seasons Hotel on Al Maryah Island, this elevated terrace is blessed with views of the shimmering skyline and surrounding water. Feel like the high-flying city slicker you are as you recline on one of the comfortable seats and enjoy a refreshing drink. If you arrive in the afternoon, you can combine sipping on beverages with taking a dip in the pool, and by night you can enjoy sophisticated light bites such as marvellous mini tacos and the outstanding octopus chorizo.
Open daily 8am-1am. Four Seasons Hotel, Al Maryah Island (02 333 2720).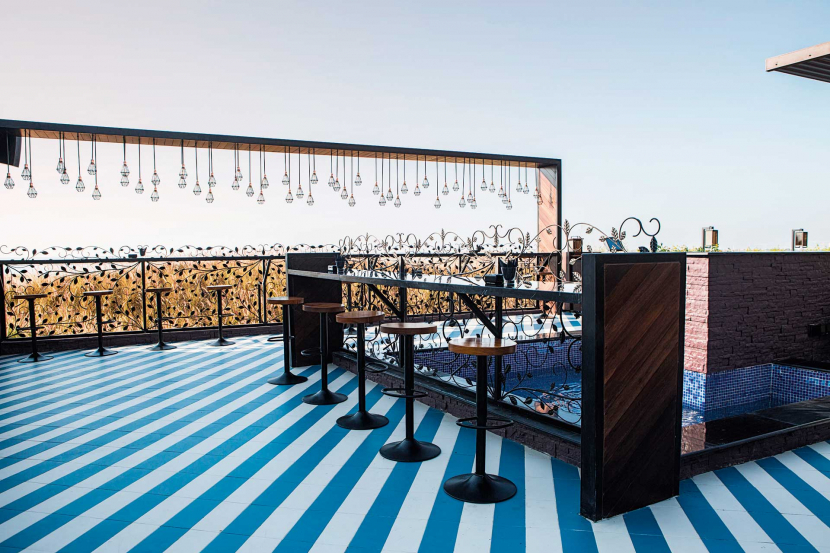 Filini Garden
Walking in through the vine-covered archway, entering Filini Garden is like arriving at some magically green paradise, which essentially is exactly what's happening. The terrace is also a thing of beauty. Even during the summer when it was covered up, it felt like you were dining in a very classy and ethereal greenhouse. But now we can experience it in its full glory. The views over Yas Links and the blue water beyond are utterly sensational, even if the idea of hitting a ball around a field with a stick sounds like the most boring thing in the world. The Monday ladies' night and weekend brunches are particularly popular.
Open Sun-Wed 4.30pm-1am, Thu-Fri 4.30pm-2am. Radisson Blu Abu Dhabi, Yas Island (02 656 2000).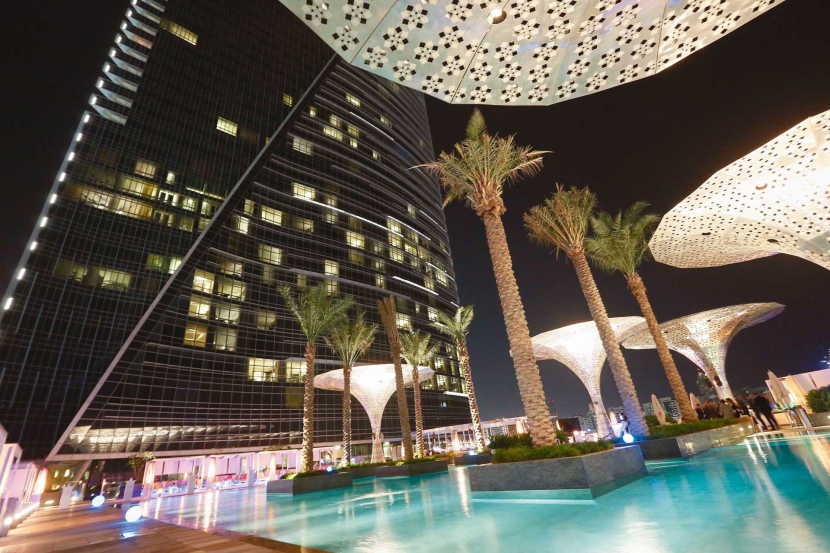 Glo
The tree-shaped lights at this bar will never stop being so very cool. With a huge pool surrounded by palm trees and skyscrapers looming in the background, it doesn't get any better for an after-work drinks spot or late-night party. Music is a big thing at this terrace lounge. If you're into house tunes, you'll adore every minute. Tuesdays are popular for the ladies' night with free-flowing sparkling grape from 6pm to 9pm, while the comfortable sofas are perfect for relaxing into as you sample a mixed drink concoction and put the world to rights with your friends.
Open daily noon-midnight. Rosewood Abu Dhabi, Al Maryah Island (02 813 5550).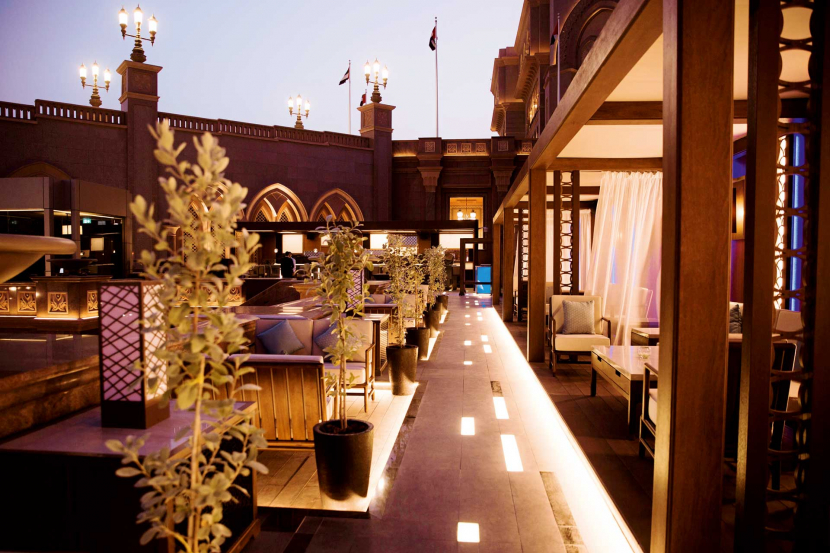 Hakkasan Terrace
Even if you're yet to visit Emirates Palace, we're sure you can imagine that the grounds are hardly modest. With views over the hotel and the towering skyline beyond, Hakkasan Terrace has to be on anyone's list of favourite outdoor bars. The cabana seats are ideal for intimate gatherings, and if you can stop gazing around in wonder at your surroundings for
a moment, you can enjoy posh Cantonese small plates such as Peking duck with caviar.
Open Sat-Wed 6pm-1.30am; Thu 6pm-2am; Fri 4pm-2am. Emirates Palace, West Corniche (02 690 7739).
Iris
Boats and blue water are never a bad backdrop, and this very cool and stylish bar has views that most people can only dream of. But living in Abu Dhabi, we're lucky enough to find ourselves in such incredible settings on a daily basis. The mixed drinks at Iris are just as picture-perfect as the views; think elaborate pineapple-shaped glasses and delightful fruit garnishes. This classy bar attracts a crowd who enjoy the pretty things in life. Head here after work on Sundays for the cheesiest tunes from the '80s and '90s, and make sure you try something from the sophisticated bar menu.
Open Wed-Sun 6pm-3am. Yas Marina, Yas Island (02 304 8257).
Level Lounge
On the roof of the Crowne Plaza in the centre of Abu Dhabi's old town, Level Lounge is a seriously chilled-out bar that feels far removed from the sometimes manic pace of the city centre below. With pool parties, ladies' nights and uplifting DJ sets, there's always a reason to visit. Perhaps most importantly they have a giant pink inflatable flamingo. We know, why didn't we mention that first?
Open daily 5pm-2am. Crowne Plaza Abu Dhabi, Al Markaziya (02 616 6800).
Li Jiang
We wish the view from our back garden had even the smallest fraction of the beauty that the one from Li Jiang's outdoor terrace has. Set amongst olive groves, and with an incredibly clear view of the Sheikh Zayed Grand Mosque, this really is the kind of setting that you can't get anywhere else in the world. Head here for dim sum night on Mondays, ladies' night on Tuesdays, the spring roll festival on Sundays and brunch on Saturdays. The food is exceptional, too.
Open daily 6pm-midnight. Sat brunch 1pm-4pm. The Ritz-Carlton Abu Dhabi, Grand Canal (02 818 8282).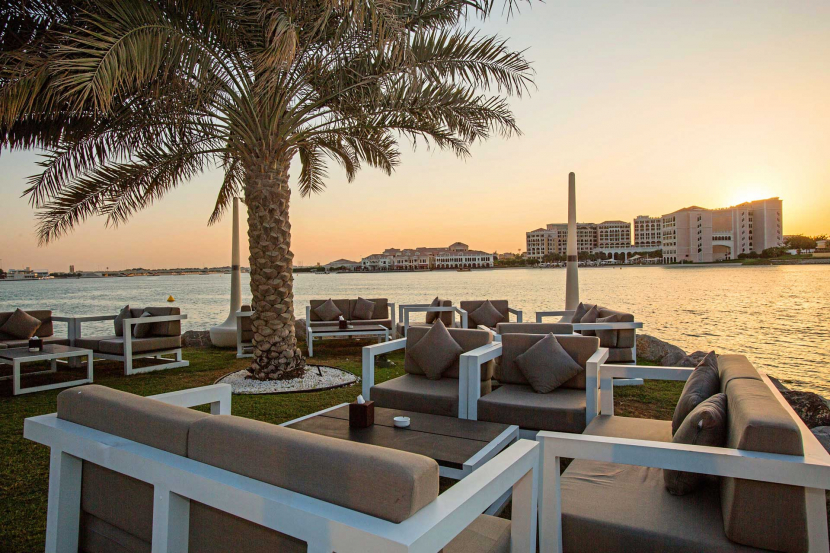 Puesta Del Sol
This is another spot in a prime location by the Grand Canal, so naturally it has to have an amazing outdoor area. Translated from the Spanish, Puesta del Sol literally means sunset, so we bet you can already guess when we're going to suggest heading here. With fun Latin music, amazing tapas (including some of the best guacamole and tortillas in town) and mixed drinks, this is a picturesque waterside spot for catching up with friends and unwinding after a long day. This place won the Best Bar With A View title at the 2018 Time Out Abu Dhabi Music & Nightlife Awards, so it definitely comes with our stamp of approval.
Open daily 5pm-1am. Fairmont Bab Al Bahr, Khor Al Maqta (02 654 3238).
Relax@12
As the name suggests, the pretty views and comfortable seats make this rooftop bar a top spot for a relaxing drink and natter with friends. But don't let that fool you into thinking it's too sedate. Every Friday sees top DJs entertain the crowds with the hottest hip hop, R&B and Afrobeats long into the night. This is a dancefloor that nobody wants to leave. From beautiful city views to stunning sunset vistas and into a banging party into the early hours, there's something for all occasions here.
You can also get the soirée started with the pre-party unlimited sushi night every Friday from 8pm until 10pm, before things hot up for the popular ladies' night.
Open daily 5pm-2am. Aloft Abu Dhabi, Khaleej Alarabi Street (02 654 5138).
Roof Lounge & Bar
This brand-new lounge is the latest watering hole to open at Saadiyat Rotana Resort & Villas. Located on the rooftop of surf and turf specialists Turtle Bay Bar & Grill, it boasts incredible views of the pristine beach and bright blue waters. Saadiyat has always been top of our list of places to go for a sundowner and we are thrilled to have another outdoor bar among the island's offerings. Linger here long into the night and enjoy elaborate bar bites such as chilled seafood stands and cauliflower popcorn. Obviously this is still Saadiyat, so there'll be no basic bowls of peanuts or crisps allowed.
Open daily 5pm-midnight. Saadiyat Rotana Resort & Villas, Saadiyat Island (02 697 0000).
Sho Cho
This modern Japanese lounge has managed to bag what must be one of the most sought-after locations in the city. Overlooking the Grand Canal and with views of the Sheikh Zayed Grand Mosque in the distance, the terrace is a dream spot for watching the sunset from and getting those all-important pics for Instagram. When you have visitors and want to go somewhere that says "How lucky am I to live in Abu Dhabi?", this is the kind of place you should choose. DJs regularly appear to entertain the throngs, and when the sun goes down, the candles are lit and the gentle breeze comes in from the water, it's hard to feel much happier. But you can, because the sushi, sashimi and other Japanse small plates served here are really good, too.
Open daily noon-3am. Souk Qaryat Al Beri, Bain Al Jessrain (02 558 1117).
Skylite
Home to Yas Marina, the Abu Dhabi F1 circuit and surrounded by glittering waters, Yas Island is a fairly spectacular location, isn't it? There's no better place to take it all in than from the Skylite rooftop bar. Encased by a dramatic canopy, it's an attention-grabbing spot to say the least. On top of the very classy Yas Hotel, this is a high-end bar that still manages to be not too posy or pretentious. The bar bites are yummy and include Arabic mezze, snapper tempura and other exciting delights. And the prices aren't sky high, either, so you can indulge without worrying too much abotu the cost.
Open daily 6pm-1am. Yas Hotel Abu Dhabi, Yas Island (02 656 0000).
Be the first to get all the latest Abu Dhabi news, reviews and deals into your inbox by signing up to our free
newsletter
,
click here to sign up
.