When the summer months roll around it can get hot in Abu Dhabi, really hot.

Even though the mercury rises there's still plenty to do in Abu Dhabi to keep us all entertained and out of the unforgiving heat.
Plus, when you've got kids to entertain, it doesn't take long indoors at home before everyone starts getting stir crazy and need time out of the house.

Looking for places to go and things to do in the summer with the kids? We've got you covered.

Please note at the time of writing, some of these attractions remain closed, so we recommend calling ahead to check opening hours.
Abu Dhabi Art Hub
With its downtown location and ever-changing exhibitions, Abu Dhabi Art Hub is great place to visit if you're looking for a dose of culture. You can explore what's on show in the galleries, with works from local and international artists, or check out the list of art classes covering skills such as calligraphy, as well as regular talks from emerging and established artists. There's a lot going on here.
Free, class prices vary. Daily 10am-10pm. WTC, Khalifa Street (055 550 9640).
Abu Dhabi Children's Library
Take a trip to Qasr al Hosn and visit the Cultural Foundation where little readers can explore this brilliant children's creative hub will harness their love for literature.
Free. Open Sat-Thu 10am-8pm, Fri noon-10pm. Cultural Foundation, Sheikh Rashid Bin Saeed Al Maktoum Street, Al Hosn (02 657 6348).
Abu Dhabi Falcon Hospital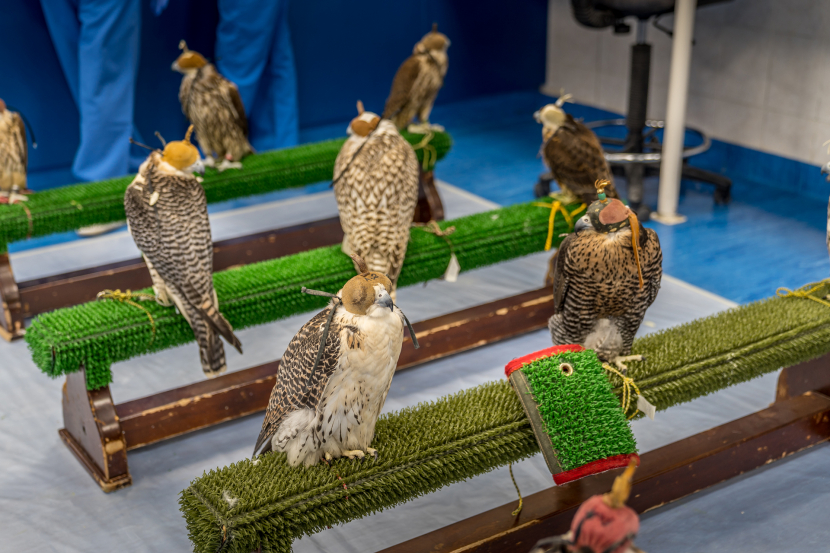 Did you know that falcons have their own passports and can travel alongside passengers on airlines including Emirates and Etihad? Well, you would if you've ever been on a brilliant tour of the Abu Dhabi Falcon Hospital. This amazing institution has been open for 20 years, and the tour lets you witness minor procedures and even hold one of the falcons and get a selfie with it. It's Instagram gold.
From Dhs170. Daily tours run 10am & 2pm. Abu Dhabi to Sweihan Road, near to Abu Dhabi International Airport, www.falconhospital.com (02 575 5155).
Adventure HQ
If you're an outdoorsy type who loves nothing more than scaling mountains and doing adventurous activities, you don't need to worry that you might need to abandon your favourite hobbies during the Abu Dhabi summer. Adventure HQ lets you go bouldering, climbing, caving and zip lining all within some of the capital's best malls. Or if you're blessed with incredible balance or sports skills, you can also try out the skate park and football pitches.
Prices vary. Sat-Wed 10am-10pm; Thu-Fri 10am-midnight. Various locations, including Yas Mall, Yas Island (02 565 0996).
Al Ain Classic Car Museum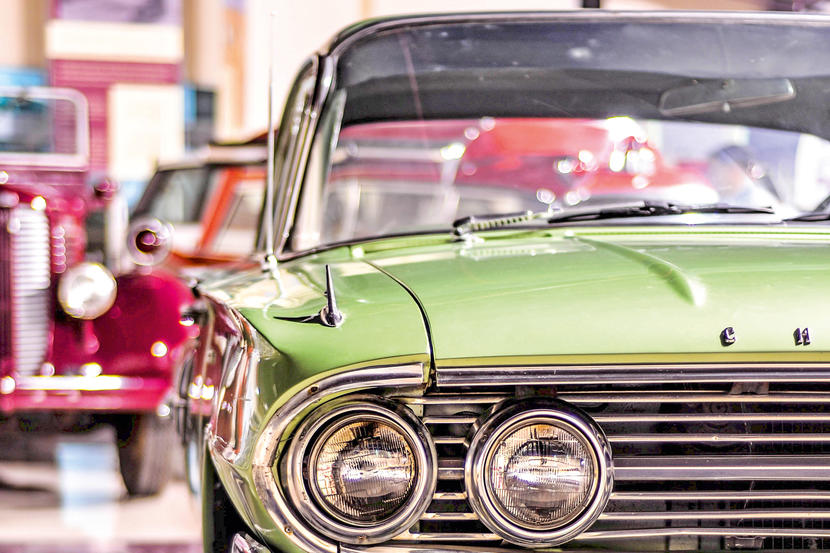 In 2019, the Al Ain Classic Car Museum will celebrate its tenth birthday. Despite its relative newness, this current location at Ain Al Fida Complex is actually its second spot, having moved there in 2013. The reason for the new location? The rapid growth of the collection, which quickly became too large for its original housing. The classic cars on show here are rotated, meaning each visit should yield a surprise, but if you happen to own a suitable vehicle, you can also have it displayed here. On top of that, it offers restoration and maintenances services, whether you're driving a Model-T or a muscle car from the 1960s.
Dhs10 (Adults), Dhs5 (kids). Open Sat-Thu 9am-6pm; Fri 4pm-8pm. Al Ain, www.alainclassiccarsmuseum.net.
Al Qatatra Arts Centre
This cool cultural spot in the Garden City hosts regular events, exhibitions, workshops and more throughout the year. When you visit you can learn about local history, archaeology, local cultural traditions and a whole lot more. Plus, it's beautiful and would look good on that Instagram feed of yours.
Free. Sat-Thu 8am–8pm. Mohammed Bin Khalifa Street, Al Qattara (03 711 8225).
ANNEX
The Abu Dhabi EDITION has established itself as one of the coolest hotels in the capital, which is partly down to its incredible three-tier venue called ANNEX. While the bottom two floors host big parties and top DJs, the rooftop terrace holds fire pits, comfy sofas, and a well-stocked bar serving excellent mixed drinks (we can highly recommend the coffee-based ones, in particular). The views over Al Bateen Marina are really something else, and as you take in outline of Etihad Towers and gaze over the moored boats below, your friends will be super jealous of your life in Abu Dhabi. Some events require an RSVP but are always free entry.
Open Tue-Wed; Fri-Sat 6pm-midnight. The Abu Dhabi EDITION, Al Bateen (04 304 70002).
BOUNCE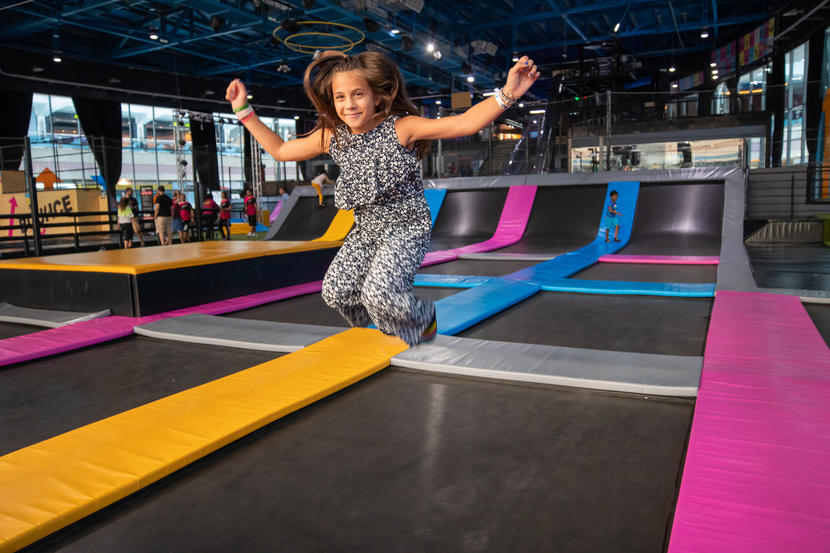 There's heaps of activities on offer in both the Abu Dhabi and Dubai branches, including the capital's "super tramp". This beast is four times the size of a standard trampoline and can generate a force of over 14Gs, which is what a fighter pilots feel. X Park is a brilliant way to find your inner Spider-Man and jump around its many obstacles and pipes to work up a sweat, from its spider wall to its climbing wall. Kids can unleash all their pent up energy in this parkour zone.
From Dhs75 (per session). Times vary. Marina Mall, Al Marina, Abu Dhabi, www.bounce.ae.
Bowling Centre at Zayed Sports City
Maybe it's our love of The Flintstones or the film Kingpin that gives us a soft spot for bowling, or maybe it's wearing a borrowed pair of shoes and showing off? Either way, ten pin bowling is fun and it's not too expensive either. Head to Zayed Sports City and you can play games of ten pin bowling for just Dhs16 a go. Yabba dabba doo.
Dhs16 per game. Daily 9am-1am. Zayed Sports City (02 403 4648).
Caboodle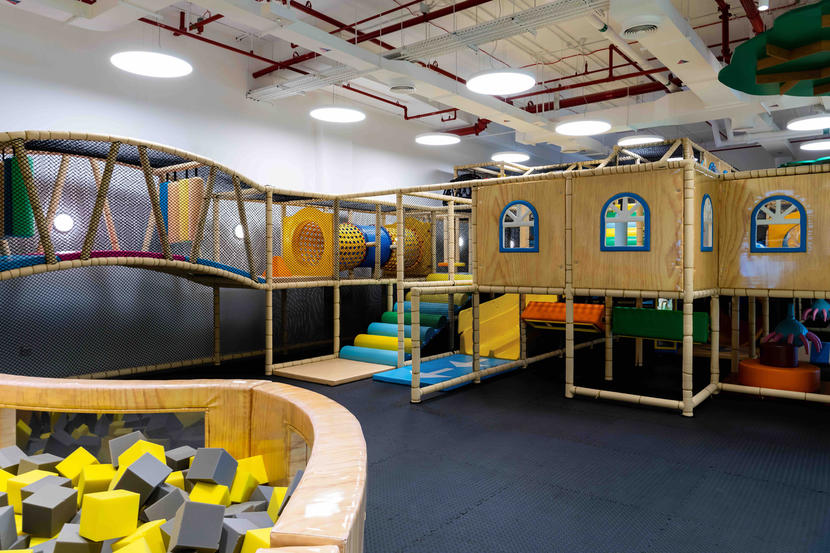 A super-cute and colourful venue, Caboodle is a multi-purpose spot where the environment is both educational and stimulating. Kids can learn through play and exploration, and if mums wants to indulge in a spot of retail therapy while they do that, little ones can be left to play in the supervised play area (from Dhs55 per 30 minutes, kids three and above). In addition, Caboodle features a kids' salon, healthy café, crafts and role play areas. Plus, it also hosts musical themed mum-and-tot classes filled with activities, crafts, games, stories and sing-alongs.
From Dhs45 (first hour), from Dhs20 (every additional hour), Dhs190 (day pass). Open Sat-Wed 9am-10pm, Thu & Fri 10am-midnight. The Galleria Al Maryah Island, Abu Dhabi, caboodle.ae (02 679 8019).
Cheeky Monkeys
A world of colour and fun awaits little explorers at the Cheeky Monkeys soft play centres. Innovative neon-lit slides, mini zip lines, brilliant dressing up area and an enormous ball pit provide endless entertainment that energetic tots love. Plus there's a café serving hot kid-friendly meals and Starbucks coffee for the mums and dads.
Dhs55 (first hour, Dhs30 (subsequent hours). Times vary. Al Forsan Village Khalifa city A - Abu Dhabi, www.cheekymonkeys.com (02 449 3555).
CLYMB Abu Dhabi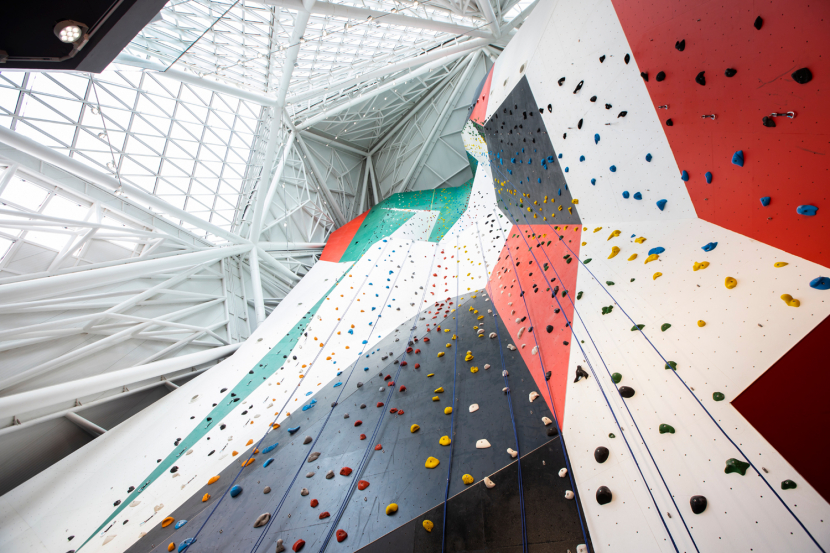 This impressive structure is home to the world's biggest indoor skydiving flight chamber and the world's tallest indoor climbing wall. Children from as young as three are able to try the flight chamber, that measures a massive 10m by 26m. A range of climbing experiences will be on offer to cater to people of all abilities and if you're up for it you can take on the SUMMYT, a 43m climbing wall that is the largest in the world.
From Dhs95 (climbing), From Dhs 215 (skydiving). Sun-Thu noon-9pm, Fri and Sat noon-11pm. Yas Island www.clymbabudhabi.com.
Cultural Foundation
If you're feeling creative then there's plenty of opportunities to express yourself at the Cultural Foundation. Located at the historical Qasr al Hosn fort, the Cultural Foundation has been fostering creative talent in Abu Dhabi since its launch in 1981. Inspiring youngsters to take an interest in the arts and give creative talent a platform to showcase their ability, the foundation is a meeting place for experienced and aspiring artists to meet and create. A diverse public programme includes workshops, artist-guided tours, live painting, masterclasses and live music. Check it out for yourself.
Free. Various times. Qasr Al Hosn, www.culturalfoundation.ae.
Emirates National Auto Museum
One of the quirkier museums anywhere in the UAE, the Emirates National Auto Museum has a collection of 200 vehicles owned by HH Sheikh Hamad Bin Hamdan Al Nahyan. Among several highlights, there's the world's largest truck.
Dhs50. Open daily 9am-5pm. Drive South from Abu Dhabi on Abu Dhabi-Liwa Road (055 749 2155).
Etihad Modern Art Gallery
Fancy some culture? Then this gallery (with very cool Art House Café next door) is a great place to see a diverse range of curated exhibitions.
Free. Thu 3pm-10pm. Etihad Modern Art Gallery, Huwelat Street, Al Bateen (055 923 2398).
Ferrari World Abu Dhabi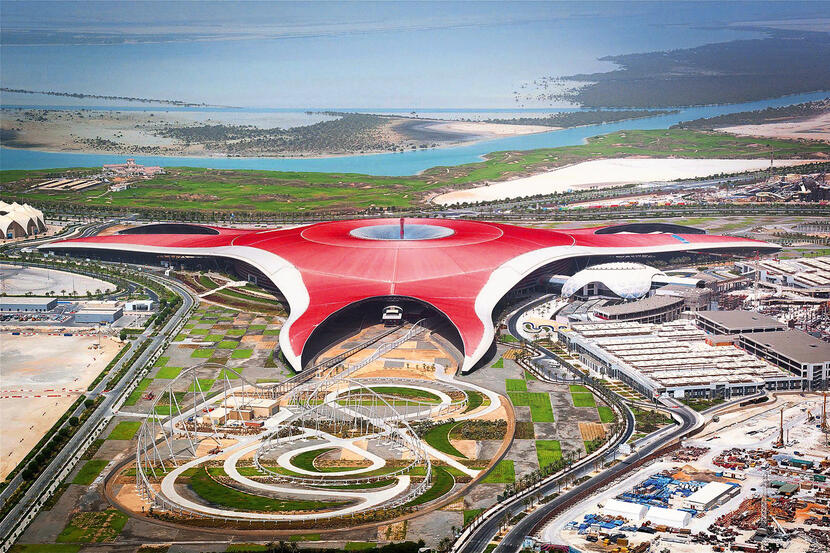 This massive Abu Dhabi attraction is a fantastic white-knuckle ride all-round. The theme park boasts more than 20 rides and activities, but the one you will want to strap yourself into is the record-smashing Formula Rossa. It's not for the fainthearted, however. A recently opened family zone is perfect for little thrill-seekers, with various tamed down versions of the park's fast, white-knuckle rides. There are heaps of less terrifying rides suitable for mini thrill-seekers such as the car carousel, driving school and an awesome super car museum – we can but dream as we gaze on the gorgeous motors.
From Dhs230 (kids), Dhs295 (adults). Open daily 11am-8pm. Yas Island, Abu Dhabi, www.ferrariworldabudhabi.com (02 496 8000).
Ice Skating Arena at Zayed Sports City
Whether you're inspired after seeing Blades of Glory or I, Tanya, or just fancy taking to the ice you can do that right here in the capital. Yes, we live in a desert, but at Zayed Sports City the ice skating rink is a great place to embrace your inner Michelle Kwan.
Dhs50. Saif Ghubash Street. Times vary, zsc.ae.
Kidzania
There's just something fun about pretending to be a doctor, a fireman, a chef or a builder. KidZania is a magical world of make believe where children can role play more than 40 professions and earn their own KidZania money, which they can then spend on their way out in the on-site shop.
From Dhs94.5 (kids two-three), from Dhs166.5 (kids four-16). Times vary. Yas Mall, Abu Dhabi, www.kidzania.ae (800 382246255).
Louvre Abu Dhabi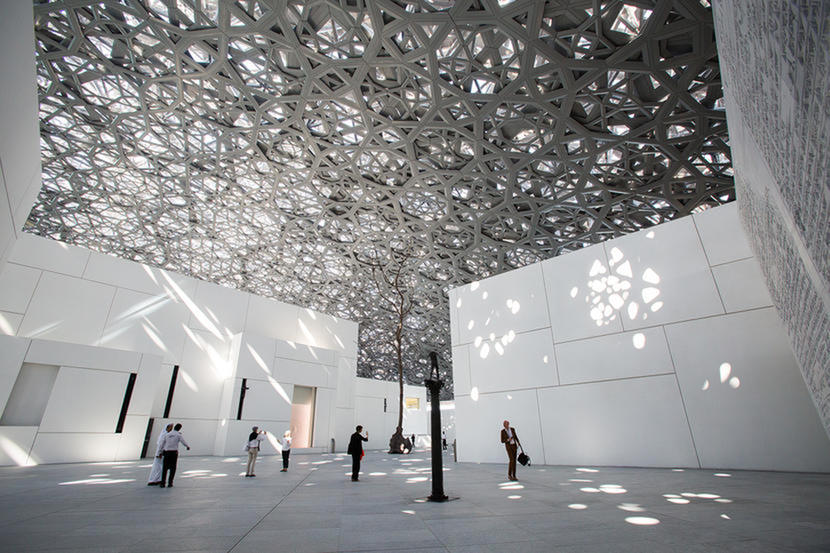 From super cool exhibitions to awesome holiday camps, the Louvre Abu Dhabi is a hot pot of learning and fun for inquisitive little minds. With its own museum dedicated to the youngest members of the family, there is always plenty going on to keep even the smallest of visitors entertained. The Children's Museum hosts family-friendly experiences and workshops in both Arabic and English throughout the year.
From Dhs30. Open Sat, Sun, Tue, Wed 10am-8pm; Thu-Fri 10am-10pm. Saadiyat Island, Abu Dhabi, www.louvreabudhabi.ae (600 565 566).
MAD on Yas Island
If you're looking to go 'out out' in Abu Dhabi, this is the place to go. Because while the season for beach parties might be over, we still have the largest nightclub in the UAE to keep us partying all night long. This venue really doesn't do things by halves, and you should expect live dancers, lots of dry ice and to feel very very tired the next day. But you only live once, right? Many of the nights here feature a special guest, and Tine Tempah, Akon, Ne-Yo and French Montana are just some of the huge names who have performed here.
Open Thu-Fri 11pm-3.30am. Leisure Drive, Yas Island (055 834 6262).
Orange Wheels
Little adventurers between the ages of six months to eight years have free rein to run, jump and explore the mega soft play destination where they can burn off energy in a safe environment. Billed as a learning destination, they will be garnering new skills, without even realising. Little princes and princesses can book themselves in for a quick trim – or something more drastic if they are feeling daring - in the on-site hair salon, or get that all-important Abu Dhabi mani-pedi in the spa where a rainbow of nail varnish colours are at their fingertips. Pampered expat kids, much?
Dhs65 (first hour), Dhs40 (additional hours), Dhs200 (day pass). Open 10am-9pm Sun-Wed, Thu-Sat 10am-10pm. Al Raha Mall, Abu Dhabi, orangewheels.com (02 556 2229).
Tee and Putt
Let the pros take care of the long game at the HSBC Abu Dhabi Golf Championship. If you're looking for a little fun for the little ones or fancy a game yourself then you can sink some putts at the cool neon-lit Tee and Putt mini golf and see if you're short game is up to scratch.
Dhs65 per person, Dhs60 if three people or more. Dalma Mall, Mussafah. Daily 10am-10pm. Contact: 02 555 5307, teeandputt.com
Warehouse 421
Warehouse 421 is effortlessly cool. It's a repurposed warehouse in the heart of Mina Zayed and there's always something going on. Art galleries, exhibitions, events, film screenings and workshops – as much as it's a cliché, there truly is something for everyone. If you want to find out what local and regional artists are creating and catch a glimpse of brilliant work from overseas then this is the place to do just that.
Open Tue-Sun 10am-8pm. Mina Zayed, www.warehouse421.ae.
Warner Bros. World Abu Dhabi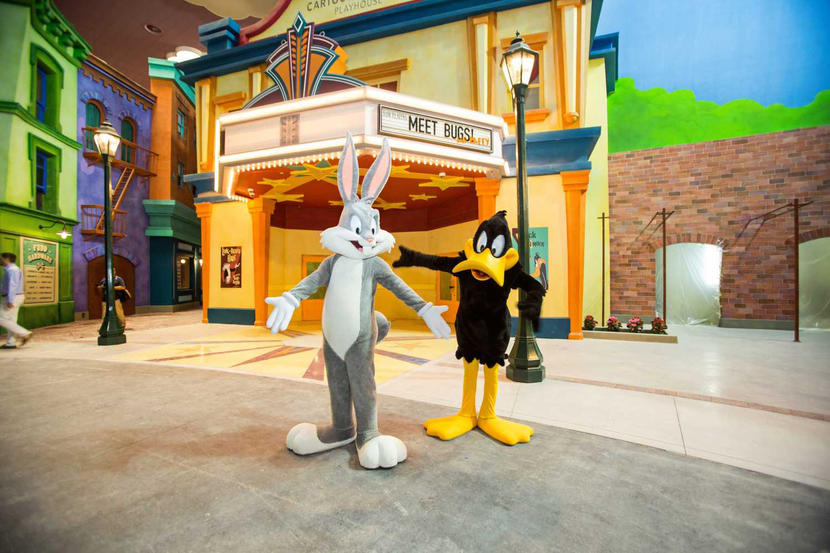 This indoor (which is why the middle of summer is a great time to go) mega-park brings superheroes, villains, cartoons and favourite characters from your childhood to life on Yas Island. Split into six distinct and vibrant zones – Bedrock, Warner Bros. Plaza, Metropolis, Gotham City, Cartoon Junction and Dynamite Gulch – there is plenty to keep even the smallest of adrenalin junkies entertained for hours, while the real thrill seekers risk the faster, white-knuckle rides.
Dhs295 (adults), Dhs230 (kids up to 1.1m), free (kids under three). Open daily 10am-9pm. Yas Island, Abu Dhabi, www.wbworldabudhabi.com (600 511 115).
Xtreme Zone
The Galleria Al Maryah Island in Abu Dhabi has opened a brand-new family entertainment centre. Xtreme Zone promises a whole host of entertainment and activities for all the family from the little kids up to the big ones... And mums and dads, too. The third location of this cool family destination is a sizeable 44,200 sq ft of entertainment for tiny tots, kids and teens, plus any parents who are keen to get in on the action. Team building anyone? There's a 12-lane bowling centre, a trampoline park, billiards tables, climbing walls for mini spidermen and arcade games zone. Plus, with the region's first Tag Arena, there's plenty to keep even the most energetic kiddos happy. Don't worry mums and dads, there is an on-site café where you can get your all-important caffeine fix.
Prices vary. Sat-Wed 10am-10pm; Thu-Fri 10am-midnight. The Galleria Al Maryah Island, www.thegalleria.ae (02 628 9050).
Be the first to get all the latest Abu Dhabi news, reviews and deals into your inbox by signing up to our free
newsletter
,
click here to sign up
.