Abu Dhabi is full of awesome attractions to visit with the kids. And whether you're a family who are visiting the capital of the UAE, or whether you live here with your children, there are certain Abu Dhabi attractions that need to be on your must-visit list.
From the biggest indoor theme parks in the world, to splashtastic fun waterparks with epic flumes for kids of all ages, here are the best kids attractions in Abu Dhabi.
THEME PARKS
Ferrari World
This massive Abu Dhabi attraction is a fantastic white-knuckle ride all-round. The theme park boasts more than 20 rides and activities, but the one you will want to strap yourself into is the record-smashing Formula Rossa. It's not for the fainthearted, however.

A recently opened family zone is perfect for little thrill-seekers, with various tamed down versions of the park's fast, white-knuckle rides.
There are heaps of less terrifying rides suitable for mini thrill-seekers such as the car carousel, driving school and an awesome super car museum – we can but dream as we gaze on the gorgeous motors.
From Dhs230 (kids), Dhs295 (adults). Open daily 11am-8pm. Yas Island, Abu Dhabi, www.ferrariworldabudhabi.com (02 496 8000).
KidZania
KidZania offers kids in the capital the chance to role-play more than 50 professions – and we're more than a little bit jealous. There's just something fun about pretending to be a doctor, a fireman, a chef or a police officer. (Yes, we've got a complex.).
Located at Yas Mall, the 55,000 sq ft space is a scaled down replica of a bustling city with loads of role-playing of real-life professions offered for little ones. Kids can become surgeons, firefighters, chefs, police officers, builders, models, actors, artists, radio hosts and more, with 'establishments' inside the complex including Astronaut Training Centre, Animation Studio, Milk Factory (why not?) and Crime Scene Investigation (where do we sign?). There's even a Neighbourhood Drive-In – a part of growing up we'd have to say we've absolutely mastered.
Open to children between four and 16, the indoor entertainment zone promises to be an interactive place to enjoy some child-like fun as the summer sun shines hot and bright outside.
From Dhs94.50. Open daily 10am-10pm. Yas Mall, Yas Island, Abu Dhabi, abudhabi.kidzania.com.
Warner Bros. World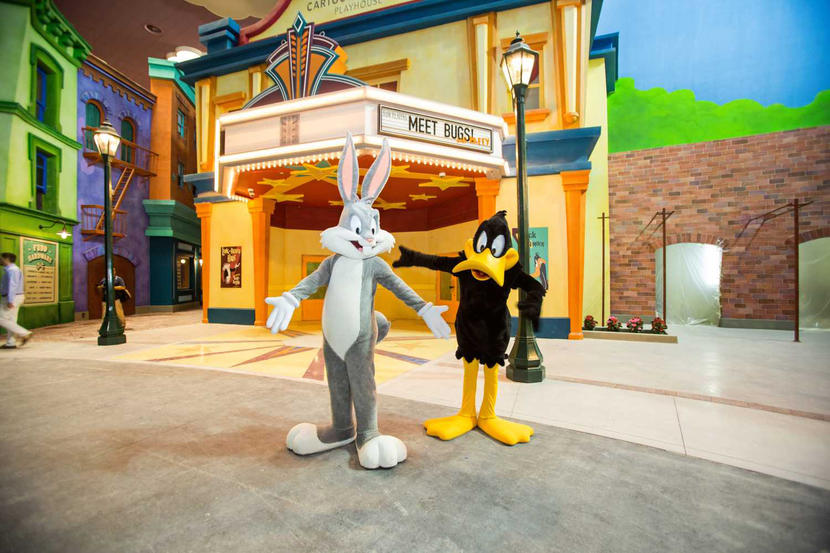 This indoor (which is why the middle of summer is a great time to go) mega-park brings superheroes, villains, cartoons and favourite characters from your childhood to life on Yas Island. Split into six distinct and vibrant zones – Bedrock, Warner Bros. Plaza, Metropolis, Gotham City, Cartoon Junction and Dynamite Gulch – there is plenty to keep even the smallest of adrenalin junkies entertained for hours, while the real thrill seekers risk the faster, white-knuckle rides.
Dhs295 (adults), Dhs230 (kids up to 1.1m), free (kids under three). Open daily 10am-9pm. Yas Island, Abu Dhabi, www.wbworldabudhabi.com (600 511 115).
WATER PARKS
Yas Waterworld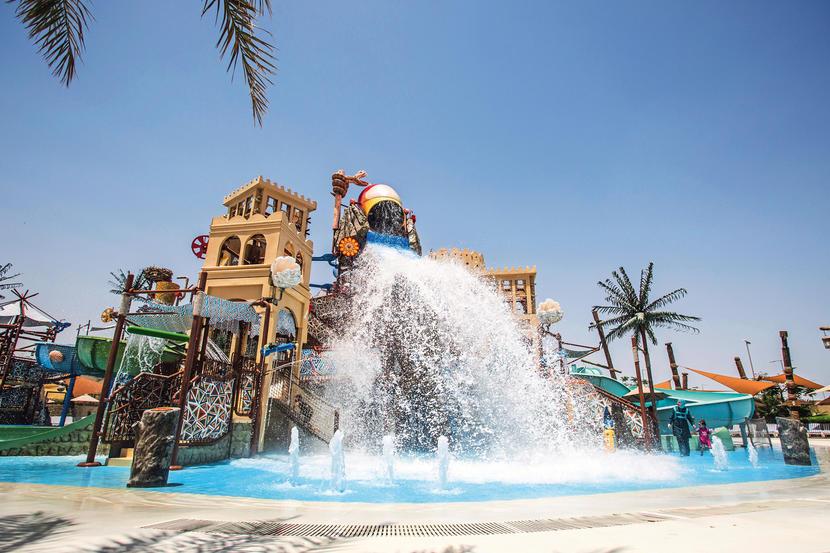 The park, uniquely based on the Emirati "The Legend of the Lost Pearl", theme is divided into four thrill levels: Adrenaline Rush, Exciting Adventure, Moving and Grooving and, finally, Young Fun. Each zone caters to different age groups and with 40 exhilarating rides and slides there really is something for the whole crew to enjoy. The Tot's Playground is a popular spot for parents with tiny ones who are just looking to splash about.
Yas Island, Abu Dhabi, www.yaswaterworld.com (600 511 115).
PARKS
Khalifa Park
Located just next to the Park Rotana, Khalifa Park covers a massive area – 500,000 sq m in total. But it's not all green grass and palm trees, there's also a museum that takes you down a time tunnel and explains the history of the development of the capital, an aquarium, a library and a miniature train that takes you around the circumference. There's also the Adrenagy Gym, which has a café inside serving healthy protein-heavy food.
Dhs2. Next to Ministries Complex, Sheikh Zayed Bin Sultan Street.
Umm Al Emarat Park
Umm Al Emarat Park, or Mushrif Park as it was previously called might be almost at the end of this list, but it should be right near the top of yours. There's plenty going on here to keep the whole gang entertained. It was built in consultation with a few local groups who shared what facilities they'd like to see in a park. As a result, there is the Wisdom Garden (a place to ponder life's big questions), the Animal Barn (a petting zoo that's managed by Emirates Park Zoo and includes camels, goats, ponies and more), the Children's Garden, the Botanic Garden (which houses about 200 regional plant species), a 1,000-person amphitheatre, the Shade House (a structure that houses more than 30 species of shade-loving plants) and of course, rolling green lawns. The organic Ripe Market pitches up every Saturday from 3pm to 9pm, and there are also places to eat such as SALT and Pinza. It would be incredibly easy to spend the whole weekend here!
Dh10. Al Mushrif (02 666 9559).
Zoos
Al Ain Zoo
This 52-year-old spacious animal park is the granddaddy of all animal attractions in the UAE. More than 4,300 animals call it home, including leopards, wolves, monkeys, lions, tigers, hippos, crocodiles, rhinos, gorillas and giraffes. Education and conservation programmes are central to the facility's core beliefs and a high standard of care is apparent with animals having large spaces to themselves. As well as roaming around on foot, you can also head out on a safari drive (at the world's largest man-made safari park), sit down for a talk (the new expansion includes the Sheikh Zayed Desert Learning Centre) and enjoy bespoke experiences such as giraffe feeding and birds of prey demonstrations.
From Dhs30 (per adult), Dhs10 (per child aged three to 12). Open Sat-Tue 8am-9pm, Wed 8am-9pm (3pm is ladies only), Thu-Fri 9am-10pm. Nahyan The First St, Al Ain, Abu Dhabi, www.alainzoo.ae (800 966).
Emirates Park Zoo
The word "zoo" can quite often get a true animal lovers hackles up, but this Abu Dhabi zoo is all about conservation. As well as helping to prevent endangered animals go extinct, the biolgists and experts at Emirates Park Zoo have been able to provide critical information, such as fertility and survival rates for various mammals, birds, reptiles and amphibians to the National Academy of Sciences (PNAS). The zoo also offers a number of educational programmes for little ones where they can learn all about the furry, scaly and slimy residents and the importance of ensuring they have a future.
Free (under two), Dhs30 (kids three-16), Dhs35 (over 16). Sun-Wed, 9am-8pm; Thu-Sat, 9am-9pm. Al Bahia, Abu Dhabi, www.emiratesparkzooandresort.com (02 563 3100).
Be the first to get all the latest Abu Dhabi news, reviews and deals into your inbox by signing up to our free
newsletter
,
click here to sign up
.