We're lucky that Abu Dhabi is home to so many pristine beaches and inviting green public parks.

Despite being a desert country there are plenty of places to enjoy soaking up the sun on the shore or chilling in the shade in a park.

Now that the weather is cooler it's a great time explore the great public spaces on offer with friends, family or own your own if you need a little r&r.

Ready to get up, get out and see what's on offer?

Here is our pick of the best beaches and parks in Abu Dhabi.

A'l Bahar
Technically, the stretch of sand belongs to the Corniche, but this area with its outdoor gym, basketball and volleyball courts, shops, restaurants and gaming area deserves a bit of special attention. A great place to stroll and relax, it's open every day from 7am.
Free. Daily 7am-sunset. Corniche.

Al Bateen Beach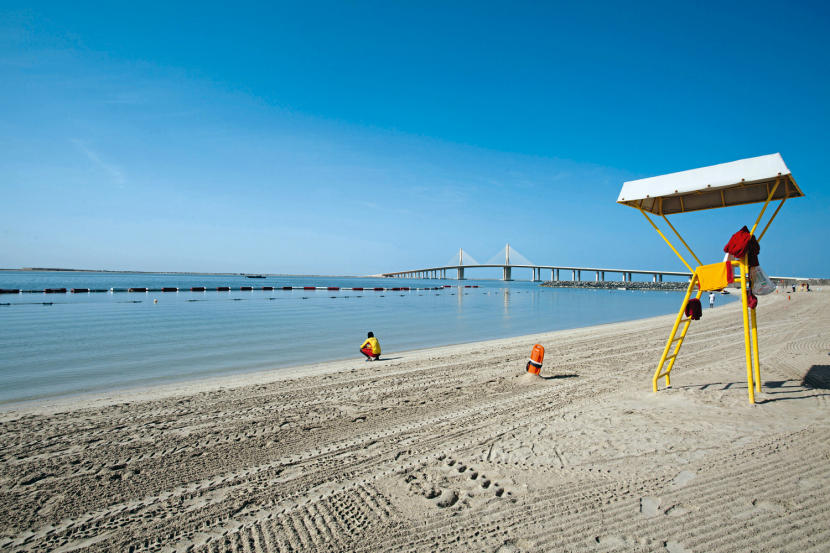 This spot is popular with both expats and locals, thanks to its family-friendly vibe. The beach is also popular for fishing and swimming.

The waters are very calm and the views from the 800m stretch of sand are equally soothing.

If you're feeling active, you can hire kayaks or stand-up paddleboards and get out on the water.

There are also a handful of cafés, around 100 car parking spaces and plenty of lifeguards on duty.
Free. Open daily 8am-sunset. Al Bateen, Khalifa Al Mubarak Street, off Al Khaleej Al Arabi Street.

Al Maya Island & Resort
This is the perfect place to enjoy banging beats and revel in a party atmosphere on Fridays.

You can catch a boat from a dock next to the Khalidiya Palace Rayhaan by Rotana and then take a 20-minute jaunt over to this resort, a truly isolated spot on an island off the coast of the Corniche.

Lie on one of the many sun loungers, sit around the poolside bar, hit the dance floor and party to tunes being spun by top DJs, or jump into the massive pool and socialise around the swim-up bar.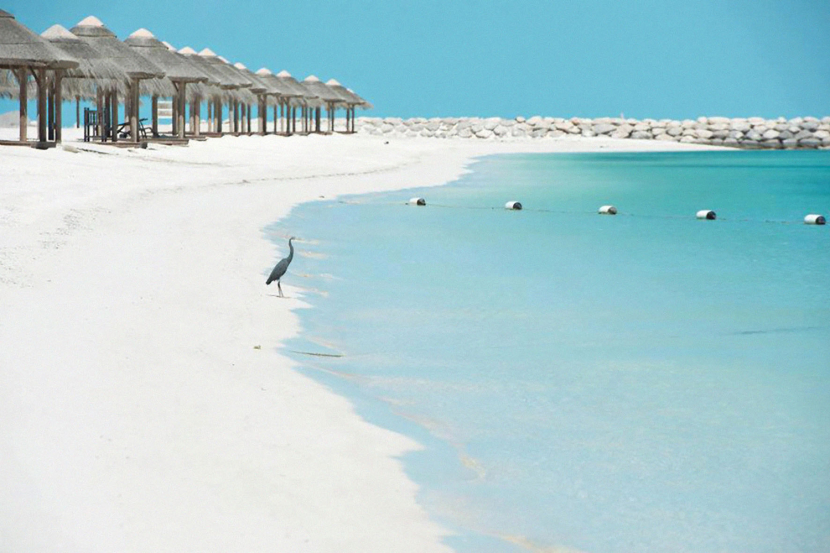 There's also a small beach volleyball section if you fancy a game with friends.

Saturdays have more of a chilled vibe, with groups enjoying a small getaway from the mainland. The food options are pretty good and there are even villas available to rent, too.
Dhs100 shuttle boat service on Saturdays includes entrance and use of facilities. Fri-Sat 10am-8pm, www.almayauae.com.

Corniche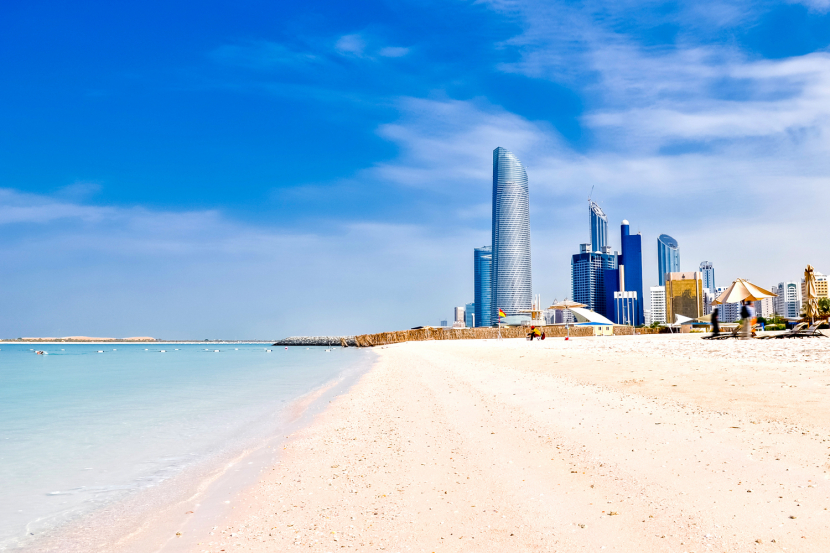 Abu Dhabi's pristine Corniche beachfront is a fantastic family spot on which to enjoy the sand between your toes. It's divided into three sections: Al Sahil is for singles and groups, Gate 2 is for families and has a quiet zone and Gate 3 is for families, especially children. The seaside boardwalk is four miles long and the walkways are paved and dotted with benches and gardens that overlook the glory of the open Arabian Gulf. Surrounding the Corniche beach there are children's play areas, separate cycle and pedestrian pathways, cafés and restaurants. There are also plenty of free sports facilities on offer, including volleyball courts and football pitches and three playing fields.

And if your family likes a bit of adventure then take a speedboat or jetski off the Corniche and marvel at the Abu Dhabi skyline, or go snorkelling to discover local marine life.

BAKE, a beach management company, operates at Gate 2 (families and quiet zone) and Gate 3 (families and children zone).
BAKE Beaches open daily 8am-8pm. Dhs10 per adult and Dhs5 per children under 12. Kids under five go free. Dhs25 per lounger. Public beaches open daily 8am-8pm. Free.

Hudayriat Island
This huge island opened its beach back in 2018, and while the rest of the island remains untouched, the space just over the hulking Hudayriat Bridge is a popular spot. There are food trucks and sports facilities from the island and the 600 metre-long beach is open daily from 8am to 7pm and is free to use for the public. There are also three new slipways for boats and jet-skis, making it a must-visit for thrill-seekers in the capital.
Free. Open daily 8am to 7pm. Hudayriat Island.

Saadiyat Public Beach
Close to the Park Hyatt Abu Dhabi, this sanded area is set on Saadiyat Island's serene natural shores. The 400m beach is a great spot for a day out with friends and loved ones, to enjoy Abu Dhabi's clean, warm turquoise waters. For an extra fee, there are beach yoga classes to ensure guests' bodies and minds stay in shape, along with eco-friendly water sports activities such as windsurfing and sailing.

The Beach Café offers food and beverages and will deliver straight to your lounge chair, so you don't have to move at all. To make the beach experience even more enjoyable and relaxing, there are showers and changing rooms, together with sun loungers, towels and lockers for rent.

Managed by BAKE, you'll have 300 loungers to choose from, a towel and locker rental service, as well as showers and changing rooms.
Open daily 8am-sunset. Dhs25 per adult and Dhs15 per child aged six-12. Kids under five go free. Sun lounger and an umbrella: Dhs50 (weekdays), Dhs75 (weekends and public holidays). Saadiyat Island.

Yas Beach
Styling itself as a "beach playground" big on beats and brunches, Yas Beach is a must-visit location. The club is home to restaurants and a bar, as well as being a spot to enjoy plenty of watersports. There's a fee to get in, but it's also free if you're staying at any of the hotels on Yas Island.
Open daily 10am-7pm. Dhs50 per adult and Dhs25 per child aged six-12 from Sun-Thu, Dhs100 per adult and Dhs50 per child from Fri-Sat. Yas Island (056 242 0435).

Zaya Nurai Island
You could spend your life travelling the world and you'd struggle to find a beach which tops this one for pure, indulgent luxury. Take a ten-minute private boat ride from Saadiyat Island and you're there, what seems like a million miles away from the city.

Take a leisurely stroll on the beautiful beach or plunge into an adventure with one of the water sports on offer. But if you'd rather unwind and let your worries slip away then opt for a day at Zaya spa, where treatments start from Dhs220. There are also plenty of dining options to choose from including Frangipani, which offers dishes that use organic and seasonal produce, Mexican spot Dusk, Levantine seafood joint Hooked and pool and beach bars Smokin' Pineapple and Ginger Mermaid. You can stay here, too, but for most of us an Instagram pic on the seaside swings are enough. It costs Dhs480 per day, but you get Dsh420 of that back to spend on food and drinks on the island.
Dhs480 per person, including boat transfer. Open daily 10.30am-11pm. Advanced booking required (02 506 6274).


Al Khaleej Al Arabi Park
If you've ever driven along Khaleej Al Arabi Street of a weekend you'll doubtless have seen the cars parked up along the road and droves of people heading here for barbecues. The waterfront space has got to be one of the most popular places in the capital for a Friday or Saturday trip out.
Free. Khaleej Al Arabi Street.

Baniyas Park
If you don't live in downtown Abu Dhabi or enjoy a quieter life outside the main city then this one is a great option. Ideal for walking, jogging and picnics, families can unwind here and with a children's play area the little ones will love it to.
Al Ain Road, Baniyas, near Al Mafraq.

Capital Garden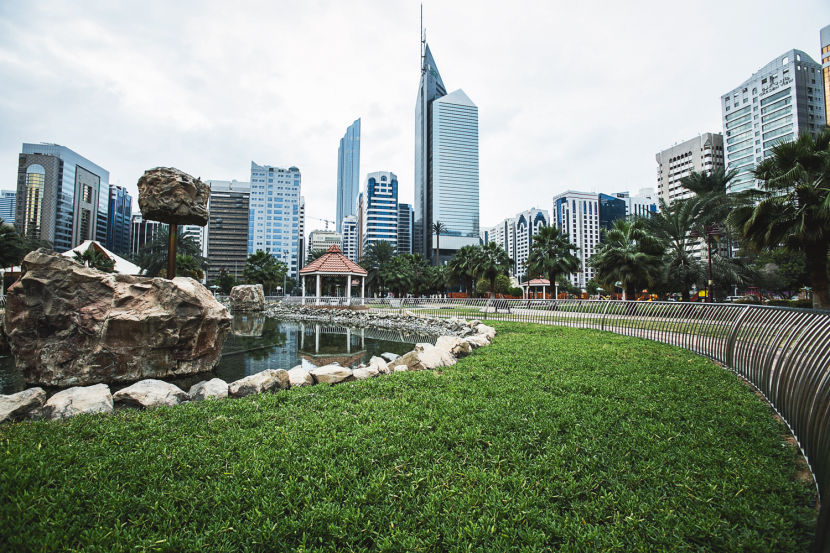 Also known as Al Asema Park, Capital Garden is in the middle of the city (it's the one with the ornamental coffee pots at the entrance in Al Markaziyah). It was built in 1976 and enjoys the distinction of being one of the oldest parks in the capital. Despite its downtown location, it's actually quite peaceful once you're inside the 5.6 hectare space. The hustle and bustle of the streets are drowned out by the sound of sheer tranquillity and the spouting fountains in the central pond. Like most parks, this one also caters to young families and has plenty for the kids with the usual play areas, including a mini climbing wall. It's split into smaller separate gardens, some of which have vending machines for refreshments, plus there's a café.
Dhs1. Sultan Bin Zayed the First Street.

Corniche Parks
If you're heading to the Corniche, chances are you're thinking of a beach day, but those sands are outlined by some lovely parks, ideal for a shaded stroll, and on the other side of the road are a bunch more green spaces. Starting from the east side, near Sofitel Abu Dhabi, is Recreation Park. The biggest attraction is a large sun dial – always popular with curious little minds. Next along the road is Formal Park, which is actually a lot more fun than its name suggests. It has barbecue pits, badminton courts, a concrete maze (for the kids?) and plenty of room to relax on the grass. At the end of the first stretch is Lake Park – with a 15m fountain and wooden bridges and walkways, it is a favourite with Instagrammers. Further along towards A'l Bahar you'll find more, each with plenty to offer, including skate parks, splash facilities and more. So, the next time you're looking for a weekend outing, skip the beach and check out one of these spaces.
Free. Off Corniche Road.

Delma Park
Found at the junction of Delma Street and Salam Street, Delma Park is kitted out with fitness equipment and a proper running track that's soft under foot. When it comes to refreshments, there are a few kiosks scattered around so you can treat yourself and the family to some tea, ice lollies and sandwiches. There's also a table tennis area, a basketball court, chess tables and a climbing wall for kids.
Free. Delma Street.

Heritage Park
Now this place is great for families who want to picnic in peace. The pretty spot is tucked away opposite Mina Port and is somewhat overlooked. There are barbecue pits and kiosks that make it convenient for groups. There's also a climbing frame to keep the kids entertained as you relax.
Free. Off Al Firdous Street, Corniche East.

Khalidiyah Garden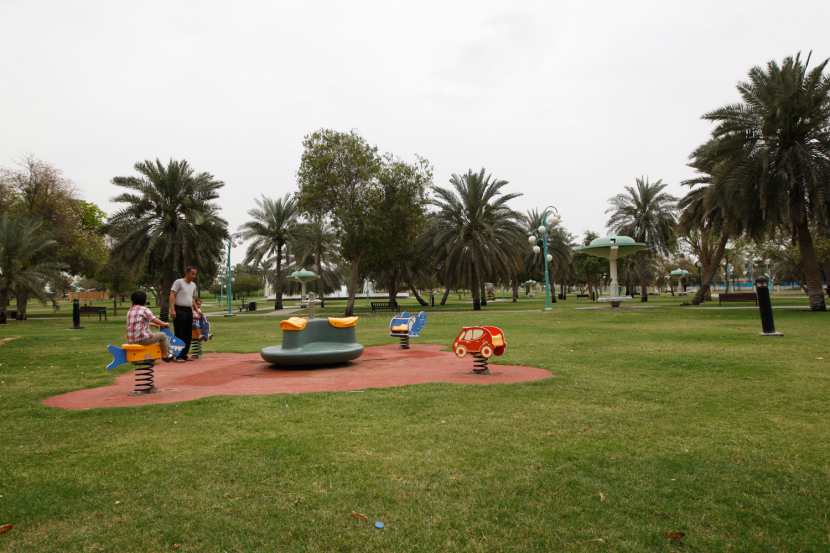 Drop by this downtown green spot in the morning or late evening and you will bump into gangs of determined walkers and joggers circling the paved pathways, getting in their daily dose of exercise. Scattered date palms provide visitors with plenty of shade, and the terrain here is mostly flat, making it an ideal spot for picnics or for a little nap under a tree once the temperatures fall. There's a children's playground to keep the young ones occupied and a water feature, too. Parking isn't great around here, so beware if you're driving to the park.
Dhs1, free (kids aged ten and under). Between 30th and 16th streets, Al Khalidiyah.

Khalifa Park
Located just next to the Park Rotana, Khalifa Park covers a massive area – 500,000 sq m in total. But it's not all green grass and palm trees, there's also a museum that takes you down a time tunnel and explains the history of the development of the capital, an aquarium, a library and a miniature train that takes you around the circumference. There's also the Adrenagy Gym, which has a café inside serving healthy protein-heavy food. It's right next to our offices, so we'll keep an eye out for you from our window. Be sure to wave.
Dhs2. Next to Ministries Complex, Sheikh Zayed Bin Sultan Street.

Mangrove National Park
Okay, this isn't your typical park, but our list wouldn't be complete without a shout out to this stunning landmark. The thriving ecosystem is a sanctuary for a variety of birds and marine life. Its atypical salt-tolerant trees also act as a barricade against erosion. Fun facts aside, you can marvel at the mangroves from the water (Captain Tony's runs various tours), or stroll along the pathway next to Eastern Mangroves Hotel & Spa by Anantara. The route is dotted with numerous cabanas under which you can take shelter, or set out a picnic basket.
Free. Eastern Mangroves, Sheikh Zayed bin Sultan Street. www.ead.ae.

Old Airport Park
This big park near Zayed Sports City is a welcome blast of green in relatively urban surroundings. There are places for kids to play, bathrooms and a KFC, if your idea of a chilled night is sitting under the stars with a bucket of fried chicken.
Free. Sheikh Rashid Bin Saeed Street.

Reem Central Park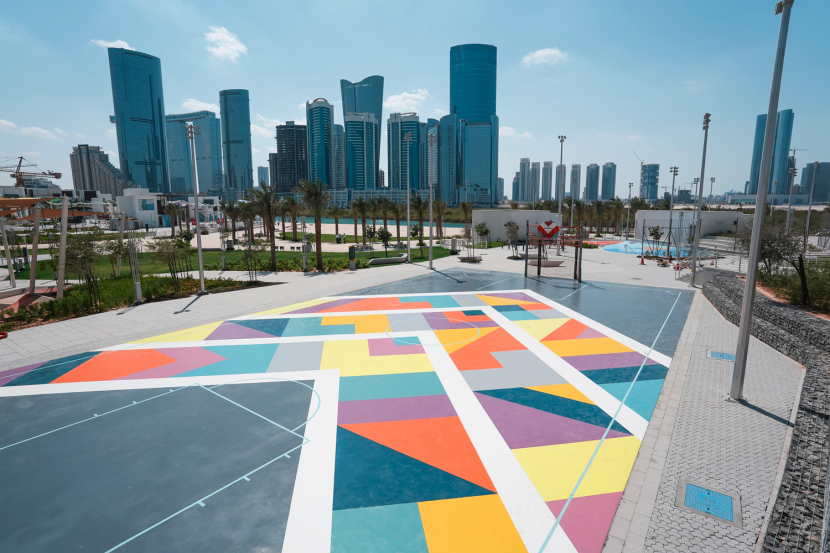 Bringing a slice of urban relaxation to the mostly residential Reem Island is this space. While many parts of the island are still in development, there's enough to see and do here to warrant a visit if you live nearby. There are a few places to eat, too and more opening up. Head out for a run and finish with a coffee and a bit to eat. Perfect.
Free. Reem Island.

Umm Al Emarat Park
Umm Al Emarat Park, or Mushrif Park as it was previously called, might be almost at the end of this list, but it should be right near the top of yours. There's plenty going on here to keep the whole gang entertained. It was built in consultation with a few local groups who shared what facilities they'd like to see in a park. As a result, there is the Wisdom Garden (a place to ponder life's big questions), the Animal Barn (a petting zoo that's managed by Emirates Park Zoo and includes camels, goats, ponies and more), the Children's Garden, the Botanic Garden (which houses about 200 regional plant species), a 1,000-person amphitheatre, the Shade House (a structure that houses more than 30 species of shade-loving plants) and of course, rolling green lawns. In cooler months, the organic Ripe Market pitches up every Saturday and there are also places to eat such as SALT, Parker's and Pinza.
Dh10. Al Mushrif (02 666 9559).

Yas Gateway Park
This sprawling area on Yas Island can often get forgotten about given all the other destinations nearby, but if you're in the mood for a stroll after all that shopping, there are few better places. Split down the middle by the Sheikh Khalifa Bin Zayed Highway, it is divided into two sections – north and south. There are huge grassy areas, ideal for walking, stretching out, having a kick-about or more. There are also tennis courts and it's a great place for a run. Kids will be kept happy by the sprinkling of play areas. It's a beautifully maintained space, so why not head over to Yas, pick up a few hot dogs from Ikea and relax out on the lawns awhile.
Free. Sheikh Khalifa Bin Zayed Highway, Yas Island.
Be the first to get all the latest Abu Dhabi news, reviews and deals into your inbox by signing up to our free
newsletter
,
click here to sign up
.