Al Ain Oasis
This calming area of greenery is a UNESCO World Heritage Site that houses up to 100 different species of vegetation. So if you fancy a break from the excitement of the city, this is a lovely place for a stroll and to get some peace and quiet. Wandering through the shaded pathways and 147,000 date palms really is wonderful and the educational Eco-Centre explains exactly how this delicate ecosystem is maintained.
Free. Open daily 8am-5pm. Al Mutawaa, Al Ain (02 599 5438).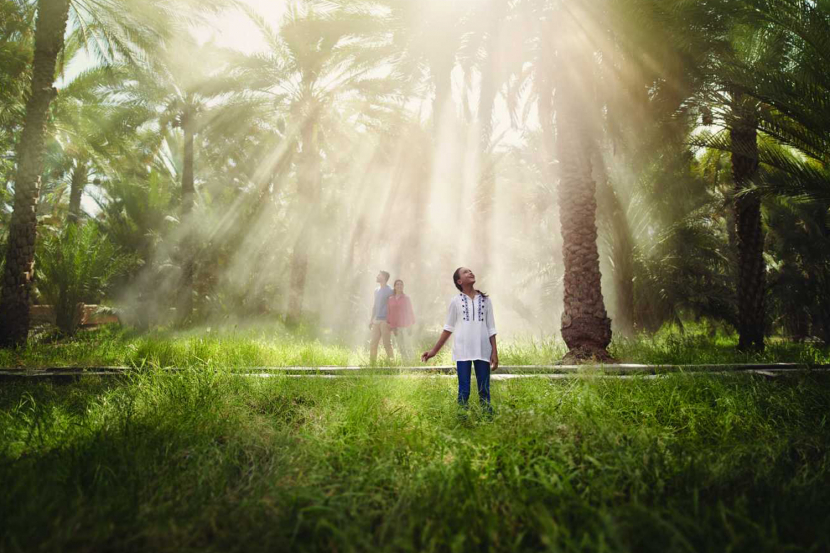 Al Wathba Cycle Track
Keen cyclists will be in their element here. Located next to the camel-racing track (which is an amazing place in itself) and with views of sand dunes as far as the eye can see, it's definitely not your average place for a bike ride. Here you can tackle anything from a leisurely eight kilometres to a calf-aching 30-kilometre loop. But with such a stunning backdrop, you'll be having far too much fun to think about how
tired you might be.
Free. Open daily 24 hours. Al Wathba Cycle Track, E22 Abu Dhabi-Al Ain Road, sportinabudhabi.ae.
Eastern Mangroves
Abu Dhabi's Mangrove National Park takes up about 111 sq km of the city's landscape. You can explore this area of outstanding beauty by kayak, paddleboard or boat (you can hire equipment from several different operators), and refuel afterwards at one of the many cafés, restaurants and bars on the Eastern Mangroves Promenade, or in the pretty special Anantara Eastern Mangroves Abu Dhabi hotel.
Eastern Mangroves Promenade, Salam Street (02 406 1462).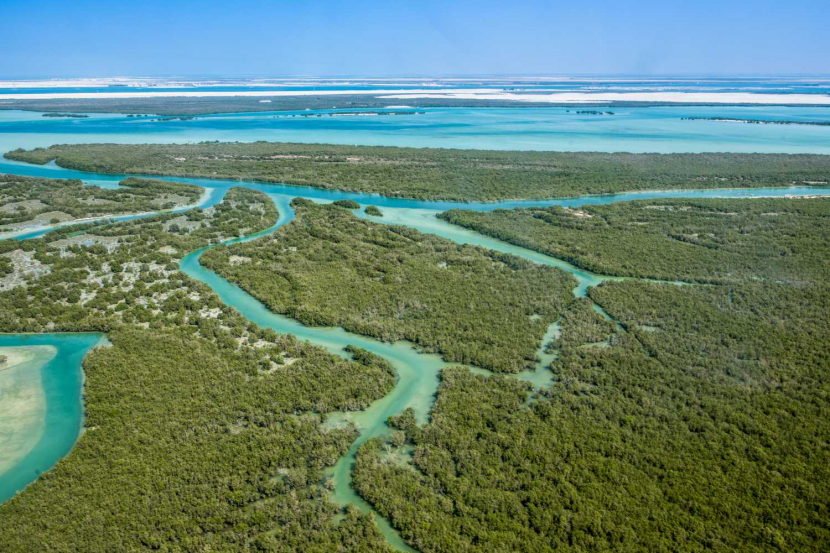 Emirates Palace
This stunning hotel is on a whole new level of opulence. From the excessively gold interior, to the amazing grounds (covering 100 hectares), to the iconic structure (including 114 huge domes), just wandering around this striking place is a real treat. You can even splash out and buy a cappuccino that's covered with real 24-karat gold flakes. If that doesn't impress, we don't know what will.
Open daily. West Corniche (02 690 7999).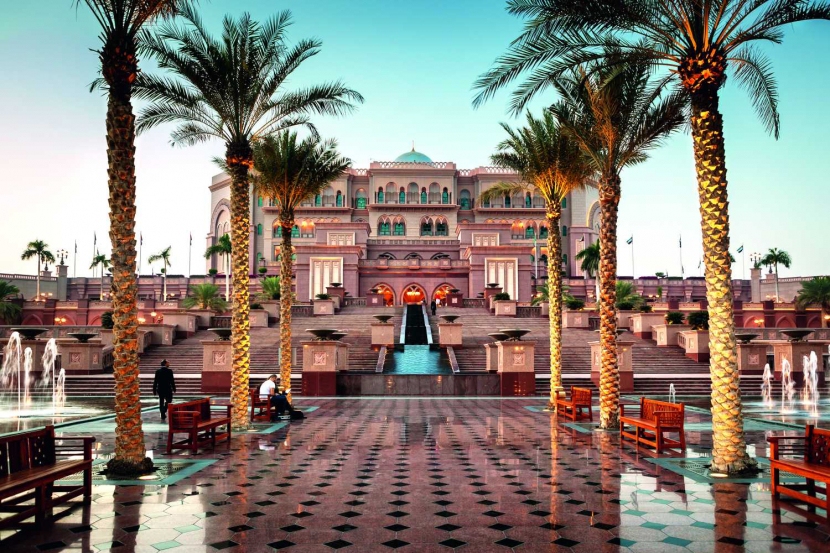 Ferrari World Abu Dhabi
Home to the world's fastest rollercoaster, this huge theme park is a big hit with fans of fast cars, or thrill-seekers in general. The big attraction is Formula Rossa, which as the fastest rollercoaster in the world reaches speeds of 240km an hour and heights of 52 metres, so you'll get a great view of the island while you're up there too. But if being twisted upside down and thrown along at high speeds isn't really your dad's thing, there are also loads of gentler rides, plus big displays showcasing Ferrari cars and explaining the history of the company.
Dhs295 (single day ticket). Open daily 10am-8pm. Yas Island (600 511 115).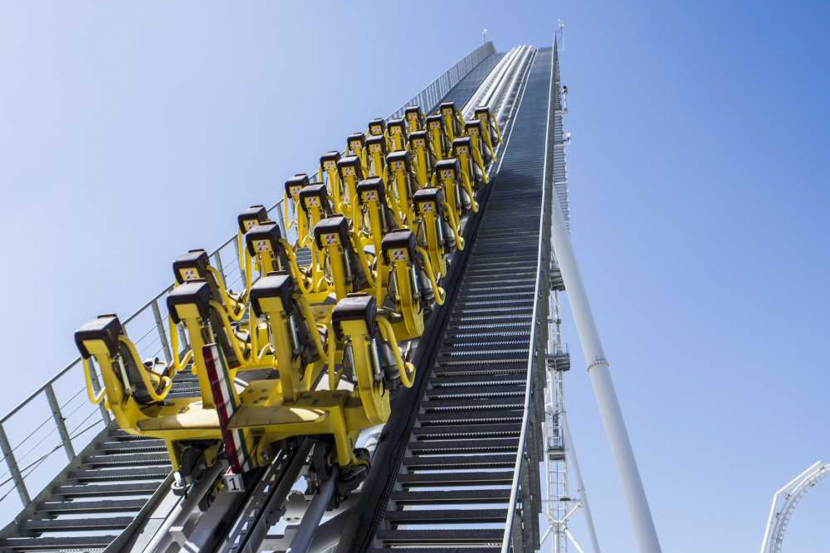 Sir Bani Yas Island
It'll take a few hours to drive to, even from Abu Dhabi, but once you make it to the island from the port at Jebel Dhanna, it'll be worth the journey. To jet there, you can also charter a Seawings plane from Jebel Ali Golf Resort & Spa, if flying is more your thing. There's as much adventure as relaxation here and we recommend making the most of the trip by taking a nature and wildlife drive. There are cheetahs, giraffes, flamingos and more to see in the Arabian Wildlife Park. You can also try your hand at horse riding, archery, land sailing and mountain biking across the island terrain.
www.sirbaiyasisland.com.
Louvre Abu Dhabi
You don't have to be a total art or history fanatic to appreciate this amazing museum. But while the domed building might be one of the most striking parts, it's inside where the real wonders are found. The main gallery explores the evolution of art and mankind in chronological order, while the exhibition Rendezvous in Paris: Picasso, Chagall, Modigliani & Co. (1900-1939) features more than 80 works by the likes of Picasso, Modigliani, Chagall, Gris, Soutine, Brancusi and de Lempicka.
From Dhs60 (adults), Dhs30 (ages 13-22), free (under 13). Saadiyat Cultural District, Saadiyat Island, www.louvreabudhabi.ae (060 056 5566).
Qasr Al Hosn
This impressive fort is the oldest building in the city, and it houses an exhibition that lets visitors explore the lives of the past rulers of Abu Dhabi. You can also view great works of art in The Cultural Foundation and discover more about traditional crafts in the House of Artisans. There's easily enough to keep you busy for a
whole afternoon.
Dhs30. Open Sat-Thu 9am-7pm; Fri noon-10pm. Sheikh Rashid bin Saeed Al Maktoum Street, www.alhosn.ae.
Qasr Al Watan
Everything about Abu Dhabi's Presidential Palace is incredibly grand and beautiful. You can now take a tour around Qasr Al Watan (Palace of the Nation) and marvel at the glittering hallways and rooms within this incredible building. It contains a huge library, various exhibitions and an enormous chandelier made from 350,000 crystals. It's totally stunning.
Dhs60 (adults), Dhs30 (children). Open daily 10am-8pm. Al Ras Al Akhdar, www.qasralwatan.ae.
Saadiyat Beach Club
Abu Dhabi is home to countless pools, but there are few that can rival the one at this very stylish beach club. The square pool is framed by floating cabanas containing the comfiest poolside beds, while friendly servers are always on hand to bring you mixed drinks and any tasty bites to eat from the impossibly chic pool bar. Whether you want to top up your tan, dance the night away, or simple get some fabulous snaps for the 'gram, make sure you take your friends here.
Dhs90 (ladies' day Mon), Dhs150 (ladies' day Tue), Dhs250 (Sun-Thu) Dhs375 (Fri-Sat) Dhs1000 (pool cabana) Open daily 8am-sunset. Saadiyat Beach Club, Saadiyat Island (02 656 3500).
Sheikh Zayed Grand Mosque
This is one of the world's largest mosques and arguably Abu Dhabi's most iconic attraction, so it's just not right to plan a tour of the emirate without including it. It's so stunning it will take your breath away, and it can hold up to 40,000 worshippers at one time. To experience it properly you can join one of the free tours which take place several times a day and are run by local guides with a wealth of knowledge and a friendly demeanour.
Free. Open Sat-Thu 9am-10pm; Fri 4.30pm-10pm. Sheikh Rashid Bin Saeed Street (02 419 1919).
The Empty Quarter
Every visitor to Abu Dhabi (and resident, for that matter) should take a trip into the Empty Quarter, if only to get some incredible pictures of the huge sand dunes. The amazing landscape looks like a film set, and indeed scenes from Star Wars: The Force Awakens were shot here. Head out on a desert safari to try thrilling dune bashing (just tell your mum to be brave), camel riding and experience a traditional Bedouin barbecue dinner.
Tours are provided by various companies, including Desert Rose Tourism (050 177 7458).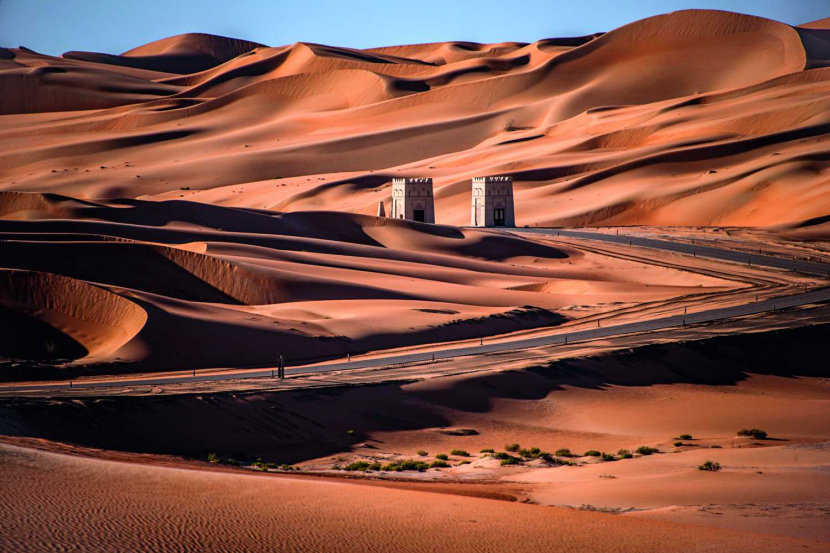 Wadi Adventure
Get ready to have a totally "oar-some" time at the UAE's first-ever manmade whitewater rafting, kayaking, wakeboarding and surfing attraction – Wadi Adventure. The levels of fun will be turned up rapidly once you start navigating your way through crashing waves on an adrenaline-charged whitewater rafting experience at the base of Al Ain's Jebel Hafeet, the second highest mountain in the UAE. All raft trips include a professional guide, a short briefing on the essentials, and all the safety equipment you could need. With that taken care of, all that's left is to make an almighty splash.
From Dhs65 (adults), Dhs45 (kids below 1.2m). Open daily 11am-7pm. Jebel Hafeet, Al Ain, www.wadiadventure.ae (03 781 8422).
Warner Bros. World Abu Dhabi
This immersive indoor theme park has 29 rides all based around the most popular Warner Bros stories. Kids will be in their element, and they'll even be able to meet some of their favourite characters as you wander around the six different lands. They'll get to fly through Gotham City with Batman, have a go at solving crimes with the Scooby Gang and go on more exciting adventures.
Open daily 10am-8pm (rides open from 11am). Dhs295 (adults), Dhs230 (children). Yas Island, www.wbworldabudhabi.com.
Yas Beach
We don't think you can ever spend too much time at the pool or beach, and this beach club has absolutely everything you need for a perfect day in the sun. The huge infinity pool is complimented by an open-air DJ booth, bar, private chalets, dreamy cabanas and a very funky and tropical-themed tiki restaurant. Make sure you keep an eye out for regular big events as well. If you still want to experience a cool beach bar without paying high-end prices, it's a super option, and a session on the sunbeds will help any visitors you might have go home with that much sought-after holiday glow.
Dhs60 (Sun-Thu) Dhs120 (Fri-Sat) Open daily 10am-7pm. Yas Island (056 242 0435).
Yas Waterworld
There are few things in life more exciting than a day at a water park, and Yas Waterworld boasts more than 40 slides, rides and attractions. Children will have the time of their lives plunging through giant snakes, riding the Bandit Bomber rollercoaster and playing in the wave pools. Toddlers have their own infant pool and slide complex, and there's even an immersive 5D cinema experience where everyone can expect to get a little bit wet.
From Dhs250. Open daily 10am-6pm. Yas Island (02 414 2000).
Aerial tours of Abu Dhabi
Once you've checked out Abu Dhabi and all it has to offer from the ground, the next best thing is to take to the skies to marvel at it from a completely different viewpoint. From a hot air balloon a helicopter or a seaplane you can take in the mesmerising panoramic vistas across the capital city and really capture the captivating beauty of this magical destination while enjoying a birds-eye take on the city's iconic landmarks. Seawings offers 30-minute private seaplane tours of Abu Dhabi, so you can have the experience all to yourself. Of course, there are cheaper versions when you pay by the seat, but go private and you can travel with your nearest and dearest too.
Dhs8,000 (30-minutes). www.seawings.ae (04 807 0708).
Abu Dhabi Corniche
Widely touted as the most beautiful corniche in the region, Abu Dhabi's seaside promenade stretches 8km along the entire length of the northwest shore of the city giving spectacular views of the iconic high-rise buildings that line the seafront. The dedicated cycle paths are a huge hit with families and sports lovers alike (you can hire a bike from the Cyacle bike-share station, www.bikeshare.ae), you can rent towels and sunbeds on the white sand, while the inland side of the Corniche is dotted not only with cafes and restaurants, but with parks and kids' playgrounds where friends and families gather during the day in the cooler months and in the evenings over a picnic.
Umm Al Emarat Park
There is always heaps going on at this lively, lush park in the middle of the capital. Regular attractions include: Wisdom Garden, designed as a place where visitors can reflect on Sheikh Zayed's timeless quotes UAE and protecting its heritage and history; The Shade House, which is home to over 30 species of plant such as palm trees and cycads; The Botanic Garden with over 200 regional plant species and a number of international ones, plus a natural pond; The Amphitheatre, an outdoor stage where various concerts and performances are held and The Children's Garden, a fun and interactive play area for little ones complete with a mini wadi. Plus, throughout the year a slew of seasonal activities are on offer including a family-friendly Neon Book Hunt, which takes place every evening.
Dhs10. Daily 8am-midnight. Mushrif Area, Abu Dhabi, www.ummalemaratpark.ae (02 666 9559).
Yas Marina Circuit
There is always something going on at Yas Marina Circuit, which has a jam-packed calendar of events all year round both on and off the track, including fitness nights such as twice-weekly cycling sessons for all abilities. Highlights include the finale of the F4 racing season during the Etihad Airways Ab Dhabi Grand Prix, the popular TrainYas sessions, the return of the Yas Racing Series which motorsports fans will love, upgrades to DriveYas experiences and the return of Gulf 12 Hours, a tough, but exciting endurance challenge. Plus, Yas Marina Circuit is home to the after-race concerts, where the 2019 line-up will see Marshmello, Travis Scott, Lana Del Rey and The Killers take to the stage.
Yas Island, Abu Dhabi, yasmarinacircuit.com (02 659 98010).
Be the first to get all the latest Abu Dhabi news, reviews and deals into your inbox by signing up to our free
newsletter
,
click here to sign up
.