Ferrari World Abu Dhabi
It goes without saying that Yas Island is intrinsically linked with all things motorsport and cars, which makes it the perfect home for Ferrari World Abu Dhabi. This is the first theme park of its kind in the world, and features a host of incredible rides inspired by the Italian car-maker. You can brave the fastest roller coaster in the world, Formula Rossa. Once strapped in and wearing protective goggles, you'll be propelled to 240kph in just 4.9 seconds, and will feel forces of 4.8G. There's nothing else like it for the adrenalin rush. For more record-breaking thrills, take a spin on Flying Aces, which features the world's highest roller coaster loop at 52m. For little ones, there are more sedate rides, including the Junior Grand Prix and Bell'Italia, which get kids behind the wheel. You can also get up close and personal with a collection of Ferrari's most iconic cars, and when you get hungry, there are plenty of dining options, including Italian eatery Mamma Rosella. It's perfect for a full day of family fun.
From Dhs310 (adults) at the door, Dhs295 online, Dhs230 (children under 1.3m). Open daily 11am-8pm. Ferrari World Abu Dhabi, Yas Island, www.ferrariworldabudhabi.com (02 496 8000).




Only at Ferrari World: Cinema Maranello
Ferrari World Abu Dhabi's very own movie theatre features a fun to watch movie that takes the audience back to the roaring twenties, when Enzo Ferrari was an aspiring race car driver. 'Coppa di Sicilia', the film produced exclusively for Cinema Maranello, will provide a glimpse into the rapture, the beauty and power of the world's greatest race cars.
MAD
If there's one place where you can be sure you'll see some of the world's best musical talent, it's MAD. Flo Rida, Ja Rule, Bow Wow, T-Pain and Jason Derulo are just a few of the big names who've appeared at MAD. It hosts regular nights throughout the week to ensure there's always something worth travelling out to Yas Island for. MAD Thursdays are always busy, and often feature theme nights, which in the past have included a takeover by WHITE Dubai. And then there's URBN Fridays, which is when you're likely to see the biggest names performing on stage. Whatever you do, make sure you dress to impress, as a door policy applies here.
Open Thu & Fri, 11pm-3.30am. MAD, Yas Island (055 834 6262).


Yas Beach
More than just a stretch of sand, Yas Beach is a complete destination for the entire family. There are bars, restaurants, swimming pools, watersports, fitness classes and, yes, a beach. The Restaurant, Tiki Bar, Hops Bar, Mixed Drinks Bar and The Lounge will keep you watered while you're not out in the sun. But you won't be able to resist the outdoor activities for long. Noukhada Watersports organises non-motorised watersports at Yas Beach, including kayaking, sailing and snorkelling. If you'd rather stay dry, there's also a volleyball court and outdoor gym. Kids aren't left out of the fun, either, with a dedicated swimming pool and regular activities such as sandcastle-building and face painting. Or you can ignore all of our suggestions and just laze about on the beach. But just one more tip: if you're looking for something a bit out of the ordinary, book one of the VIP cabanas for the ultimate beach day.
Prices vary. Yas Beach, opposite Crowne Plaza Yas Island (050 952 2283).




Only at Yas Beach: Yoga on the beach
Yas Beach runs regular yoga sessions on the beach. It usually takes place at 8.30am on Friday and Saturday mornings. Check Yas Beach's Facebook page for the latest schedule.
www.facebook.com/YasBeach
Yas Links
Golf is gaining in popularity in Abu Dhabi, thanks to the world-class courses all over the city. One of the best around can be found on Yas Island. Set alongside the ocean, Yas Links is as beautiful as it is challenging. Golfers will find 112 bunkers across the 18 holes of this course, that's surrounded by mangroves. It's a great test for experienced golfers, but newcomers to the sport can also enjoy the fairways. Beginners can get to grips with the basics during the "Learn Golf in a Week" programme. There are also lessons that focus on particular aspects of the game, such as reading the green and swing techniques. And after working up a thirst playing golf all day, there's Hickory's Sports Bar for drinks and pub grub. It also runs a popular quiz night on Wednesdays.
From Dhs425 per player. Yas Links, Yas Island, www.yaslinks.com (02 810 7710).


Yas Mall
For retail therapy on Yas Island, look no further than this giant shopping centre. Yas Mall opened in 2015 and covers 2.5 million sq ft. You'll find almost every shop you can imagine in here. Huge department stores including Debenhams and House of Fraser are here, as well as upmarket fashion brands such as Armani, Calvin Klein and Ted Baker. But this is also a place for entertainment, just in case you get bored of shopping. There's a 20-screen Vox Cinema for movie fans, an Adventure HQ with an indoor caving network and Softair Battlezone, where you shoot at electronic targets to complete the course. After all this, you'll most likely be hungry. As well as the usual food court options, you can also explore Cascade Dining, where the likes of Lebanese restaurant BouBouffe and Emirati eatery Dish Dash can be found. There's also the new foodie hub Urban retrEAT, which is home to a rotation of awesome food trucks. More than enough for a lazy weekend day of shopping, movie-watching and eating.
Open daily 10am-midnight (shops). Yas Mall, Yas West, www.yasmall.ae (02 414 6401).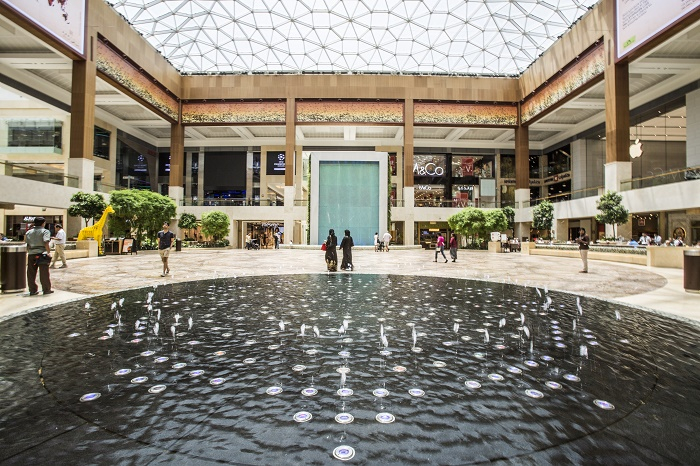 Yas Marina
Yas Marina isn't just about boats. Sure, it's full of boats, which makes for quite a sight, especially at night, when the gleaming yachts reflect the colours of the iconic Yas Viceroy. But this area is best known for its collection of excellent bars and restaurants. Whatever kind of night, or day, you're looking for, you'll find it here. Casual sports venue Stars 'N' Bars is the best place to catch the big game. It even has a non-smoking section, a welcome option in Abu Dhabi. For something a bit classier, there's Iris for deep house and views out over the water, or Italian style and dining at Cipriani. And there's also Funch, the fun-packed Friday brunch which has moved to Stars 'N' Bars. If that wasn't enough, Yas Marina is set to welcome three awesome new foodie favourites, including The Scene by celeb chef Simon Rimmer. But being so close to the water, you probably want to get out there, which is where Eywoa comes in. These guys organise some extreme watersport activities, such as wakeboarding and kitesurfing. Visit www.eywoa.com to find out more about what they offer from Yas Marina. There are also some more sedate ocean-faring options, such as cruises with Captain Tony's (www.captaintonys.ae) and bespoke trips with Azure Marine Charters (www.azurecharters.com).


Yas Marina Circuit
Okay, we know we've already talked about the F1 weekend, but this is a year-round destination. When the F1 circus packs up and goes home, Yas Marina Circuit keeps going, with a range of activities for the entire family. If watching the world's best drivers on the circuit has inspired you, then book yourself in for one of the driving experiences. Get behind the wheel of everything from an Aston Martin GT4 to a single-seater Formula 3000 Yas racing car. You'll be guided around the track by an instructor, following in the wheel-tracks of Lewis Hamilton. Or, if you'd rather see how the professionals do it, passenger rides are available, too. But getting into a car isn't the only way of experiencing the track. Every Tuesday night, the circuit is opened up to walkers, runners and cyclists for TrainYas by ActiveLife. The track is 5.5km long, so it makes for the perfect workout. TrainYas is a free event, you just need to register on the Yas Marina Circuit website before turning up.
Yas Marina Circuit, Yas Island, www.yasmarinacircuit.com (800 927).
Yas Waterworld
This is one of Yas Island's most famous attractions, and with good reason. There are some seriously exhilarating slides at this impressive water park. It has a UAE theme, based on "The Legend of the Lost Pearl", and has more than 40 rides, slides and attractions and seven dining outlets. There are four "thrill" levels to appeal to the entire family, so everyone can have a good day out here. Shaheen's Adrenalin Rush is the zone for extreme splashing, including the incredibly steep Jebel Drop and Liwa Loop, a free-fall slide that will leave your heart in your mouth. There's an ever-popular ladies' night on Thursdays. For the smallest members of the family, Sultan's Young Fun is the zone that features kid-friendly swimming pools, while there are also games and play areas dotted around the park. And you're going to need a full-day here to make the most of it.
Dhs250 (adults), Dhs210 (children under 1.3m). Open daily 10am-7pm. Yas Waterworld, Yas Island, www.yaswaterworld.com (02 414 2000).


Warner Bros. World Abu Dhabi
The newest fun-filled addition to Yas Island's ever-growing portfolio only opened a few months ago but has already established itself as a world-renowned tourism destination. The fun is split into six distinct zones – Bedrock, Warner Bros. Plaza, Metropolis, Gotham City, Cartoon Junction and Dynamite Gulch. A lot of thought and effort has gone into bringing childhood favourites such as Bugs Bunny, Wile E. Coyote, Fred Flintstone and Batman to life.You can't help but be impressed by the grand scale of the 1.65million square-foot facility, the amazing theatrics and the blockbuster rides which are set to make it a hit. But for us, the beauty is in the detail. No expense has been spared in the painstaking process to build a concept fit to dazzle and amaze visitors. Every inch of the sets was built by hand and the little touches are just as important as the eye-catching headline acts. The opening of Warner Bros. World Abu Dhabi marks a major milestone for Yas Island and its bid to become a major attraction in itself. The theme park will join Ferrari World Abu Dhabi and Yas Waterworld Abu Dhabi to become the third world-class theme park on the island. With tickets from Dhs230 for children and Dhs295 for adults, it's maybe not one to go to every weekend (though annual passes are just Dhs695, which is brilliant value).
Dhs230 (children), Dhs295 (adults). Open daily 10am-8pm. Warner Bros. World Abu Dhabi, Yas Island. Tickets available at www.wbworldabudhabi.com.
Be the first to get all the latest Abu Dhabi news, reviews and deals into your inbox by signing up to our free
newsletter
,
click here to sign up
.